Here are the 5 features that you will find on the new Hyundai Verna facelift but not on the recently launched 2020 Honda City.
The new 2020 Honda City has just been launched in India and its deliveries have also commenced successfully. The prices now start at Rs 10.89 Lakhs going up to Rs 14.65 Lakhs (Ex-showroom), making it again, one of the costliest sedans in the class. We have already driven it and you can find our review below!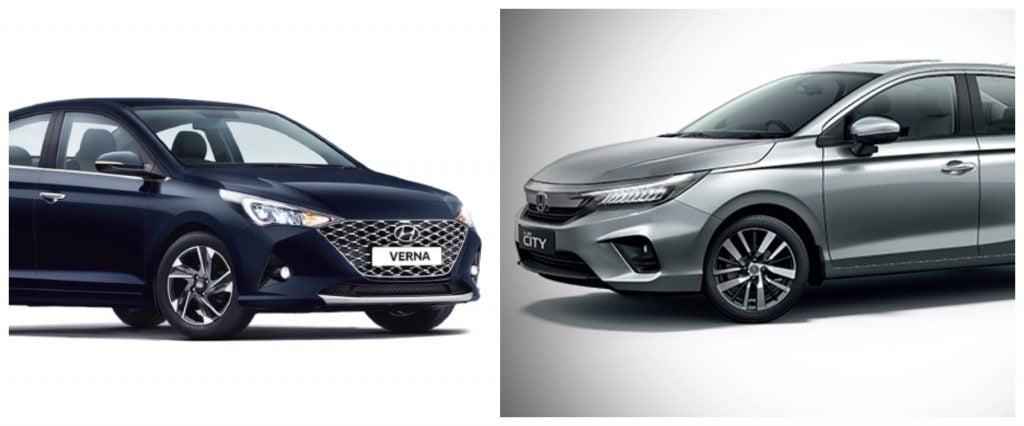 Along with BS6 compliant engines, the new City gets many new features and a complete design makeover as well. Despite offering many premium and segment first features, it still misses out on these 5 features when compared to the new Hyundai Verna facelift. Check out the missing features ahead!
5 Highlights Found On Hyundai Verna But Not On New Honda City
1. Diesel-Auto Combination
We all were expecting Honda to finally offer a diesel-CVT combination with the City, however, that seems unlikely. It first came on the Amaze which received a decent response. Verna instead is the only sedan in the segment to offer a diesel-automatic combination. Diesel-AT option might not be as popular as a petrol-AT, however, it has its own advantages.
2. Digital Instrument Cluster
The Verna gets a fully digital instrument cluster which is inspired by the latest global Honda models. That's something premium and sporty to look at, definitely. The new Honda City also sports a refreshed instrument cluster with the MID placed in between this time. However, for some, analogue cluster is the done deal.
3. Front Ventilated Seats
We might not realize the importance of this feature but once you use it, you can feel the importance of it. Hyundai is the only budget brand that offers ventilated seats on its cars and is an extremely handy feature in a country like India. Verna gets ventilated seats with three levels to soak up all the sweat from your clothes.
4. Rear Disc Brakes
Honda City continues with the front disc/rear drum setup as many other cars in this segment. Verna is the only one to offer rear disc brakes on its Turbo variants. That means the braking power of the latter is better than the City, which sounds a bit useful and assuring.
5. Electric Adjustment For Driver Seat
Lastly, the Verna gets electric adjustment for driver seat which is another important feature. The Honda City goes with manual adjustment for the driver seat. In Verna, you can adjust the incline, height and knee support through the controls.