There are a ton of incidents that highlight the dangers of overspeeding and why you must not do that. One can't get lucky every time in such cases.
This is a short video clip of an accident involving Tata Punch due to overspeeding. The Punch is a 5-star safety rated vehicle. It sits below the Nexon in the micro-SUV segment in the Tata family. People are drawn towards it partly due to its impressive 5-star safety rating. Another reason is the fact that it is an affordable SUV. The general trend in the global automotive industry is towards SUVs. India is a country that has a ton of roads that are not connected via a highway. In such conditions, having an SUV almost becomes a necessity. However, we are here to talk about the horrific accident that took place recently. Here are the details.
Also read: Watch Tata Punch Easily Clock True Top Speed of 160 kmph
Accident Tata Punch Overspeeding
The video has been uploaded by Prateek Singh on his YouTube channel. He keeps compiling such videos to raise awareness about safe driving and buying safer cars. This accident is reported to have occurred somewhere in Madhya Pradesh. The Punch had 5 passengers. They were travelling throughout the night. That could mean that the driver fell asleep on the wheel and due to overspeeding the car rolled off the highway and sustained tremendous damage. Unfortunately, two people sitting at the back lost their lives. The other three have suffered injuries and are in the hospital. We must urge you that please don't drive all night long unless extremely urgent.
Also read: Meet World's First Tata Punch with Aftermarket CNG Kit!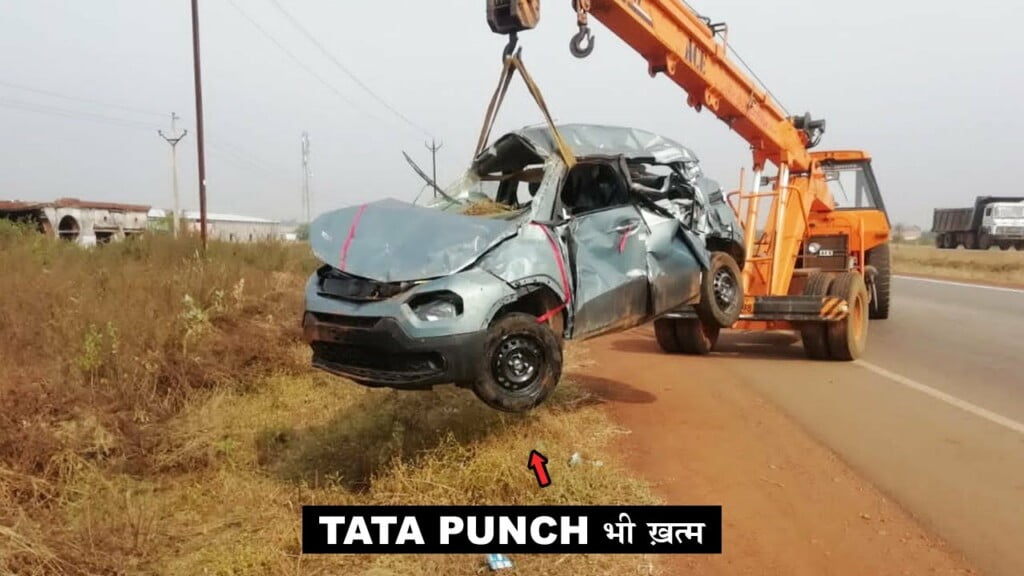 Also, if you must drive all night long due to some emergency, make sure to keep yourself fresh by taking frequent pauses. You could drink tea, coffee and water at regular intervals. This will ensure that you don't get sleepy. If you are with other people make sure that they are talking to you. Apart from this, it reflects how important it is to invest your hard-earned money in safer cars. In most situations, the safety equipment and the build quality of the car could save your lives. If you find anyone breaking the traffic rules, report them to the authorities. This will lead to safer roads and driving.
Also read: Tata Punch Now Available At CSD Canteen – Cheaper Than Tiago
Join us for FREE NEWS Updates on our Whatsapp Community or our official telegram channel.