Anand Mahindra continues to impress one and all with his reply to the tweet by a man who built an electric Jeep at his home.
In a reply to the man who built an electric Jeep at his home in Tamil Nadu, Anand Mahindra displays his humility and passion for innovation. We have seen, time and again, that Anand Mahindra takes cognizance of innovative minds. He always supports such people in any way he can when he sees people inventing out of necessity. This latest example highlights that aspect in depth.
You may also like: Anand Mahindra Reacts on India's Longest Loaded Train
You may also like: Anand Mahindra Praises Kashmiri Man Who Made Solar Car
Anand Mahindra Impressed By Electric Jeep
A Gowtahm is a resident of Tamil Nadu who has completed his Mechanical Engineering studies. He wishes to be in the Indian Army. He designed an electric Jeep whose front and rear wheels can be controlled separately. It looks like he has used components from the scrap in order to build this functional project. He uploaded his video on Twitter and asked Anand Mahindra for a job. We all know how appreciative he is about such 'jugaad' showcasing the innovation and creativity of regular people.
You may also like: Anand Mahindra Asks Thar Owners To Exercise Restraint – Here's Why
Ananda Mahindra replied, "This is why I'm convinced India will be a leader in EVs. I believe America gained dominance in autos because of people's passion for cars & technology & their innovation through garage 'tinkering'. May Gowtham & his 'tribe' flourish. @Velu_Mahindra please do reach out to him." He referred to R Velusamy at the end to get in touch with Gowtham. This again, shows how committed and ready he is to help and support people who have a passion for innovation.
You may also like: Anand Mahindra Admits to Glitch as Many Fail to Book Scorpio N on Time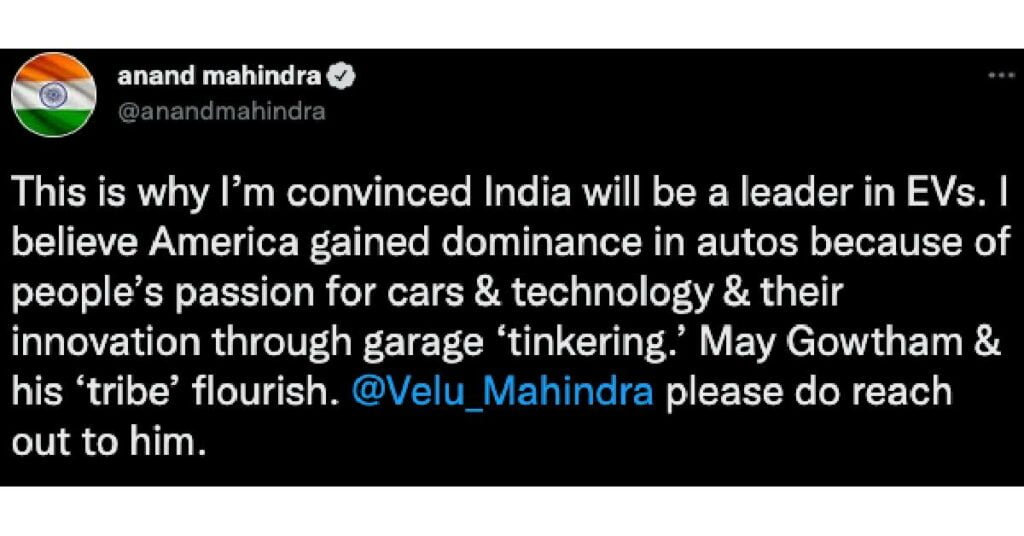 In the past, we have seen Anand Mahindra getting involved in any sort of issues that Mahindra car owners face. In addition to that, he is constantly updated with the latest happenings from around the globe. He has over 9 million Twitter followers because of his honesty and candid responses to any situation. He is one of the most followed entrepreneurs in the country. Apart from that, he is well-known for his philanthropic work. We are proud to have such a humble and benevolent businessman leading one of the biggest automobile firms in the world.
Join our official telegram channel for free latest updates and follow us on Google News here.