Many popular cars like Tata Harrier, Maruti Brezza have a tough time navigating the all-weather Atal Tunnel road. This showcases why 4×4 is a must.
The Atal Tunnel is the world's longest tunnel. Located at an altitude of above 10,000 feet, the 9.02-km underpass reduces the distance between Manali and Leh by 46 kilometers. The tunnel is crossed by around 950 vehicles each day on average. On the first day of the new year, a total of 7,515 vehicles crossed the tunnel road. However, many tourists had bad luck on January 07. Fortunately, the Himachal Pradesh Police helped the stranded tourists. The situation showcased why a 4×4 vehicle is a must. Let's take a look at what happened!
Also Read- Watch FWD MG Hector Struggling in Snow, Rescued by Thar
Also read: MG Launches Range-Topping Savvy Variant Of Gloster With ADAS & 4×4 Systems!
The all-weather Atal Tunnel road is located beneath the 13,058-foot-high mountain in Himachal Pradesh's Rohtang Pass. The region received heavy snowfall and snowstorms on January 07. This led to many vehicles being stuck near the Atal Tunnel. Since this water is expected to continue, any travelers are advised to avoid a 4×2 vehicle. As per reports, the stuck vehicles included Tata Amaze, Tata Harrier, Maruti Vitara Brezza, Hyundai Santro, Maruti Suzuki Dzire, Maruti Suzuki Ertiga, and Hyundai Verna. This situation highlights the importance of 4×4.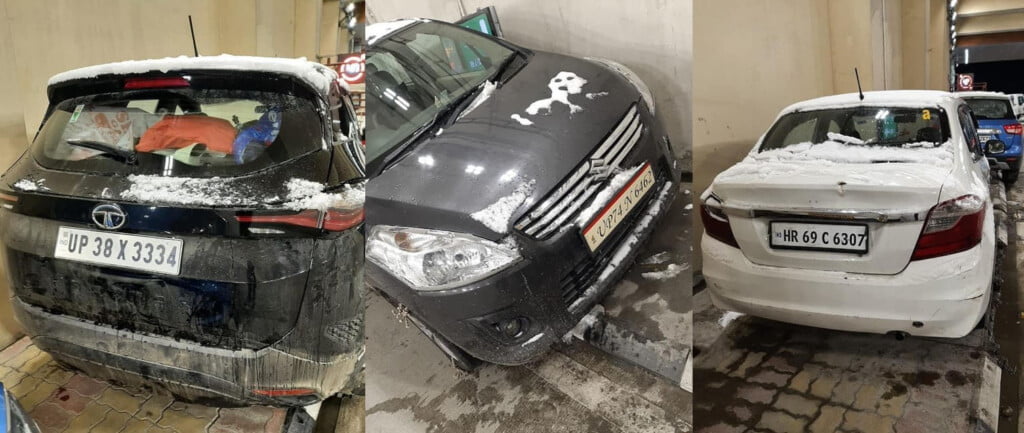 Also read: WATCH Toyota Fortuner Legender 4X2 Vs 4×4 in Classic Drag Race
A four-wheel drive is more capable of carrying you through bad road conditions. The two-axle vehicle drivetrain (full-time or on-demand) offers torque to all of its wheels simultaneously. It may also offer an additional output drive shaft and additional gear ranges. In thick snow and slippery roads, the variable power distribution between the wheels makes your car more stable. A four-wheel drive improves traction in dangerous driving conditions, such as snow, ice, etc. This offers the driver more control over the vehicle. Additionally, the higher ground clearance and weight of the vehicle also add better grip on the road.
Also read: This is the Best Off-Road Spec Modified Tata Sumo 4×4 You'll Ever See!
The Atal Tunnel was inaugurated on October 3, 2020, by Prime Minister Narendra Modi. It reduces the travel time between Lahaul of Lahaul-Spiti district and Manali of Kullu district in Himachal Pradesh by about four to five hours. The all-weather tunnel is designed for a traffic density of 3,000 cars and 1,500 trucks per day. The all-weather Atal Tunnel has become a prime tourist destination. It is to be noted that the tunnel has a speed limit of 60 km per hour. Additionally, the speed limit at the entrance has been fixed at 40 km per hour. To remind drivers of their speed, digital speed indicators have been installed through the tunnel. The authorities use automatic vehicles' number reader cameras and motor-bike-borne traffic interceptors to check traffic violations.
Also read: Ford Endeavour 4×4 vs Toyota Fortuner Legender 4×2 Drag Race – Who Wins?