A Toyota Fortuner Legender 4×4 will easily beat the new Toyota Fortuner Legender 4X2 on an off-road route but what happens in a drag face? A new video reveals the truth.
The Toyota Fortuner has been one of the most popular SUVs in India for many years now. Since its mid-life facelift's arrival, the premium SUV also comes in a Legender trim level. The top-end features some styling changes and additional equipment over the standard Fortuner. For example, the Legender has a different front fascia with a new LED headlamp design, front grille, and front bumper. It also gets a black-and-maroon interior. The standard version offers an all-black or chamois interior theme. In a new video, the Toyota Fortuner 4×4 with a manual transmission competes with the new Toyota Fortuner Legender 4X2. Let's find out which of the cars wins in a straight drag race.
Also read: Toyota Launches Facelifted 2021 Fortuner With Top-Spec Legender Variant!
As seen in the video above, the new Toyota Fortuner Legender 4X2 is clearly faster than the standard Toyota Fortuner 4×4, thanks to its powerful engine. In this challenge, the Ajju0008 drives a Toyota Fortuner 4×4 with manual transmission. Whereas his competitor Elvish Yadav drives a Toyota Fortuner Legender 4X2. In a quick race, the Legender model won 2 out of 3 times. However, in an additional race, the Toyota Fortuner 4×4 got left behind by the new Toyota Fortuner Legender 4X2. While both cars feature almost similar looks, the Legender variant is way more powerful and a faster option.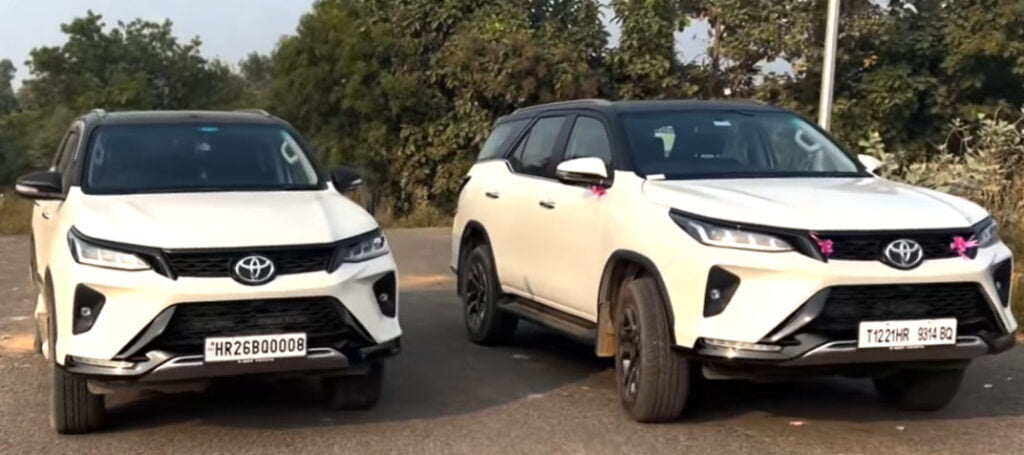 Also read: Check Out The Toyota Fortuner Legender Do Some Serious Off-Roading in Video!
The Toyota Fortuner 4×4 2.8-litre turbo-diesel unit offers 204 PS of peak power and 500 Nm torque (420 Nm on the manual variants). It can be paired with a 6-speed manual gearbox or a 6-speed torque-converter automatic transmission. There is also a petrol version that comes in a rear-wheel-drive configuration. On the other hand, the Fortuner Legender only gets the diesel engine-automatic transmission option in both rear-wheel-drive and four-wheel-drive configurations. It is powered by a 2755 cc engine with an Automatic transmission. It offers 201.15bhp of power and 500Nm of torque. The Toyota Fortuner Diesel 4×4 MT comes with a price tag of Rs 35.89 lakh. The Diesel 4×4 AT costs Rs 38.18 lakh. On the other hand, the Toyota Fortuner Legender diesel 4×2 is priced at Rs 38.61 lakh.
Also read: Watch New Toyota Fortuner GR Sport in In-Depth Walkaround Video
Join us for FREE NEWS Updates on our Whatsapp Community or our official telegram channel.