When it comes to German automobile giants Audi is considered no less than Mercedes-Benz and BMW and why should it be, as it offers all what a potential buyer would expect from a reputed company's car line-up. The most striking characteristic of Audi's cars is the similar front design which includes headlamps and the grille.
Especially the sedan family literally follow each other in most of the design features. And recently they have added a new member which would carry the same conventional look yet again. We are talking about the Audi A3 Concept recently uncovered at the 2011 Geneva Motor Show.
The car is extremely aggressive and blows you away at the first glance. Extremely chunky, macho and whatever you could associate with something completely masculine is what defines the looks of this mean Audi.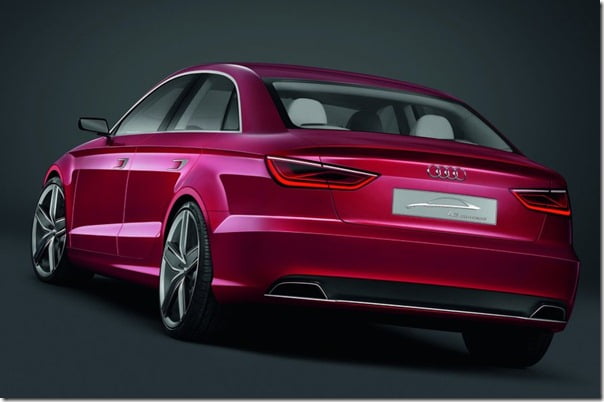 Wow must be the word coming out of your mouth after looking at the above image. Well the car deserves this much attention and as per unconfirmed reports the car is being planned to be launched in India by 2014 and will compete against the current market leaders like Honda Accord, Skoda Laura, Skoda Superb, Honda Civic, Volkswagen Jetta etc.
Audi A3 Sedan Specifications & Features In India
Exterior
The car measures 4.44 meters in length, 1.84 meters in width, and 1.39 meters in height.
Looks sporty yet elegant at the same time
Single-frame grille made of carbon-fiber-reinforced plastic
Broader LED headlamps
Door handles come with brushed-aluminum clasps
Side mirrors made of aluminum and the CFRP
Interior
Significantly spacious
Enough room for driver and passenger maneuverability owing to a 2.63 meters wheelbase
Four round air vents
MMI multimedia system with integrated touch pad
Three spoke steering wheel
Engine Transmission & Performance
A 2.5 Liter 5 Cylinder engine producing peak power & torque of 408bhp and 369lb/ft respectively
Combines both FSI gasoline direction injection with new turbocharging technology
7 Speed S-tronic transmission
Sprints from 0 to 100kmph in 4 seconds and touches a maximum speed of 155 mph
Audi A3 Sedan Price In India
Repeating what has been mentioned above though it is unconfirmed, the production model is expected to be priced around Rs. 20 Lakh.
More Related News