Year 2012 has started off with a good beat for luxury car maker Audi in India. In January 2012 Audi India has sold an impressive 667 units of cars compared to 480 cars sold in the same month last year which is a strong 39% growth. Audi India ended the year 2011 with a sales record of 5511 cars from January to December 2011, a strong 84 percent growth over 2010's performance (Jan-Dec 2010: 3003).
The award-winning cars Audi A8 L, Audi A6, Audi A7 Sportback, Audi RS5 and the super sport scar Audi R8 Spyder, launched last year, contributed greatly to making 2011 Audi's strongest year in terms of sales in India. Audi continues to be the segment leader in the luxury SUV segment with the Audi Q7 and the Audi Q5. The launch of the Audi Q3 later this year will further consolidate Audi's leadership position in the segment. The company has a slew of car launches lined up this year. To begin with, the Audi TT is being launched in the first quarter, followed by the much awaited Audi Q3 and the sporty Audi S6 among others. The luxury carmaker will further expand its footprint to cover markets like Nagpur, Coimbatore and Lucknow this year while further consolidating its presence in Mumbai and Delhi. Dealerships will be announced in these locations shortly.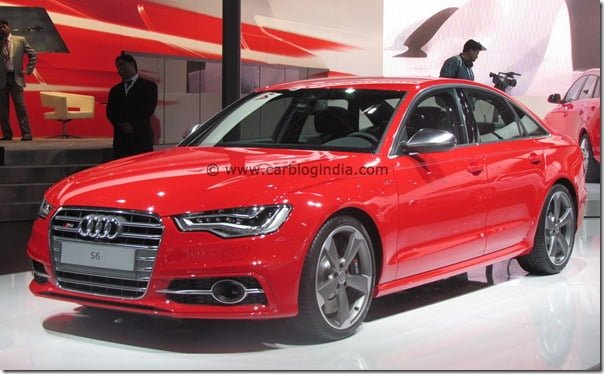 image – Audi S6 Sedan
Michael Perschke, Head, Audi India quoted:
"2011 was an exceptional year in the history of Audi India. Further, we are pleased to announce that Audi has continued this successful performance in January 2012. Despite the current market condition, we aim to sell 8000 cars in India in 2012 and with the new year beginning on a strong note, we are confident of achieving this target. We attribute this growth to a strong brand pull we have in the Indian market. Our focus this year will continue to be on expansion of our dealership network and introduction of an exciting product line, including the new Audi TT and the Audi Q3 later this year,"
The Audi model range in India includes Audi A4, Audi A6, Audi A7 Sportback, Audi A8 L, Audi Q5,  Audi Q7, Audi RS5 Coupe, the super sports car Audi R8 and the Audi R8 Spyder available across the country through Audi Dealerships.
check out more-