Dr Madan Kumar, a freelance surgeon, shares his ownership experience of Tata Nexon EV and why he switched from his Audi Q3 to this electric car
It's not easy to take the plunge into the EV world but with time, many car buyers have decided to finally buy an electric car. A part of this is due to affordable offerings such as the Tata Nexon EV, which is only about Rs 2.2 lakh costlier than the top-spec petrol model. However, an owner who drove an electric Nexon for 85,000 tells us how he has saved over Rs 8 lakh buy not buying using his Audi Q3 instead.
The owner of this Tata Nexon EV is Dr Madan Kumar. He has travelled 85,000 km in his electric car in about 18 months. Dr Kumar is a freelance surgeon who travels in rural areas to promote the usage of laparoscopic technology in hospitals. He travels 150-200 km a day and has switched from an Audi Q3. He believes using the electric SUV instead of the Audi has helped improve his productivity. The car is used both for city drive and highway drives. To tackle the problem of below-par charging infrastructure, Dr Kumar has a provision of using normal chargers at places he travels to regularly. He says that at other places, he has fast charging infrastructure on his regular routes.
Next, the vlogger asks about things the medic enjoyed in the Audi Q3 but now in the Nexon EV. To this, Dr Kumar says when compared to the Audi Q3 he used to have, he says there are many features in the Nexon which he missed in the luxury SUV. Also, he gets more attention on the road as people ask him about the electric car. He also shows the S mode to the curious road users and and how fast the car is. The doctor reveals that even at the end of 85,000 km, there has been no degradation in the range. He then shows how he's easily still getting a range of around 240 km. The secret of extracting the highest range is to use single-paddle driving, that is, use of battery regeneration through de-acceleration.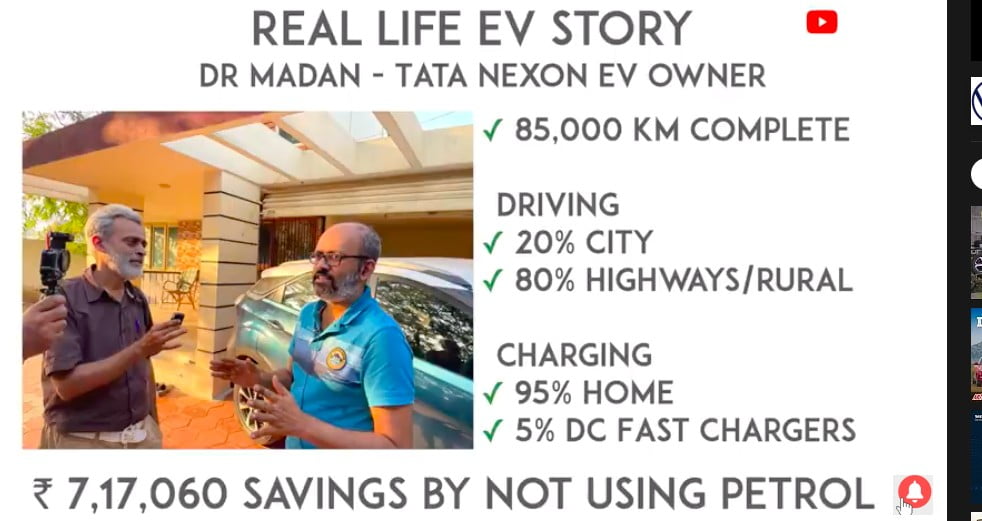 Next, the vlogger asks about the maintenance issues. To this, the doctor says there have been no major issues and all this while, the only issue he has faced is that the charging plug doesn't working in rainy days. The maximum he has spent on a regular service is around Rs 4,500 due to change of coolant and other consumables. Till date, Dr Kumar has spent less than Rs 1/km and even the original tyres, even at 87,000 km, have plenty of tread left. He also reveals that the longest trip he has done in his car is to Ooty and the Taj hotel he stayed in even had 15 amp charging station for the Nexon. Finally, the electric car owner says that he's saving Rs 10/km when compared with the Audi Q3. This translates to a saving of at least Rs 8 lakh for use of 87,000 km.
Join us for FREE NEWS Updates on our Whatsapp Community or our official telegram channel.