The German Car marquee, Audi has already made it clear that it perceives India as one of its most important market and they intend on bringing a lot more products to the Indian shores because of the vast scope of growth in the luxury car department the country offers. Going head first in their plans, on 13th Feb 2013, they have announced the another variant of their baby SUV, the Audi Q3. The latest variant gets a 2.0 litre TFSIq petrol motor and the car will start selling at a price of Rs.27.37 Lakhs which is its ex-showroom price for the city of Mumbai.
The 2.0 litre petrol motor will be a hoot to drive in the city as it is a turbo charged petrol heart which will churn out 211 horses at the tap of your left foot and the car will be propelled by 300 Nm of torque. Needless to say it will be quite the fast mover in the 0-100 KMPH dash and the car reaches 100 KMPH from a speed of 0 in meager 6.9 seconds before maxing out at a speed of 230 km/hr. It will give you 11.72 kilometers to a litre which is quite good considering the fact that it is a luxury petrol car.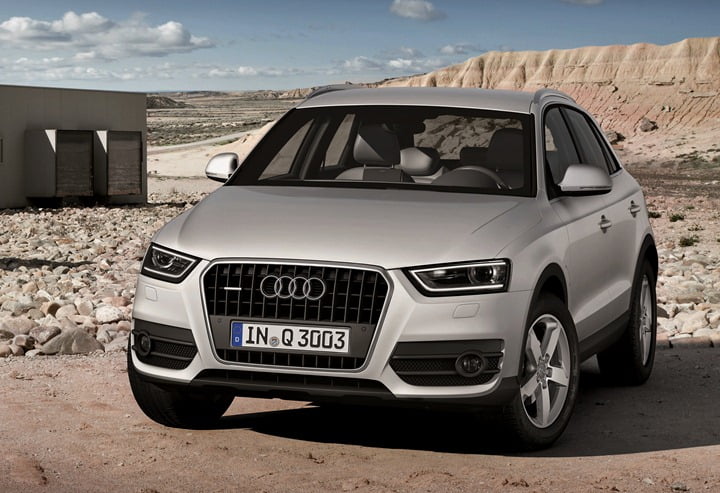 The Audi Q3 is being touted as the most powerful SUV in its segment by the company and Mr. Michael Perschke, Head, Audi India stated at the launch that the company believed that it could attract more young customers with the baby SUV. The 2.0 litre petrol motor has already won the hearts of many renowned motor journalists and the engine for the petrol heads in the country promises an exhilarating drive. The launch comes exactly a day before the BMW X1 gets launched in its facelifted guise and this would manage to take away some of the attention that Beemer would have gotten had the petrol motor in baby Audi not been announced.
Usually companies launch the petrol motors first and follow it up with a pricier diesel model but Audi went the other way round. This gamble turned to favour the Germans and the car has become quite a hit in the country and car even though had a price tag more than its German compatriot, the BMW X1 managed to sell better than that. This pretty much means the car has got more to it than what meets the eye.