The fight between the three German luxury automakers is never over, and now Audi is going to give another punch to the competition. It launched the Audi Q3-S in 2013 at a mouth watering price tag of Rs 24.99 Lakh and then it launched a special edition A4 at a price of Rs 25.99 Lakh. But now the company has started catering to the ones who have a thing or two for high performance machines. It launched the RS7 a few days back and is now readying itself for the Audi SQ5 India launch at the 2014 Auto Expo. The Audi SQ5 is the top end performance hungry variant of the regular Q5 SUV and is bound to bring smiles to many faces when it enters the market.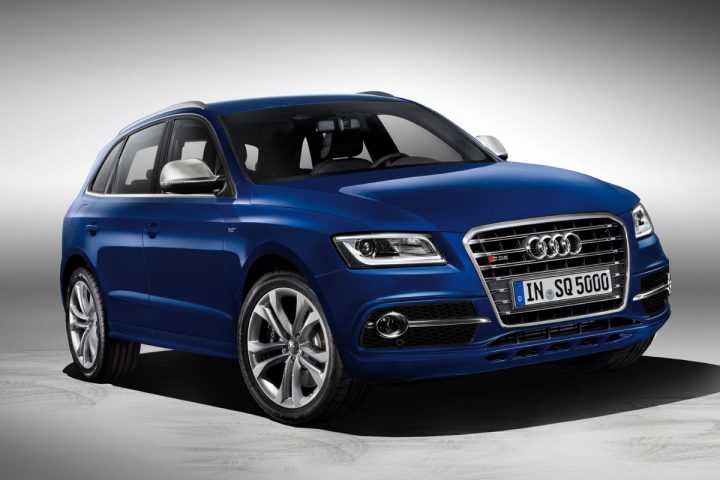 The SQ5 comes with the choice of a a 3.0-litre twin-turbo V6 diesel engine and a 3.0-litre TFSI petrol V6 motor. The SQ5 is the first performance oriented SUV from the German car marque and brings to the table the first performance hungry diesel engine as well. The SQ5 which we will get in all likelihood will be the former one as we Indians favour diesels any day over petrol motors and Audi is well aware of that.
The SQ5 in diesel guise has 3.0 litre twi-turbo V6 diesel engine that churns out a maximum power of 313 BHP and a mammoth torque of 650 NM to push it ahead. This engine gets mated to an 8 speed tiptronic gearbox which sends the power to all its wheels via Audi's signature quattro system. Audi has altered the cooling system of the cylinder heads and changed the control times and strokes of intake camshafts to achieve a higher level of performance. The pistons have also been altered to get a better performance level.
It does the 0-100 km/hour sprint in 5.1 seconds before maxing out at 250 kmph. The SQ5 sits 30mm lower than the conventional Q5 so you'd be better off not taking it for too much of off-roading. It gets stiffer springs and dampers and teaming up with them are 255 mm section which are fitted to 20-inch wheels. Expect the car to get priced between Rs 50-55 Lakh when it hits the Indian roads later this year.