Bajaj Pulsar 180F has been launched to provide the buyers with a tall and faired bike under Rs 1 Lakh. So, here are some differences between the 180F and 220F.
Bajaj Pulsar 220F debuted the Indian market 7-8 years back and instantly became a hit amongst the millenial. Its tall semi-faired design made it look like a sportsbike, ofcourse with the its grunty engine.
Since its first launch, not much has changed with the bike. Some visual upgrades and a revised feature list is what it has got over the years. It is priced over Rs 1 Lakh, now with single-channel ABS.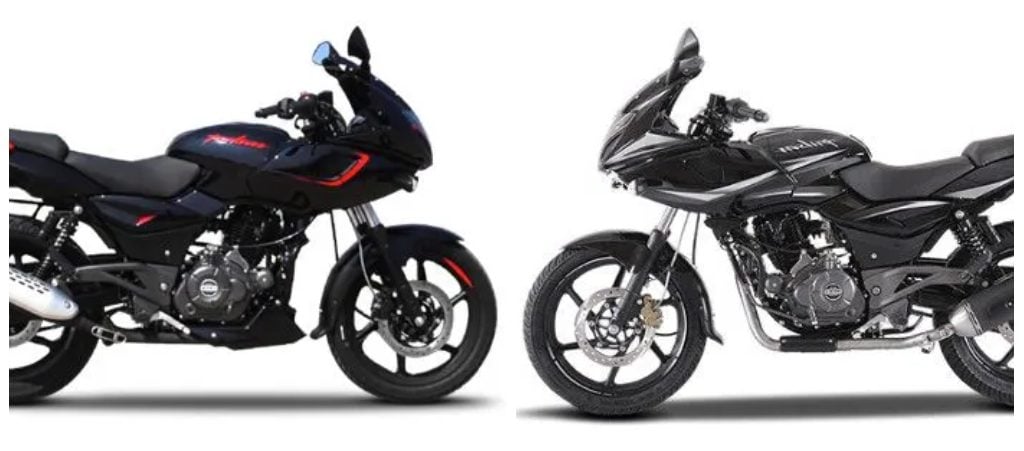 The new Bajaj Pulsar 180F has already started reaching the showrooms. It is an additional variant based on the Pulsar 180. Due to its identical looks with Pulsar 150, Bajaj sought to give something different with the 180cc engines.
Also Read: Five things to know about the new Bajaj Pulsar 180F
Engine
While the Bajaj Pulsar 180F uses a 180cc engine, the 220F uses a 223cc engine. Stating the obvious. The 180F uses a 178cc air-cooled engine, that is capable of producing 17 BHP and 14.2 Nm of peak torque.
Pulsar 220F uses a 223cc oil-cooled engine that delivers 20.9 BHP and 18.55 Nm of peak torque. Both the bikes come mated to a 5-speed gearbox.
Dimensions
Bajaj Pulsar 220F gets a ground clearance of 165mm, while the 180F gets a shorter clearance of 160mm. The difference is seen because of the addition of an engine bash plate in the 180F.
Also Read: Bajaj Pulsar 150 ABS reaches dealerships; Prices revealed!
Reports say that Bajaj Pulsar 180F is a bit lighter than the 220F. The latter variant tips the scales at 155 kgs. We expect the 180F to be lighter by 5-7 kgs.
Design
Pulsar 180F and 220F do not look very different from each other. There are some subtle differences between them, keeping the overall design identical. The 180F gets a plastic engine belly pan, which the 220F misses out on.
The graphics on Bajaj Pulsar 180F are more subtle than that on 220F. Also, the colour of the graphics is different. Lastly, the 180F logo is painted in Red and Black, which on the 220F is Chrome and Black.
Also Read: Bajaj Pulsar 180 ABS reaches dealerships; priced at Rs 92,563
Prices
Bajaj Pulsar 180F is much more affordable than the 220F. Priced at Rs 84,570 (ex-showroom), it is nearly Rs 20,000 cheaper than the 220cc Pulsar. Since the prices are of the non-ABS variant, the price difference will decrease by Rs 6000.