Bajaj Pulsar is among the most common bikes used by the aftermarket bike modification houses and this is a perfect example of it.
This is a great example of how a regular Bajaj Pulsar owner can get a taste of a Ducati Multistrada without breaking the bank. Aftermarket bike modification houses have become so competent that they are able to replicate just about any motorcycle from across the globe. What is even more impressive is the fact that it is not entirely possible for anyone to recognize the difference at first glance. Here are the details of this uniquely modified Pulsar 220.
You may also like: This Rs 20 Lakh Ducati Panigale is a Rs 1.7 Lakh Bajaj Pulsar Underneath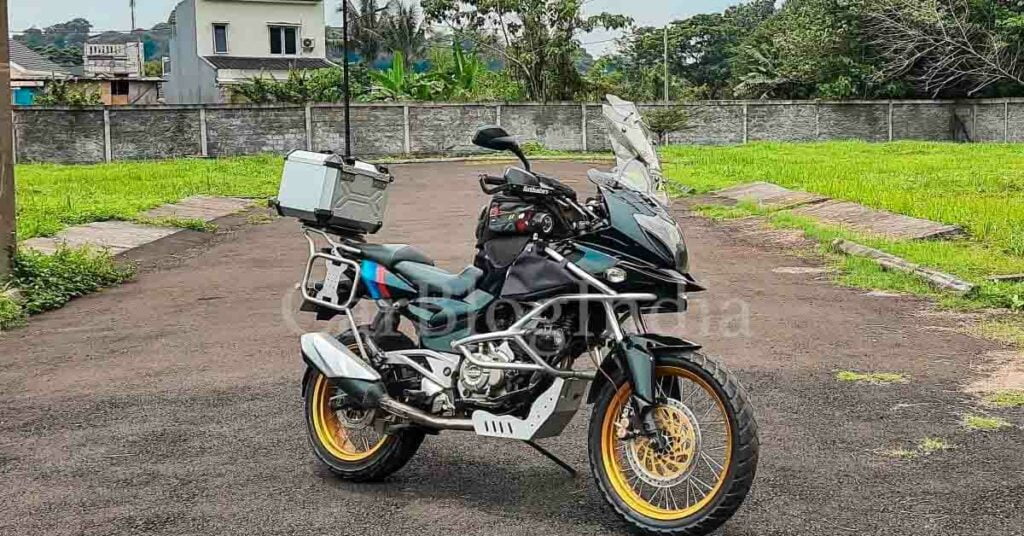 You may also like: This Royal Enfield Cafe Racer is Actually a Bajaj Pulsar
Bajaj Pulsar Modified like a Ducati Multistrada
These images have been shared on the Bursa Pulsar Indonesia page on Facebook. As one can clearly see from the image, the fit and finish of this motorbike is simply exquisite. While the overall bike might look a bit more compact and smaller in dimensions, which is understood, the intricate details of the designs are spot-on. This includes an aggressive front end with a sharp element under the headlamp cluster, a massive wind visor with a compact handlebar, a barebone body structure with narrow rods as a frame, a rugged exhaust pipe, sleek side body panels, muscular fuel tank, a Jerry can at the rear, golden spoked wheels, and much more.
You may also like: Bajaj Pulsar N250 Vs NS200 Vs RS200 Race Shows Benefit of Fairing
List of Modifications on this bike
There are a ton of performance modifications on this bike as well. The owner has mentioned that it is on sale as well.
Complete documents (Invoice and purchase note)
Long Tax (2027)
Plate B Depok
Front Lift 10 cm / Back 5 cm
Front Rim Ring 19/2.5 inch (Scarlet)
Rear Rim 17/5 inch Ring
Front Tyre 110/80 (Metzeler)
Rear Tyre 160/80
Crashbar
Bracket Box
Top Box
Tank Bag
Windshield
Mud Guard
Handguard
GS Muzzle
Exhaust
Engine Guard
You may also like: Top 5 Suzuki Hayabusa Replicas Based on Indian Bikes
There are a few other minor modifications as well, as mentioned in the post on Facebook. We believe it could only be a Bajaj Pulsar that is so prominent across the markets that could have been chosen as the donor model for something like this. What are your thoughts on this uniquely modified Pulsar?
Join our official telegram channel for free latest updates and follow us on Google News here.