In a bizarre attempt, a Bajaj Pulsar 220 has been equipped with the tyre of a tractor in this video. Check out the consequences of it.
The video by a famous YouTuber captures a Bajaj Pulsar 220 installed with a massive tyre of a tractor. Now, such videos are made for entertainment purposes only, as mentioned by the YouTuber himself and should not be attempted by anyone anywhere. Such modifications are not only illegal but also dangerous for the safety of everyone involved. Pulsar is one of the most popular bikes in the country and that is why it has been used in this experiment. Here are the details.
You may also like: This Rs 35 Lakh Kawasaki H2R is Actually a Bajaj Pulsar!
You may also like: Part 2 of Bajaj Pulsar 220 Ghost Rider Stunt Is Stupidity
Bajaj Pulsar Tractor Tyre
The YouTuber and his team bring out the Pulsar with a massive tyre out of their garage. He explains how they have been able to fit this tyre on this regular motorcycle. They have completely removed the front suspension and tyre assembly. Two rods are inserted into the lower part of the handle. At the end of these rods, the tyre of the tractor has been fitted using a hub. The rider drives the bike out of the garage and the team decides to take it out on the roads. They are seen travelling through dirt tracks, uneven road surfaces, tarmac roads, etc. However, the front tyre has no brakes as the brake discs won't cover such a huge tyre. That is what makes it so dangerous.
Needless to say, the handling of the bike is not great either. The engine of the bike is kept the same and the weight of the tyre is increased significantly. Hence, more power is required to move the tyre. If driven on roads, it could be a health hazard and road safety issue for the riders and traffic on the road alike. That is why the YouTuber also mentions not to try something like this on roads and confirms that he has done it for entertainment only.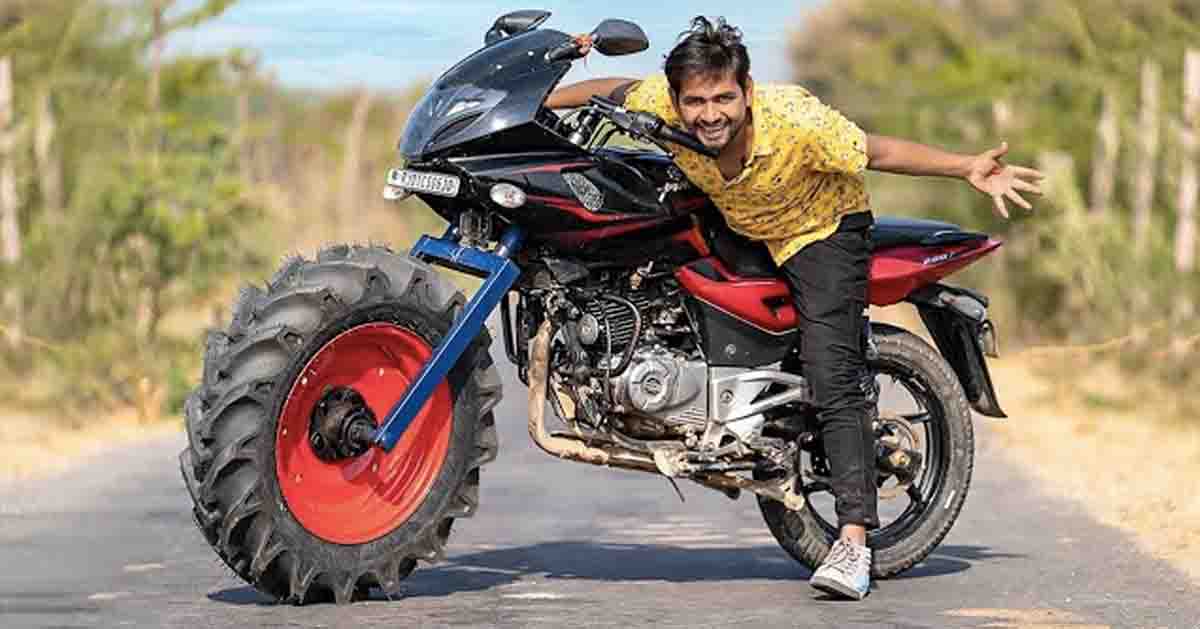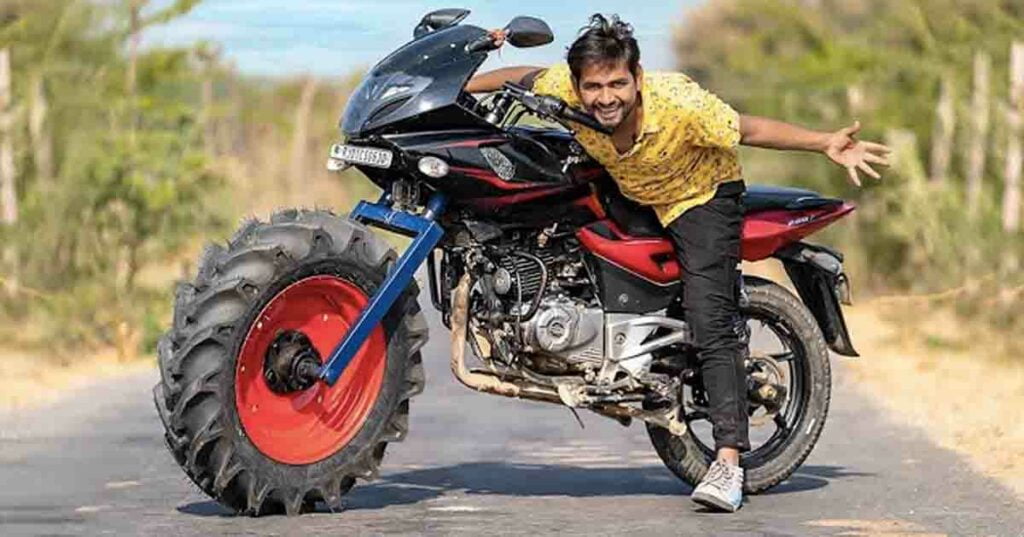 You may also like: WATCH India's First Bajaj Pulsar Electric Review Video
We urge all our readers to not try such stunts and also discourage others who are doing this. We must raise awareness regarding traffic regulations and safety measures on our roads to reduce the number of accidents.
Join us for FREE NEWS Updates on our Whatsapp Community or our official telegram channel.