We've reported numerous accidents in the last few months. All these incidents have shown surprising build quality of vehicles in unfortunate events of a mishap. Also, each of these incidents have led to some surprising visuals, such as a Tata Nexon making unscratched through a brick wall. However, the picture we have here with us involves a Bajaj Pulsar and is something that, at least in the first glimpse, will leave you a bit baffled.
Also Read- Bajaj Pulsar 250 Will Be A Definite Step Up From Pulsar RS200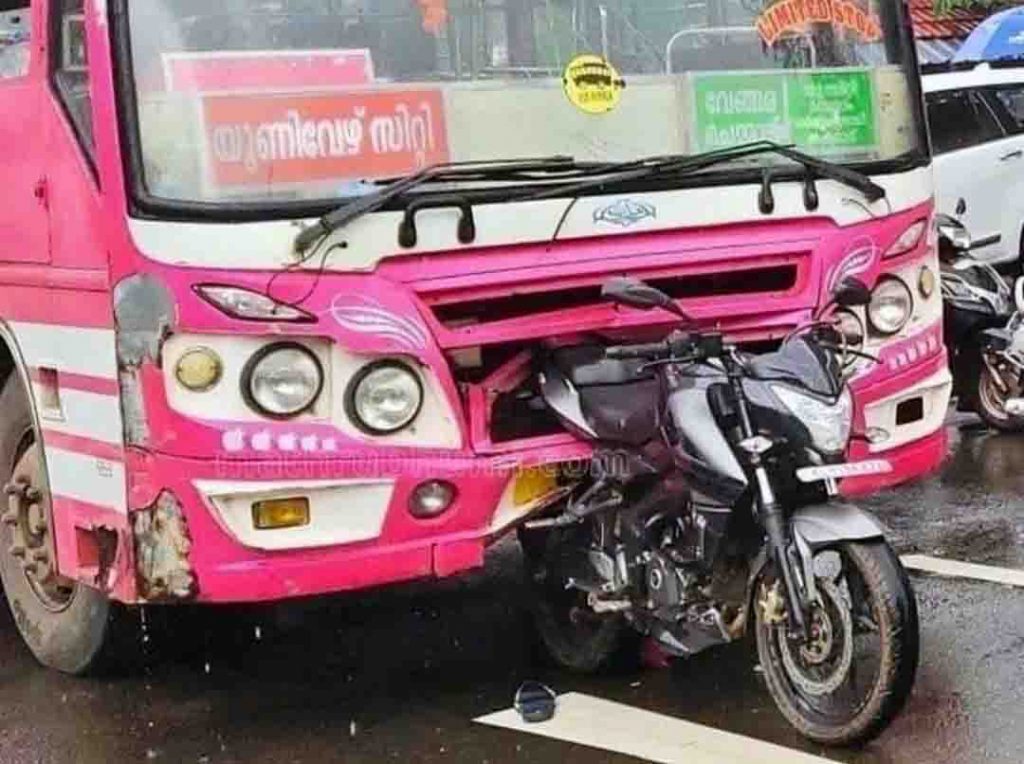 As can be seen in the picture above, a Bajaj Pulsar NS200 has been hit by a tourist bus. Generally, in cases where a two-wheeler is hit by a bigger vehicle, it's the former that sustains a lot of damage and, often, even the rider sustains a lot injuries. In this case, however, it looks like it's the bigger vehicle that has sustained a major damage. As you can see, the bus has hit the Pulsar from behind but the rear-end of the bike has simply found itself fixed inside the bus's front grille. In fact, the bus has sustained a major damage to its bumper and the front-end, while the motorcycle seems to be completely fine.
Also read: Bajaj Pulsar NS400 Concept Looks Totally Too Desirable
We're not sure if the rider of the Bajaj Pulsar NS200 is safe or not but what we're of here is the poor build quality of this bus. Mostly, such buses have their bodies made by the unorganised coach-builders, who don't use any sort of modern techniques to model and produce the bodies of such buses. Also, the material used by them is often of questionable quality. Unlike cars, which are crash tested extensively before being launched in the market, these bodies are not tested for any sort of crash performance. Clearly, the Pulsar has made its way through the front-end of the bus as it was made of weak materials, probably fibre-glass. Else, going by the basic laws of physics, a bus would have enough momentum to smash a small vehicle like a motorcycle to pieces.
Also read: WATCH Sports Exhaust From Yamaha R15M Bolted on Bajaj Pulsar RS200
In this case, however, the opposite has happened and that is simply because of the rather awful build quality of the bus. More than anything else, it highlights the kind of risk the occupants of such vehicles face during their journeys. While details of this incident aren't available at the moment, we hope no one was hurt here. We also hope that the authorities crackdown on such coachbuilders who produce such flimsy bodywork and put so many lives at risk.
Also read: Fully Faired Bajaj Dominar is The Sportsbike We've Been Waiting For!
Join our official telegram channel for free latest updates and follow us on Google News here.