In the following video, a YouTuber is seen shifting his custom exhaust from Yamaha R15M to his Bajaj Pulsar RS200. He had ordered a full exhaust system when he purchased the new R15M. The YouTuber already owns a Pulsar RS200. However, he chose the R15M to install the new custom exhaust system. After that, he took the bike out for a spin and there was a significant enhancement in the exhaust note of the R15M. The YouTuber also claimed to have experienced better throttle responses and acceleration. We know that tweaking the exhaust system could result in such enhancements. Many parameters of an internal combustion engine are connected to the exhaust system/exhaust gas treatment. Let us take a look at the process of changing the custom exhaust system from R15 to RS200.
Also read: Bajaj Pulsar NS400 Concept Looks Totally Too Desirable
Custom Exhaust Installation from R15M to RS200
The YouTuber mentions that the reason to change the exhaust from R15M to RS200 is the fact that Yamaha tells its customers that the warranty of the bike would be rendered invalid if there are any customizations to the bike. In the world of automobiles, it is always the case that the automobile manufacturer invalidates the warranty if any aftermarket customization is applied to the car or a bike. Not to mention, almost all the modifications to cars and bikes are illegal in India. So, if you are looking to customize and modify your bike or car, make sure to read the laws beforehand to know which changes are allowed. Or, you could lose the warranty and worse still, receive a hefty challan. The YouTuber has no plans of re-installing the exhaust system back to his Yamaha R15M.
Also read: Yamaha R15M vs Bajaj PULSAR RS200 Comparison & Race!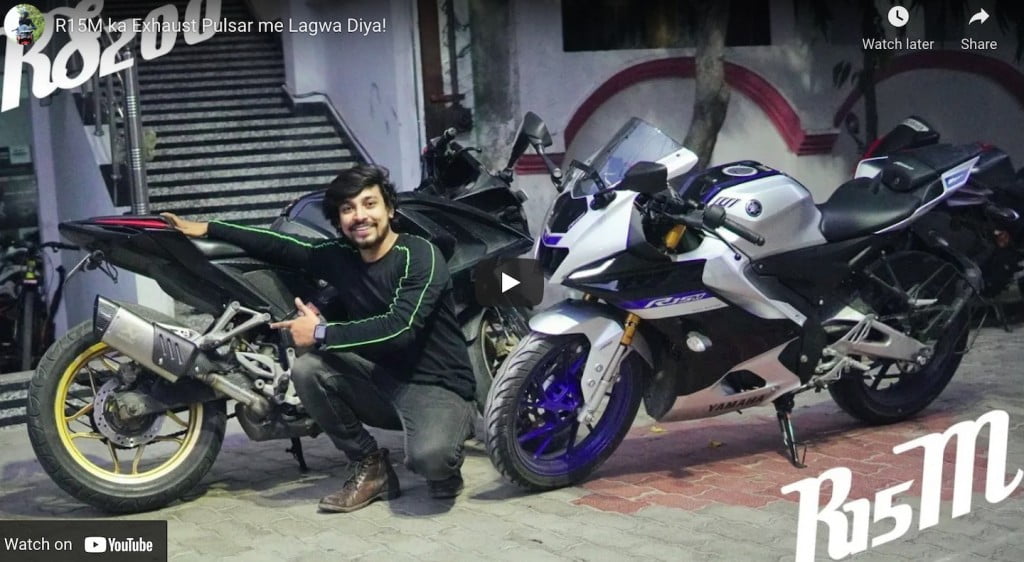 He wants to take the R15M for the first service and that is the reason he re-installs the stock exhaust in the bike. The RS200 receives this new exhaust component but the underbelly stock pipe remains intact. There is a marginal improvement in the exhaust note of the RS200 after this exhaust has been installed. The acceleration seems to have improved just a tad bit too. Watch the video to see the change in driving dynamics of both the bikes (R15M and RS200) after installing the custom exhaust.
Also read: Yamaha R15 V4 vs R15 M – Spec, Prices, Design Comparison!
Join our official telegram channel for free latest updates and follow us on Google News here.