Here is a detailed video of the comparison and drag race between Yamaha R15M and Bajaj Pulsar RS200. Now, this may seem to be a bit apples to oranges comparison because the R15M is a 155 cc bike and the Pulsar RS200 is a 200 cc bike although the price of R15M is significantly more than the RS200. But both these bikes are preferred by various bike enthusiasts at this price point and this segment. There aren't too many performance-oriented bikes in the 150 cc and 200 cc segments. Hence, it makes sense to compare these two on a drag race strip. Before we do that, we urge you not to try something like this yourself. The YouTuber is a professional and is wearing a full-body kit for safety and doing it so that you don't have to do it yourself.
Also read: Bajaj Pulsar NS400 Concept Looks Totally Too Desirable
Yamaha R15M vs Bajaj Pulsar RS200 Comparison – Drag Race
The YouTuber starts off by being on the R15M and puts his friend on the RS200. His friend is almost 30 kg heavier than him which is an important detail in a drag race. Once the race begins, the RS200 lags behind just for a few seconds and then the bigger engine starts showing its true power. After the RS200 overtook the R15M, it was not to even close and the R15M could never touch the RS200. The bigger engine allows for a higher top speed. Despite carrying a heavier load, the Pulsar RS200 came out on top, which was expected. Thereafter, the riders swapped places. However, the result remained unchanged and the RS200 was able to beat the R15M quite comfortably.
Also read: World's 1st Full System Exhaust on Yamaha R15M – This is IT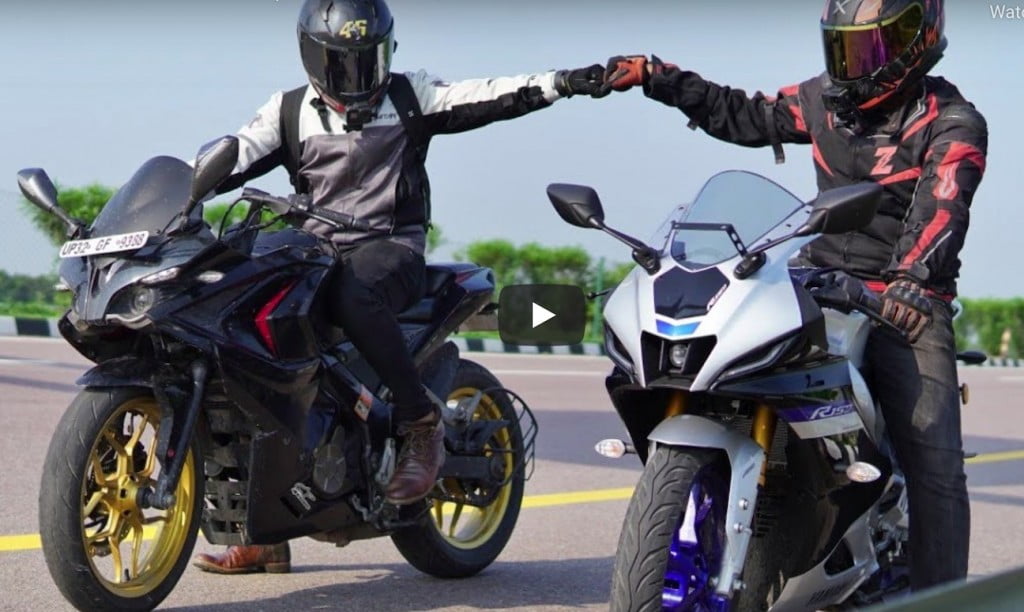 In an interesting third attempt, the R15M was given a head start and the YouTuber counted till 10 after the R15M had started. Funnily enough, the RS200 still overtook the R15M and won the race from behind. This clearly states the strengths of the two bikes. A point mentioned by the rider was that the Yamaha R15M is more refined and the overall dynamics are better than that of the Bajaj Pulsar RS200. That is the reason why the R15M costed the YouTuber around Rs 2.10 lakh and the Pulsar RS200 costs around Rs 1.70 lakh, ex-showroom. We hope that you enjoyed this comparison and race between the Yamaha R15M and Bajaj Pulsar RS200.
Also read: Yamaha R15 V4 vs R15 M – Spec, Prices, Design Comparison!
Join our official telegram channel for free latest updates and follow us on Google News here.