Well, CarBlogIndia has featured quite a few modified cars in the past. While some of these have managed to tickle our tastebuds just right, others have had us frowning on the gaudy paintwork and tasteless additions. The modified Maruti Baleno and Maruti Swift models you see here, however, look really stunning and very tastefully done up. So much that it's a whole new ballgame for us. The modified Baleno and Swift here bespoke paintwork, big wheels, smoked headlamps and, hold your breath, scissor doors! Yet, all this doesn't seem to be an overkill, rather far from it. Instead, these two cars manages to leave us amazed at the transformation from mundane family hatchbacks to head-turning, eyeball-swivelling, attention-grabbing drool machines. Read on for details on the best modified Maruti Baleno and Maruti Swift in India.

Also See – Modified VW Polo | Modified Ford EcoSport | Modified Hyundai Creta | Modified Maruti Swift | Modified Honda Civic
The highlight of the exterior modifications are the 'vertical Lambo doors'. While the idea of scissor doors on a Baleno might sound outrageously wild, this modified Maruti Baleno here manages to pull off the 'party trick' without being overtly loud. Rounding off the set of exterior modifications are black-painted 17″ alloys that come shod with fat rubber. Thankfully, there are no garish body decals, with the sticker work being bare minimum.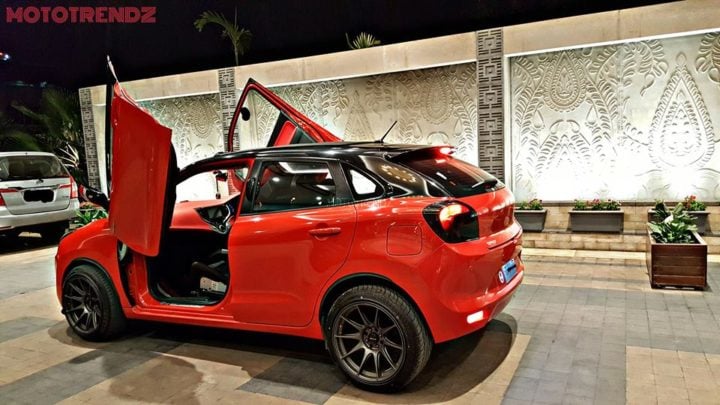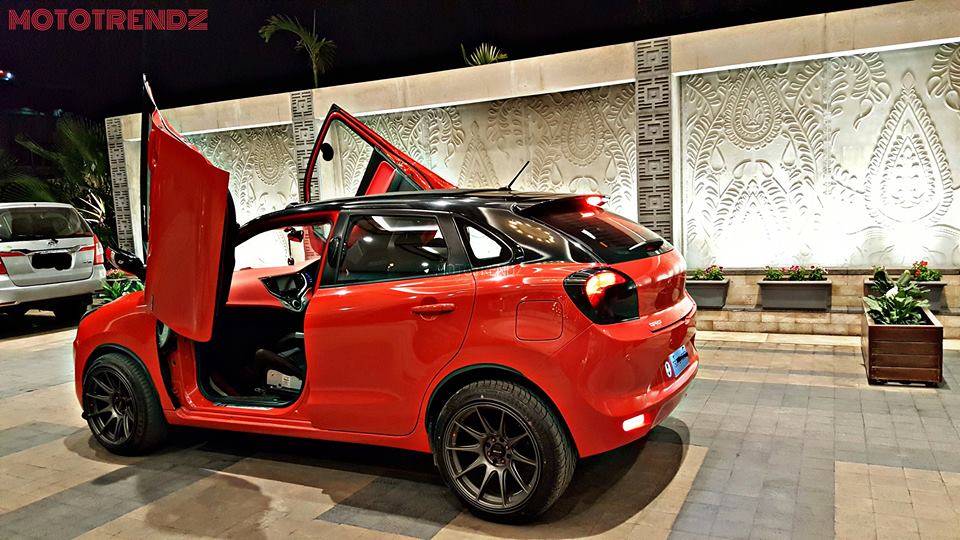 While the lower half of the exterior is finished in the stock red paint, the pillars and the roof gets a gloss-black finish. To our great relief, all the chrome has been binned in favour of black accents. To us, this red and black combo looks just right. The front-end has been given a sporty look thru addition of a bumper diffuser and smoked headlamps.
Modified Maruti Baleno Images
Modified Maruti Baleno Interior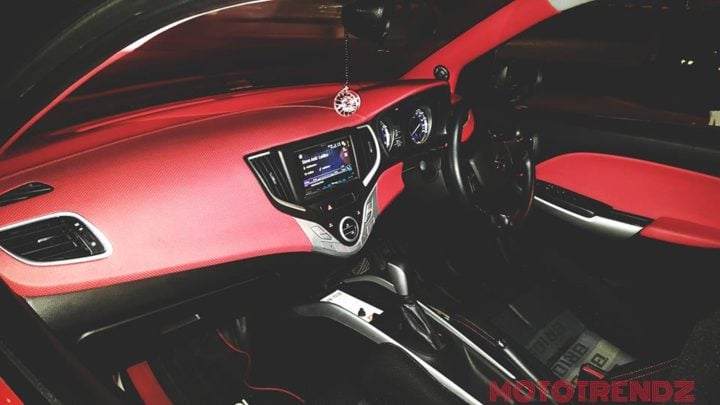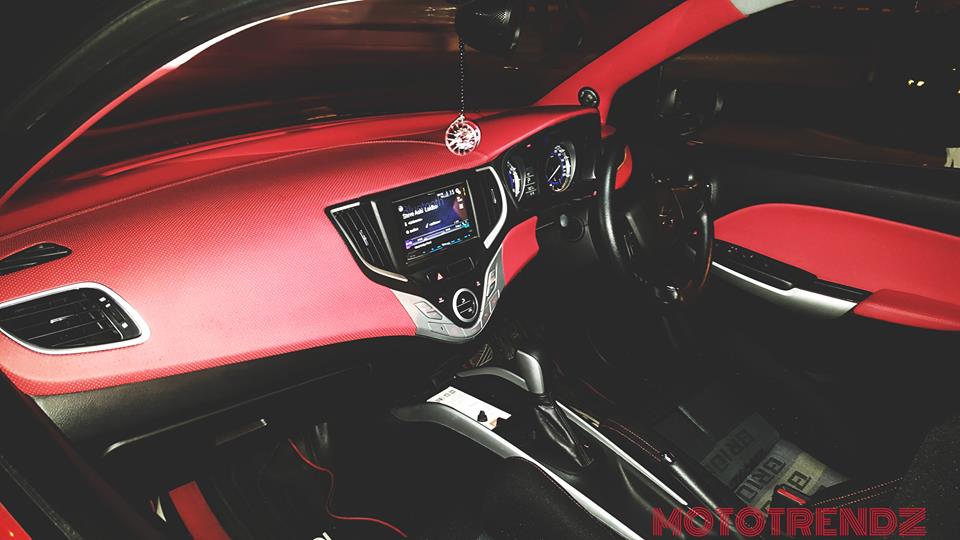 The red and black theme has been carried over to the interior as well. Also, the interior gets a pair of sports seats from Bride. The list of interior modifications also includes a panoramic sunroof.
Best Modified Maruti Baleno and Maruti Swift in India – Godfather
The modified Swift you see here belongs to Roshan Francis from Kerala. Francis has spent almost Rs 10 lakh on his Swift Diesel to make it the stunner you see in the images here. He calls his modified Swift 'Godfather' and the highlights of the modification include Viair air-suspension, custom stainless steel exhaust system, 18″ 10.5 J Emotion R wheels, 215/35/18 Accelera rubber, NKS body kit and skirt extensions. Visual updates include a custom paint job, custom headlamps and taillamps, Webasto electric sunroof, racing seats, wide body kit, and scissor doors.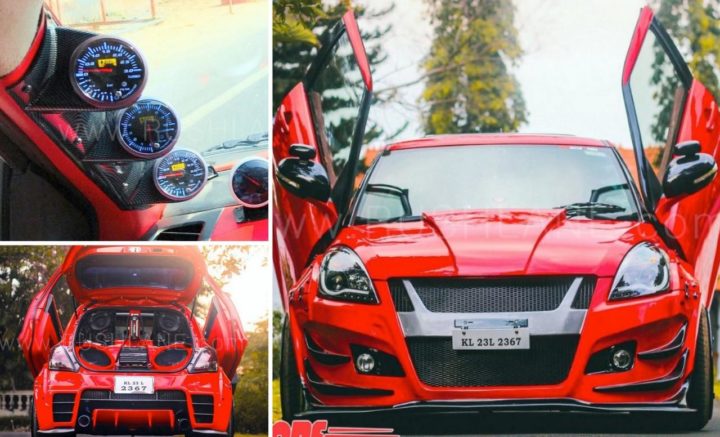 Modified Maruti Swift Images
Modified Maruti Swift Interior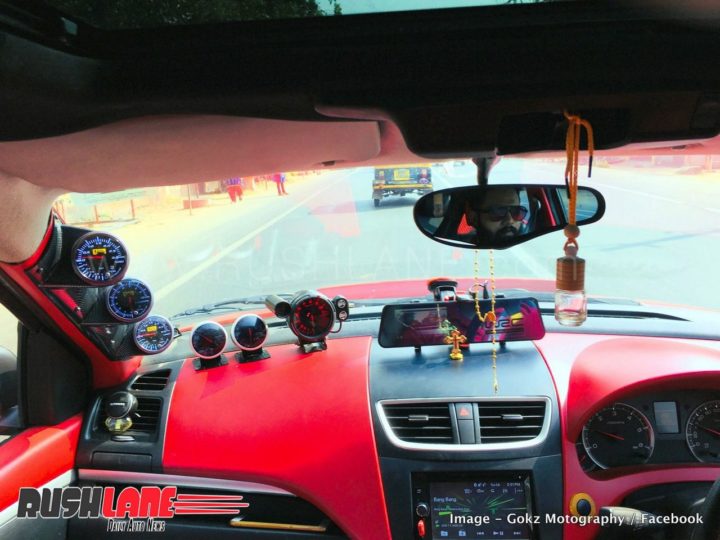 The red and black theme has been carried over to the interior as well. Also, the interior gets a pair of sports seats and half a dozen custom gauges. There's also ann electric sunroof from Webasto.
Aren't these possibly the Best Modified Baleno and Modified Swift in India? What's your take on the modifications you see on these cars? Share your views with us by penning them down in the comments section below. Also, stay tuned to Carblogindia for stories on more modified cars.
via Rushlane
Join our official telegram channel for free latest updates and follow us on Google News here.