Here is a black Mahindra Thar with a ceramic coating which makes the SUV look glossy and shiny. The Thar is a popular choice for the owners to get modified and try out new accessories. People buying a Thar is, more often than not, a passion project. After the launch of the current-gen model, which is a huge improvement over the last-gen in terms of everything, the trend of owning a lifestyle off-roading vehicle has seen a massive rise. This Thar is capable of being that with the enhanced practicality and features compared to the previous-gen model. We have also seen a ton of exterior and interior modifications to Thar from various owners. This is one such example of the Mahindra Thar owner finishing the SUV with the nano-ceramic coating. Here are the details.
Also read: Budget Version of Mahindra Thar (Less Power with 2WD) Spied Testing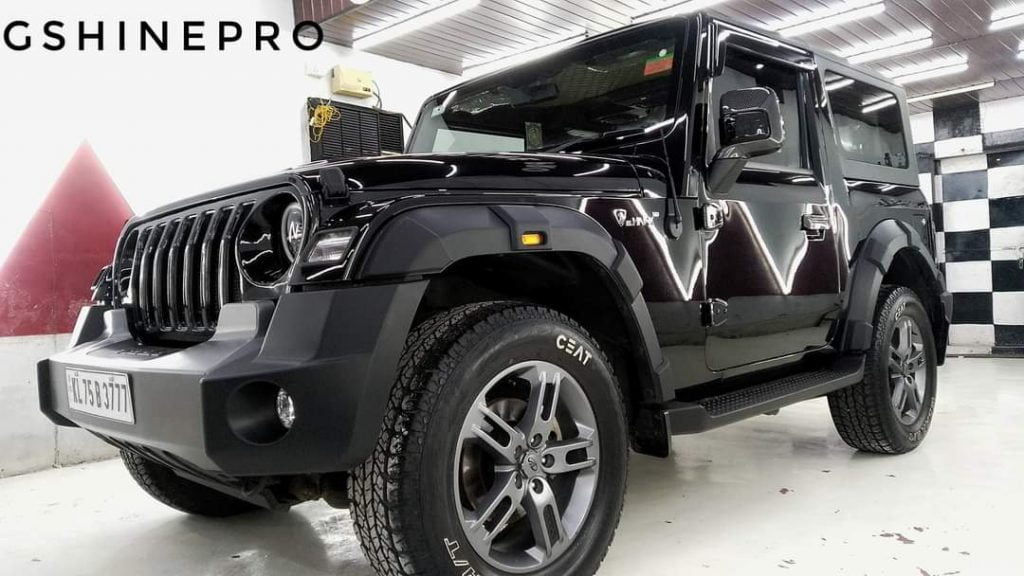 Mahindra Thar Ceramic Coating
The images have been posted by the owner on the Mahindra Thar 2021 Official Owner's Group on Facebook. The Thar is black in colour and the ceramic coating is extending extensive shine and glossy outlook. Ceramic coating bonds with the paint of the car and prevents the accumulation of water and eases the process of cleaning. It has hydrophobic characteristics and preserves the shine of the paint. Although it requires a bit of care, the results are terrific. Many people, nowadays are opting for paint protection methods. More and more people are buying cars but don't have enough covered parking space. As a result, the cars are exposed to environmental elements. Hence, paint protection methods are becoming more and more common. Ceramic coating is a decent way of preserving the exterior of your vehicle.
Also read: WATCH What NOT To Do In A Brand-Spanking New Mahindra Thar!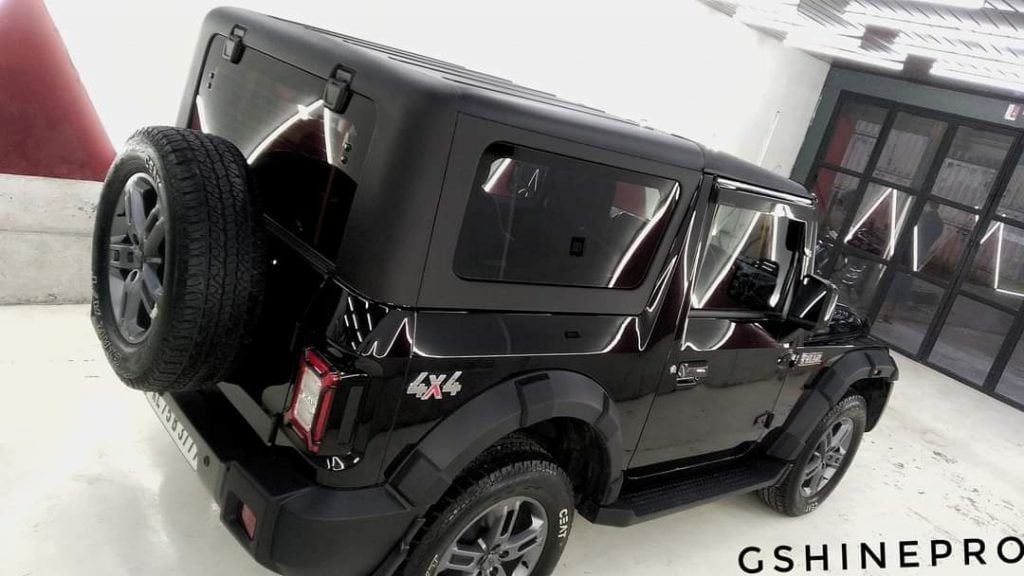 Thar
The new Thar comes with 2 engine options, a 2.2-litre turbo-diesel, and a 2-litre turbo-petrol. The oil-burner makes 130 PS/320 Nm of peak figures while the petrol makes 150 PS/320 Nm of max figures. Transmission options for both the powertrains are a 6-speed manual and a 6-speed automatic with a low range box. You also get a transfer case and a mechanically locking centre differential. The prices of the Thar range between Rs 12.78 lakh and Rs 15.08 lakh, ex-showroom. There are no direct rivals to the Thar but Force Gurkha is about to launch in the market soon.
Also read: Here's The Best Mahindra Thar Interior Modification You'll Ever See!