The video on YouTube showcases mind-boggling interior modification to Mahindra Thar. The Thar has become a target for all sorts of crazy modifications off late. People have come up with brilliant ideas for exterior and interior upgrades to the Thar. Most of the people having a Thar consider it as a hobby vehicle for adventurous trips. That makes it susceptible to various sorts of unique modification ideas. The famous automotive designer DC have also come up with a couple of completely unique designs for the Thar in the past. However, this time around, the modification to the interiors of Thar makes it look like a Range Rover or that sort of upmarket SUV. Here are the details of this modification.
Also read: Modified Mahindra Thar SUVs in Vanilla White & Candy Red – Yummazing
Mahindra Thar Interior Modification
At the beginning of the video, there is a glimpse of the exterior as well but we will focus on the interiors for this post. It is the rear that receives the update making it look way above its current segment. First of all, the entire interior theme revolves around a Beige and Brown colour scheme including door panels, upholstery, dashboard design and centre console. There are Digital Display Touchscreens at the back of the front seats for the entertainment of the rear seat passengers. The rear door panels also get soft material armrests along with LED ambient lighting on the door pads, cup holders, smartphone holders and buttons to control the various in-car functions. The seats are in a quilted pattern as well which oozes luxury.
Also read: Mahindra Thar Climbs a Hill as Rs 1.1 Cr Land Rover FAILS – VIDEO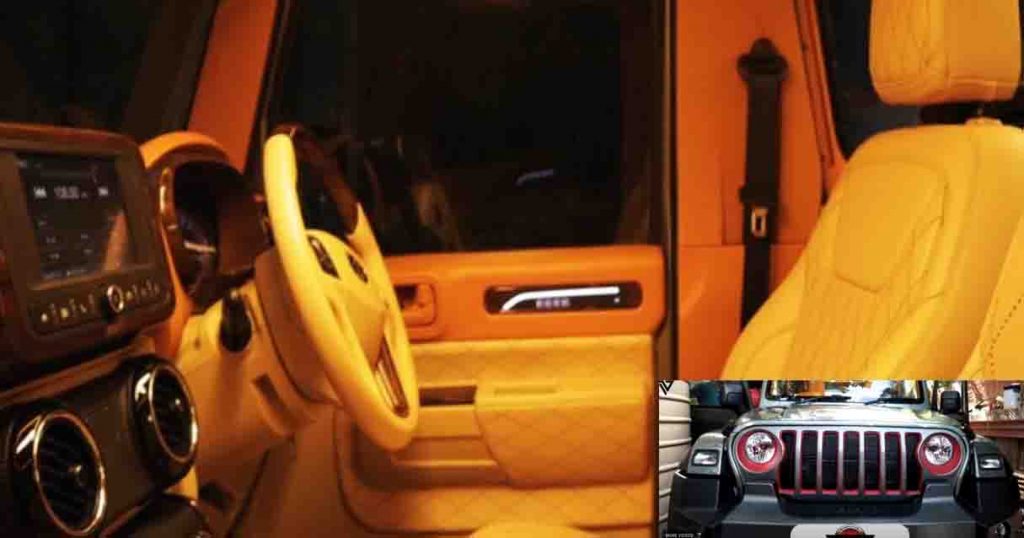 The roof is covered with customized LED surrounds around the sunroof lining separately at the front and back. Warm yellow light with blue inserts seems to be the theme of the ambient lighting throughout the cabin. The upper part of the dashboard is covered in brown material and the roof and lower part of the dashboard contrast that with the beige colour. The steering wheel features a brown and beige combination as well. The same pattern is extended to the door panels as well. All in all, this is one of the craziest and classiest interior modification designs we have seen on a Mahindra Thar. It could well be an inspiration for a ton of people looking for an interior modification to their cars.
Also read: DC's Mahindra Thar Is COSTLIER Than Jeep Wrangler- Will You Buy It?
Join our official telegram channel for free latest updates and follow us on Google News here.