BMW has been on an evolvement spree for quite some time now and come autumn, the company will once again upgrade models belonging to compact and midrange segments. Essentially the upgrade is focused on BMW 1-Series and BMW 3-Series which are going to get new engine variants as well as new equipment this Sept-October 2012 (autumn in Europe).
From now on BMW will offer the revolutionary xDrive, an intelligent four wheel drive system, with the 1 Series. BMW 120d and BMW M135i will now feature xDrive system that guarantees optimized stability, maximum traction and improved sportiness. Featuring in 120d xDrive, the system helps the car attain a top speed of 225 km/h and a 0 to 100 km/h sprint in 7.2 seconds, thanks to its 184 BHP of power that it delivers to the wheels.
The same system will also come with the BMW M135i performance model where once again it will ensure exceptionally high level of driving dynamics, traction and stability. The M135i attains a top speed of 250 km/h and completes the 100 km/h run in just 4.7 seconds.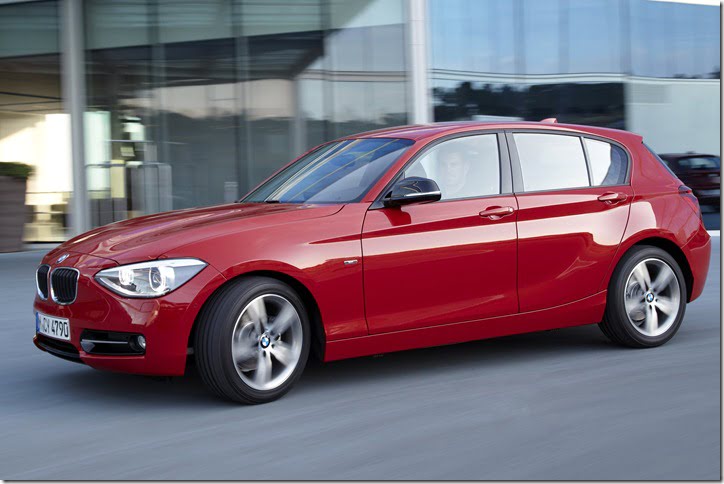 Also the company will be expanding the 1 Series model line-up and will introduce the remarkably fuel efficient BMW 114d diesel variant to its portfolio. Powered by a 1.6 litre 4 cylinder twin turbocharged diesel unit that puts out a maximum power of 95 BHP at 4000 RPM and peak torque of 235 Nm between 1500 and 2750 RPM. The car has a top speed of 185 km/h and goes from 0 to 100 km/ in 12.2 seconds. 114d returns a beautiful 23 KMPL with respective CO2 emissions between 109 and 112 grams per km.
Features list for BMW 114d includes BMW EfficientDynamics technology, brake energy regeneration system, shift point indicator, Auto Start Stop function, electronic power steering, on-demand ancillary components and tyres with reduced rolling resistance, ECO PRO mode etc.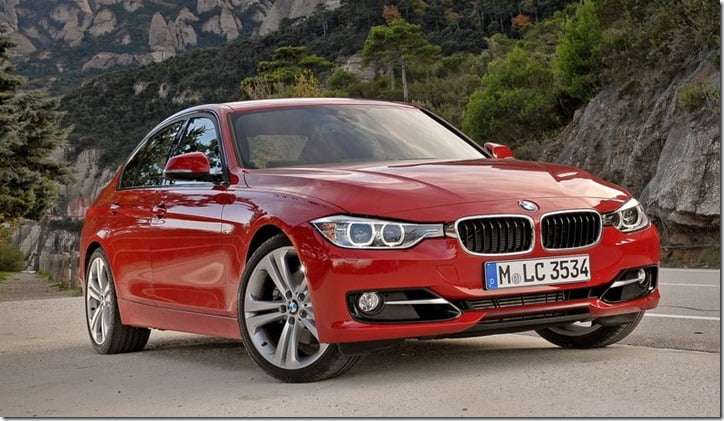 Coming to BMW 3 Series now, for the first time the BMW 320i EfficientDynamics sedan will be available with additionally enhanced technology to further reduce the fuel consumption and emissions. The car is powered by a 1.6 litre 170 BHP, 250 Nm engine that lets the car attain the 0 to 100 sprint in 7.6 seconds. It has an average fuel consumption of 19 KMPL and CO2 emissions of 124 grams per km.
There will also be a new BMW 316i sedan that is powered by a 1.6 litre TwinPower turbo engine that delivers 136 BHP of max power and 220 Nm of peak torque. The variant will be available in both manual and automatic variants delivering fuel efficiencies between 17 and 18 KMPL. CO2 emissions stand between 134 and 137 grams per km.
Following the European launch, BMW will also extend the engine portfolio of BMW 3 Series Touring. The existing 328i Touring will now be complemented by second petrol driven variant, 320i Touring which features a 2.0 litre unit that delivers 184 BHP of power and 270 Nm of torque. The car has a top speed of 233 km/h and does 0 to 100 in 7.5 seconds.
Expanding the 3 Series Touring diesel line-up too, the existing portfolio will get 316d and 318d Touring variants. The new diesel variants feature six speed manual transmission as standard. Optional eight speed auto gearbox is also available.Both the variants equip a 2.0 litre engine that delivers 143 BHP of power and 320 Nm of torque for 318d Touring, while 116 BHP and 260 Nm torque for 316d Touring.
Talking about new equipment now, an optional navigation system Professional is available. The updated system is now much faster and offers 3D graphics with lot of details. The system was earlier available with 5 Series and 7 Series only and now it will come with 3 Series Touring too. This system is further complemented by High Guiding information, Lane Guiding feature,Real Time traffic info, 3D city models etc.
Moreover a new speech recognition system has also made its way to Mobile Office Services by BMW ConnectedDrive. Voice memos of up to 2 minutes can now be recorded and sent per e-mail. Previously the system came with features like calendar display, text messages, text to speech function and much more.