Below you can see the all new BMW X1 with Mr. Peter Kronschnabl (president BMW India). BMW X1 is going to touch Indian roads late this year. BMW X1 will be CKD (completely Knocked Down) produced at the BMW Plant Chennai. This means that the components will be imported and assembled in Chennai India.
The BMW X1 opens up with a new luxury segment in the compact Sports Activity and SUV (Sports Utility Vehicle) class. The BMW X1 demonstrates the pioneer engineering capability of BMW.
The BMW X1 comes with all the features of a BMW X model and at the same time offers a new interpretation of BMW Sheer Driving Pleasure. BMW X1 is sporty by heart & design, at the same time it is elegant, Superior & lavish from inside.
Here are some of the pictures which can make you eager to buy this machine.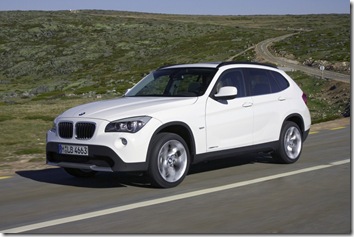 Courtesy BMW India
Technical Specifications And Price Of BMW X1 In India
BMW yet not released the official technical specifications & Price of BMW X1. As far as Price is concern it will be around 25-30 Lakh.
The technical specification are expected to be similar to the present BMW X1 sold worldwide- Check out the Technical Specifications Of BMW X1
As soon as BMW release the official Price we will update you. For free updates, opt for our free email newsletter or follow @carblogindia on twitter
Updated 23 Dec 2010