The dust has hardly settled after the Indian automotive sector saw a sea of changes owing to the implementation of GST. The automobile sector is again under focus after the announcement of the union budget by Finance Minister Arun Jaitley. The automobile sector is one of the key contributors to Indian economy as it accounts for more than 40% of the country's manufacturing GDP. This sector also generates employment of around 29 million (direct and indirect), which only goes on to highlight its importance to the Indian economy. While there has been no mention of the automobile sector in any part of FM's speech, the new budget is sure to impact the industry in some ways. Here, in this post, we have put together some information on the Budget 2018 effects on cars in India.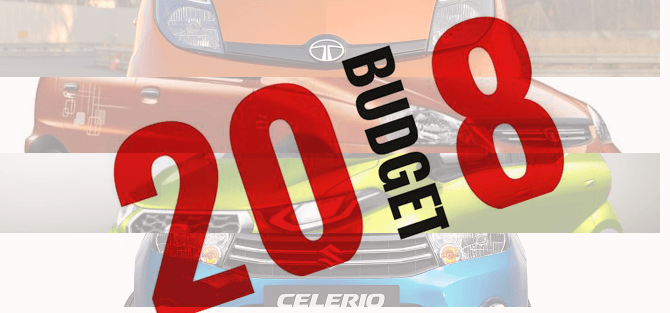 ALSO SEE- Budget 2018 Effects on Bikes – Hits and Misses!
Budget 2018 Effects on Cars – Hits
Currently, the automotive sector is under a pressure to fast-track the launch of BS6-compliant vehicles. The latest union budget just might ease things a bit for carmakers facing huge expenditures on R&D. While no specific mention of the automobile sector was made in his speech, Mr Jaitley did talk about reduction in the corporate tax to 25% for companies with a turnover of 250 crores and above. This is something that will surely please almost all automakers in India. However, it remains to be seen if a part of this benefit will be passed on to the buyers. On the flip side, luxury cars and SUVs are bound to become pricier due to additional cess on it.
ALSO SEE- Auto Expo 2018 Dates, Ticket Prices, Venue Details
Manufacturers of Commercial Vehicles and Heavy Duty Vehicles will surely get more business as the Government has big plans for the road network. Mr Arun Jaitley announced that 9,000 kms of highways will be built this year. This will surely increase business for the CV sector.
Another positive in the new budget is an excise duty cut of Rs 2 /litre on unbranded diesel and petrol. As can be seen, budget 2018 effects on cars are largely minimal.
Budget 2018 Effects on Cars – Misses
While no direct mention of the auto sector was made, the FM did talk about increasing the cess on the imported good. Hence, don't be surprised to see imported luxury cars and SUVs getting costlier.
Automakers who hoped for incentives in Research and Development will be disappointed. The companies were hopeful of benefitting from a revision of weighted deduction on R&D to 200% to enhance innovation and research activities ahead of the implementation of BSVI emission norms.
Also, the request by companies for more fund allocation to the FAME (Faster Adoption and Manufacturing of Electric and Hybrid Vehicles) has not been addressed in the budget 2018 speech.
Also, there has been no announcement on boosting EV infrastructure like the introduction of more charging stations.
There was also no mention of any sort of reduction/relaxation in taxes on electric vehicles. The industry was hoping for a strong incentive push to the EV sector. However, there has been no reduction in GST on electric vehicles and their components.
So, what's your take on the Budget 2018 effects on cars? Share your views with us by penning them down in the comments section below. Also, stay tuned for latest news on cars and bikes in India.
Editor Rating

Rated 5 stars

Spectacular
---
Budget 2018 Effects on Cars - Hits and Misses!

Reviewed by:

Published on:

Last modified:
---