Various studies show that an average car owner spends almost 1 ½ hours a day inside his or her car. Driving, in itself, is a pretty stressful activity– not even the most enthusiastic of car drivers want to get behind the wheel during peak hours. Getting stuck in traffic is irritating and induces stress. Tuning into your favourite radio channel does help bring down the irritation, but there's another, at least equally effective, way to make driving a far more relaxing experience.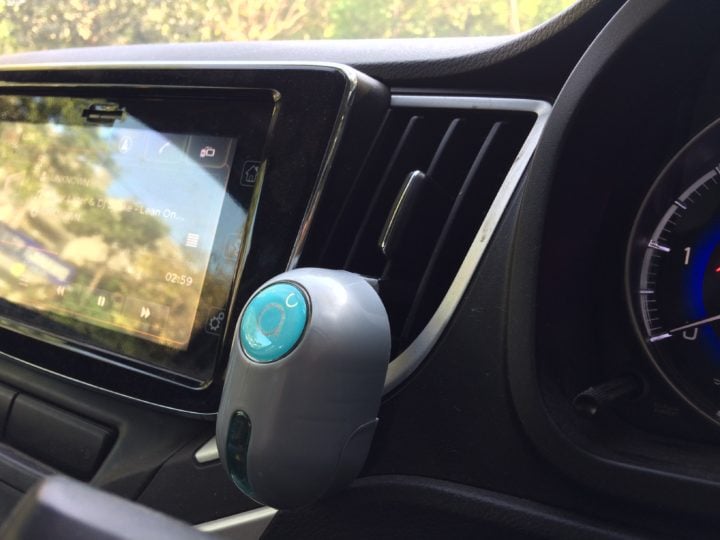 image- Godrej Aer Air Freshener on AC vent of the car
We're talking of car air fresheners. These air fresheners have a wide range of soothing effects on car drivers. Not only do these offer an aromatic car environment to make you car a more pleasant place to be in, they also help you reduce the stress levels and hence, have higher alertness on the road. Not convinced? Let's have a look at the relation between smells and human behaviour.
As per Rachel S. Herz, professor of psychology at the Brown University, any sort of smell affects a man depending on his past experience(s) with it. For example, we tend to associate the aroma of red roses with romance, which is simply because we have been exchanging these beautiful flowers with our loved ones since time immemorial. In scientific terms, this happens because of the direct relation the olfactory bulbs, which recognise and react to smells, and the amygdala, which has an important role to play with our emotions.
Most car air fresheners today offer fragrances that have a calming effect on the mind but don't make you overly relaxed or sleepy. For example, Lavender fragrances are loved by most, but it can make you a bit too relaxed or drowsy behind the wheel. Also, there are some fragrances that are appreciated but often make you a bit over-active or aggressive. Hence, car air fresheners take note of this and offer these fragrances in just the right dosage. Car air fresheners not only offer fragrances of your choice, but also ensure that their effect helps you remove irritability without losing focus on the road, or making you too aggressive. It really won't be wrong to say that a good car air freshener can go a long way in enriching your driving experience.
We recently tested the Godrej Aer Click and here's our first-hand experience with these car fresheners. The Godrej Aer Click offers a range of 6 great car fragrances that can simply refresh your car's cabin. Godrej Aer Click is an easy-to-use product that can be easily 'plugged-in' to your car's aircon vents. Once installed, all it takes is simply a click of a button to transform your car's interior! A simple click increases the passage of air through the air-freshener and hence it gives a smooth yet quick burst of fragrance. Once the car is fairly fresh, click it back again to bring it to the normal position where it releases fragrance gradually. The range of fragrances on offer includes Petal Crush Pink, Rich Irish Cocktail, Bright Tangy Delight, Cool Surf Blue, Fresh Lush Green and Musk After Smoke. We sampled the Cool Surf Blue version and the fragrance reminded us of the smooth sea breeze that flows over the coral reefs of Mauritius. The Godrej Aer click not only helped us keep our calm in the frustrating stop-go traffic but also made the journey a rather enjoyable experience.
Image Gallery
A pack of Godrej Aer Click comprises of a dispenser unit and a refill. A refill typically lasts 60 days and is fairly easy to replace.  Moreover, the Aer Click air fresheners look as good as they smell. Well, honestly, the Godrej Aer Click air fresheners look so good that they end up enhancing the look of your car's dashboard. Godrej Aer Click air fresheners are highly effective, easy to use and look really good. All this at a very competitive price!
Social media hashtag: #aerTime