The car comparison series on Car Blog India goes another step ahead and this time the battle is between two of the most successful cars from the sedan segment which are low on budget and high on satisfaction. We are talking about Maruti Swift Dzire and Ford Fiesta Classic.
Both the cars have their own markets when it comes success. While the Dzire has been accepted as a family car, the Fiesta Classic is still popular in the commercial vehicle market only and is less known as a personal car.

Maruti Swift Dzire Exteriors Vs Ford Fiesta Class Exteriors
Coming to the design part, Ford has done a good job. The Fiesta is quite simple in design with sharp and meaningful highlights. The crystal headlamps, the short grille and clean body lines bring out the appeal of the car. The Dzire is an extended version of the Swift and honestly speaking this is the reason why people buy it. From the front it's the same swift which looks quite sporty and aggressive but coming to rear, things get ugly.
The very boot of the car does no wonder and looks extremely awful. There is no such beauty in the car but it sells because of the majority of the design cues being derived from Swift.
Maruti Swift Dzire Dimensions
Overall Length : 4160mm
Overall Width : 1690mm
Overall Height : 1530mm
Overall Wheelbase : 2390mm
Ford Fiesta Classic Dimensions
Overall Length : 4282mm
Overall Width : 1686mm
Overall Height : 1468mm
Overall Wheelbase : 2486mm
A sedan is always defined by the space it offers and going over the dimensions of these two , both have their own characteristics which are liked by some and disliked by the rest. The Dzire is marginally higher and similar in width with the Fiesta but when considered the rest of the proportions, it is considerably behind. The Fiesta is longer by more than a 100 cm and also has a fairly longer wheelbase. The above section concludes that the Fiesta is shorter than Dzire but is roomier as it is marginally longer and unlike Dzire which is an extension of the Swift, it is a new design. So I would go with the Fiesta as the rear and overall looks of Dzire do disappoint me.
Maruti Swift Dzire Interiors Vs Ford Fiesta Class Interiors
Ford Fiesta Classic Interiors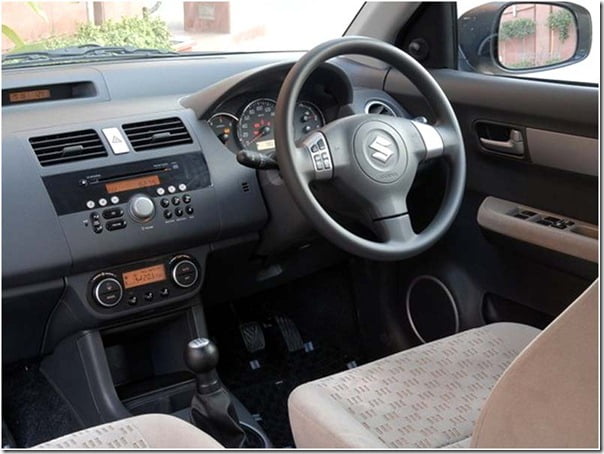 Maruti Swift Dzire Interiors
Once again as the exterior disappointed us, the interiors of Dzire disappoint us too. There is nothing new on the inside and everything belongs to Swift. Although it is the same but since we are comparing it with Fiesta,I have to say the dashboard is quite simple with seamlessly integrated AC vents, audio system etc. Unfortunately it is not as aggressive as the exteriors of the car is, instead it is extremely sober.
The Fiesta contrastingly is different and looks much sportier on the inside. The stylish dashboard has a more contemporary layout which is certainly distinct. Some of the highlighting features are liquid metal center console, metallic inserts, race track inspired seat fabric, ABS, EBD, dual airbags, front fog lamps, central locking, electrically adjusted outside mirrors etc.
Dzire is nowhere behind with offered features like ABS with EBD, dual airbags, i-Cats Immobilizer and a lot other which do come with Fiesta also but one of the exclusive features is the steering mounted audio controls. So all in all both these cars are at par in terms of features but styling is one aspect where these two differ a lot. Here I would love to go with the Fiesta.
Maruti Swift Dzire Engine Vs Ford Fiesta Class Engine
Ford Fiesta Classic Engine Specifications:
ENGINE                                             1.6L Duratec (Petrol)                                          1.4L Duratorq (Diesel)
Type                                                     4 Cylinder in-Line                                                 4 Cylinder in-Line
16 Valve DOHC                                                         8 Valve SOHC
Displacement cc                                        1596                                                                               1399
Max. power output ps (kw) / rpm  101(75.3)/6500                                                     68(50.7)/4000
Max. torque Nm(kg-m) / rpm          146(14.9)/3400                                                     160(16.3)/2000
Fuel system                                    Sequential Electric Fuel Injection(SEFI)   Advanced common rail
Transmission type                                                             5 Speed manual
Maruti Swift Dzire Engine Specifications:
Engine                                                           Petrol                                                                             Diesel
Type                                                 MPI Petrol/in-line/DOHC                                    Multijet/DDiS/DOHC
Capacity cc                                                   1197                                                                                 1248
Maximum Power(PS@RPM)             85@6000                                                                        75@4000
Maximum Torque(Nm@RPM)         113@4500                                                                      190@2000
Transmission                                                                     5 Speed Manual Transmission
Maruti Swift Dzire Petrol Vs Ford Fiesta Class Petrol
Since both the vehicles come in petrol as well as diesel versions, we will start with the petrol first. The Dzire gets a 1.2 Litre engine which produces 84 BHP and 113 Nm of torque at 4500 rpm. The Fiesta gets a considerably bigger 1.6 Litre engine capable of churning out 101 BHP of power and 146 Nm of torque.Dzire petrol offers a mileage of nearly 15 to 17 KMPL whereas the Fiesta Classic petrol offers 20 KMPL. I guess you can well imagine the difference between the driving pleasure that both these can offer. So definitely the Fiesta is our choice in the petrol category.
Maruti Swift Dzire Diesel Vs Ford Fiesta Class Diesel
The Dzire diesel comes with a unit slightly above 12 litres and produces a maximum power of 74 BHP and 190 Nm of maximum torque. The Fiesta diesel offers 67 BHP of power and 160 Nm of torque but as we see, is falling back in terms of power as well as torque. Dzire diesel is claimed to have a good mileage of approximately 20 KMPL but the Fiesta Classic diesel is way ahead as it offers more than 25 KMPL.  As diesel cars are definitely meant for delivering a higher torque, both provide their peak torque at 2000 RPM but importantly the Dzire is way ahead with 30 Nm more torque. Definitely for diesel I would love to give a thumbs up to Dzire's engine.
Maruti Swift Dzire Price Vs Ford Fiesta Class Price
Maruti Swift Dzire MPFI Petrol Prices In Delhi
MARUTI SWIFT DZIRE LXI (BHARAT STAGE IV) – Rs. 4.94 Lakh
MARUTI SWIFT DZIRE VXI (BHARAT STAGE IV) – Rs. 5.47 Lakh
MARUTI SWIFT DZIRE ZXI (BHARAT STAGE IV) – Rs. 6.39 Lakh
Ford Fiesta Classic Petrol Prices In Delhi
Ford Fiesta Classic LXI – Rs. 5.49 Lakh
Ford Fiesta Classic CLXI – Rs. 5.99 Lakh
Above in the engine section we have already seen that the Fiesta petrol is better as it gets a bigger and more powerful engine and looking at the prices, again it is quite impressive. The Dzire basic starts at 4.5 Lakh INR and ends at 6.4 Lakh INR with the middle variant falling around 5. 48 Lakh INR. The Fiesta only gets two variants of which the standard one is priced at 5.49 Lakh and the top of the line at 6.0 Lakh. Now if you are a true fan of Maruti Suzuki and want to own one no matter what features it gets, then you can go with the Dzire. But If you really want a feature packed petrol car which is drives great, Fiesta should be your choice then.
Maruti Swift Dzire CRDI Diesel Prices In Delhi
MARUTI SWIFT DZIRE LDI BS IV – Rs. 5.85 Lakh
MARUTI SWIFT DZIRE VDI BS IV – Rs. 6.36
MARUTI SWIFT DZIRE ZDI BS IV – Rs. 7.19 Lakh
Ford Fiesta Classic Diesel Prices In Delhi
Ford Fiesta Classic LXI diesel Rs. 6.48 Lakh
Ford Fiesta Classic CLXI diesel Rs. 6.89 Lakh
The diesel section is where the Dzire gradually takes the lead. The same starts at 5.85 Lakh and ends at 7.2 Lakh with its top end variant. The Fiesta contrastingly starts at a surprisingly high price of 6.48 Lakh, Rs. 12,000 more than the Dzire VDI, and ends at 6.89 Lakh which is an appreciable Rs. 30,000 cheaper than Dzire top of the line ZDI.
As we see again the Dzire base variant is almost Rs. 60,000 cheaper than the base LXI Fiesta and if you want to own a diesel car for the sake of travelling long distances only, you should go with Dzire. On the other hand if you are looking for a diesel car which is rich in terms of features also, then you must opt for Fiesta CLXI as it is 30 k cheaper than Dzire ZDI. But please remember, if you are looking more a powerful car then Dzire diesel is the one you should look upto as it is way more powerful than Fiesta Diesel.
Car Blog India Verdict – Maruti Swift Dzire Vs Ford Fiesta Classic
As you have read above, we compared the two cars at each stage and they both turn out to be good in their respective fields. The Dzire petrol has a smaller engine whereas the Fiesta petrol has got a meaner bigger engine. Also the latter is priced very competitively and offers all the features one could probably expect. For the Diesel engine section interestingly, Dzire stands out as it offers more power and also is priced less for the base variant.
In terms of mileage the Fiesta has no competition and comparing the top end variants also, the car gives a serious competition to Dzire. I believe I have said it all and now its your decision as to which car you want to own.
check out more-
Join us for FREE NEWS Updates on our Whatsapp Community or our official telegram channel.