All those who've been regularly visitors to CarblogIndia would probably know that we keep a keen eye on notable cars and bikes modifications happening across the country.  While most of these modifications that we have featured here are tastefully crafted specimens that go on to enhance the visual appeal of their donor vehicle, some of these modifictions even offer a higher level of performance. Most of these modified cars and bikes are owned by passionate owners who have spent a lot of time and money on tweaking their rides. The car we have here today, however, isn't exactly another of such private modifications. The DC modified Hyundai Creta comes kitted out with a body kit that can be purchased from famous car modifier Dilip Chabbaria. Yes, the car you have here is indeed a Hyundai Creta that has looks rather weird in another attempt by DC to 'improve' the visual appeal of a popular car. Read on for full details on the DC modified Hyundai Creta SUV.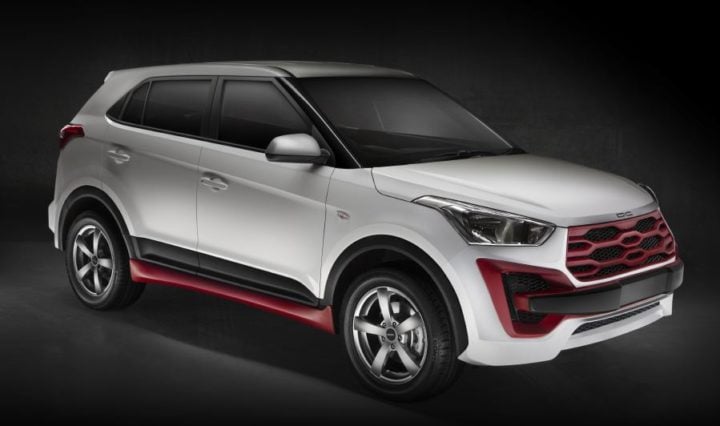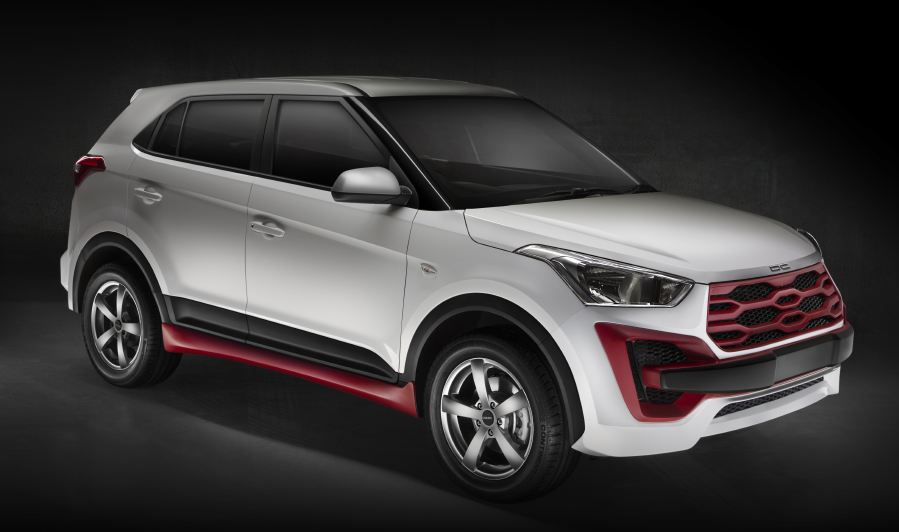 In typical DC Design fashion, the DC modified Hyundai Creta here gets a loud body kit that has gaudy written all over it, in bold! Honestly, it's still not as bad as the DC modified Maruti Swift that we featured earlier, but the Creta seen here has certainly ditched its clean, handsome appearance for something far more cluttered and overdone.
Also See- Cool Hyundai Creta Modification
DC Modified Hyundai Creta – Exterior Modifications
This custom Hyundai Creta gets a handful of styling updates that work together to make this car look. . . .errr. . different, at best, and gaudy, at worst. The custom body kit brings in many new red-painted body parts. Up front, you get a completely new bumper with huge fog lamp enclosures. The Hyundai logo has been replaced by a DC insignia. We've seen a similar design language on many other DC-modified vehicles in recent times. Frankly, we've never been fans of most of these mod-jobs by DC and this one's no different. While the updated nose is sure to get you more attention on the road, we feel the changed have in fact ruined the handsomeness of the stock car.
Also See- Swift by DC Design | Vitara Brezza by DC Design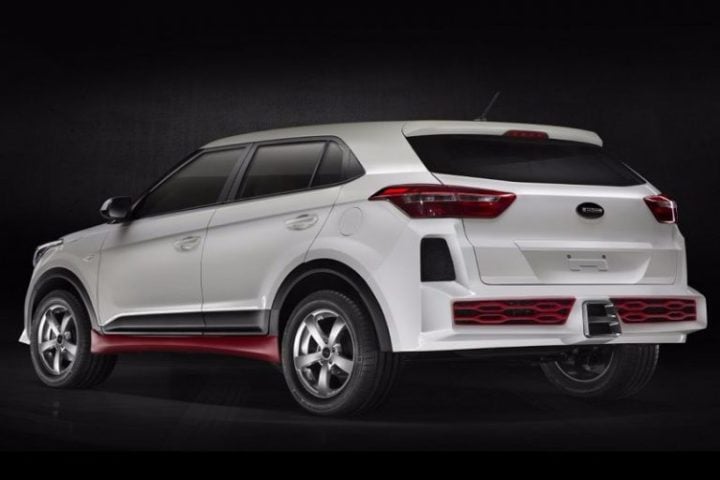 In side profile the car gets new alloy wheels and red side skirts. Yes, the addition goes well with the contrasting black plastic cladding the car comes with. Even the rear hasn't been left untouched. The posterior of this DC modified Hyundai Creta is characterized by a new bumper that has huge honey comb vents. Basically, the rear is a reflection of the front and we really can't find a reason to love it. Of course, there's a DC badge even on the tail. The exhaust outlet is not built into the centre of the rear bumper.
DC Modified Hyundai Creta – Interior Modifications
Even the interior of the DC modified Hyundai Creta seems some major changes. The entire cabin gets a dual tone red-black theme that is sure too appeal to those looking for a touch of sportiness. Yes, even we approve of this modification. The car features an all-red leather upholstery and the panels get faux wooden inserts. The latter is something that we aren't a big fan of, but it's not as bad as the exterior of the car. The steering is also updated and comes with a red-colored boss cover. Honestly, the overdose of red seems to be a bit garish at times, but the interior is definitely far easier on the eyes than the exterior.
DC Modified Hyundai Creta – List of All Modifications
New Front Bumper
New Front Grille
DC Front Badge
Side Skirts
New Alloy Wheels
New Rear Bumper
DC Rear Badge
New Exhaust Outlet
Red-black Interior Color Theme
All-red Seat Upholstery
Faux Wood Inserts
There's no news on any possible performance enhancement. The DC Modified Hyundai Creta, akin to many other DC creations, should appeal to all those who want their Creta to grab eyeballs (for all the wrong reasons). Stay tuned to CarBlogIndia for more posts on modified cars in India.
Join our official telegram channel for free latest updates and follow us on Google News here.