DC Design is India's leading aftermarket car modifier that has designed some of the most iconic vehicles ranging from budget hatchbacks to ultra-luxurious cars.
This version of Kia Carnival by DC Design has turned out to be even more luxurious than the Mercedes V-Class. Carnival already comes with a premium cabin as it belongs to the premium MPV segment in our market. It addresses the gap in our market between something like a Toyota Innova Crysta and a Mercedes V-Class in terms of the price range. But as far as the aftermarket modifications go, this has even surpassed the German luxury carmaker. Let us check out the details.
You may also like: Kia Carnival Modified Into 7 Star Luxury Hotel On Wheels
You may also like: Watch India-Bound All-New Kia Carnival Interior & Features – Video
DC Design Kia Carnival
YouTube Shorts offers a glimpse into one opulent cabin. To start with, a retractable sidestep appears as soon as one opens the rear sliding doors of the Carnival enhancing ingress and egress. Once you are inside, you are greeted with the beige interior theme and plenty of ambient lighting. They have the convenience of folding thigh support, the roof has 3 large light panels, the beige shade complements the wooden panels on the doors really well, the switches are premium, the rear-facing seats at the rear are foldable in the aeroplane fashion, there is a large screen facing the rear passengers to cater to the entertainment needs of the occupants which gets neatly tucked in the roof itself.
The screen also demarcates the rear cabin from the front area just like in large limousines. The design helps compartmentalize the car to maintain privacy for the rear occupants. Businessmen and working professionals could have conference calls from the rear. The Carnival, even in its original form, is designed to take care of this aspect. The blinds could cover the entire windows to have a cosy feeling and not have any distractions while on business calls. The arrangement allows for a mini-meeting room inside the car itself. The rear seats slide all the way back to open up enough legroom for four people to sit facing each other.
You may also like: Mercedes User Reveals Why He Upgraded to Kia Carnival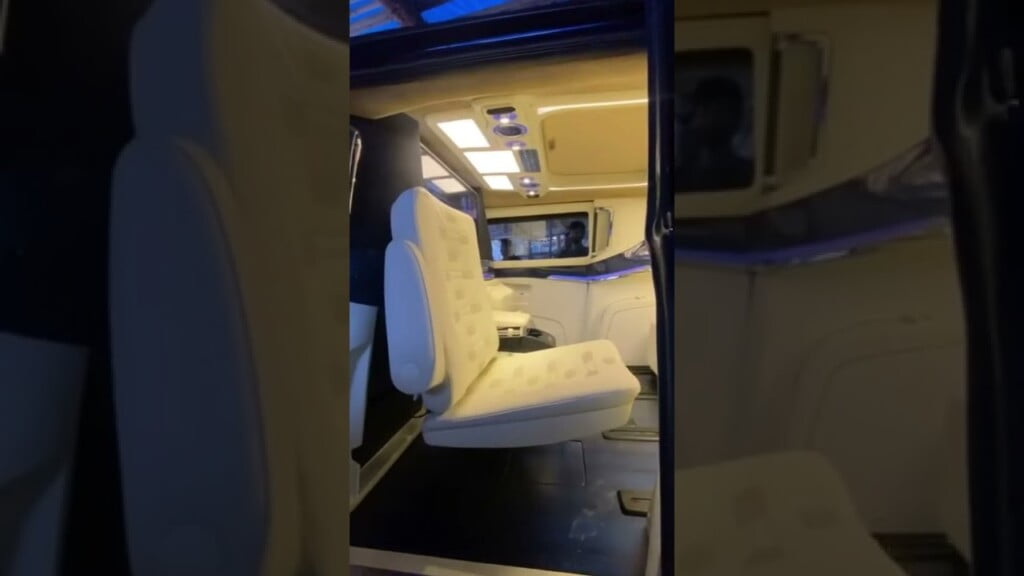 Specs
The regular Kia Carnival comes with a sole 2.2-litre VGT diesel engine belting out 197 hp and 440 Nm of peak power and torque respectively. The transmission duties are carried by a sole 8-speed automatic gearbox. Currently, the Carnival costs from Rs 25.99 lakh to Rs 34.99 lakh, ex-showroom. What do you think about this ultra-luxurious version of the Kia Carnival by DC Desing?
Join our official telegram channel for free latest updates and follow us on Google News here.