The legendary Steve Jobs was a man obsessed with immaculate designing teamed up with un-matchable performance, he was a man mesmerized by his Mercedes. Mercedes-Benz is a manufacturer who has been pushing the limits since forever when it comes to the amalgamation of Luxury and Innovation. They are a reflection the people who own it, Suave, Charming, Polished and Self-assured. It's made for the Harvey Specters and the Donald Drapers of our world meant to be owned by those as powerful as the engine within.
Now all the regular gentlemanly stuff is good but what about the times when Harvey Specter wants to loosen his tie and step on the gas, he wants the revolution per minute of his car to be matched by his heartbeat (figuratively, Of course!) as he feel he feels his spine sink into his seat. What Harvey craves for is uncatchable, unadulterated, uninhibited power at his command. As an answer to that craving Mercedes-AMG came into existence and we must say what an answer has it been.
AMG an overview:
Mercedes-AMG GmbH, originally an independent engineering firm specializing in performance improvements for Mercedes vehicles, is now a wholly owned subsidiary of Daimler AG. AMG models typically have more aggressive looks, a higher level of performance, better handling, better stability and more extensive use of carbon fiber than their regular Mercedes counterparts. AMG models are typically the most expensive and highest-performance of each Mercedes class, with the exception of non-AMG V12 models found in the most expensive nameplates of the lineup.
AMG started off by designing and testing racing engines. It expanded its business into building custom road cars based upon standard Mercedes cars. During the early 1980s and up until 1985, AMG offered a variety of engine performance packages, alloy wheels and styling products.Typical AMG performance enhancements, which could all be custom ordered by the buyer, included increased engine displacements (5.2 litre, 5.4 litre), performance top ends which included:
Port and polished heads/intake.
Lightened valvetrain.
More aggressive cams.
The DOHC 32V engine had also just been developed and was the pinnacle of AMG performance. A Getrag five-speed manual transmission could be ordered from AMG, and Mercedes had not offered a manual transmission V8 since the early 1970s. While founders Hans Werner Aufrecht and Erhard Melcher had emphasized proper racing cars, Mercedes-AMG had diverged considerably from this philosophy in recent years, with their offerings being well known for straight-line acceleration but poor handling dynamics. However, current Mercedes-AMG management has decided that the division is to return to its roots, that of building sports cars.
The 2016 Mercedes-Benz AMG GT:
Updated on 29th August 2014
This, according to Mercedes-Benz, is their best ever car till date. The Mercedes-Benz AMG GT is set to be a fierce competitor to the Porsche 911, and has been partially unveiled before a full reveal at the Paris Motor Show in October 2014. So lets dive into the facts which matter and see what actually happens "when a company unleashes its creative and engineering forces..".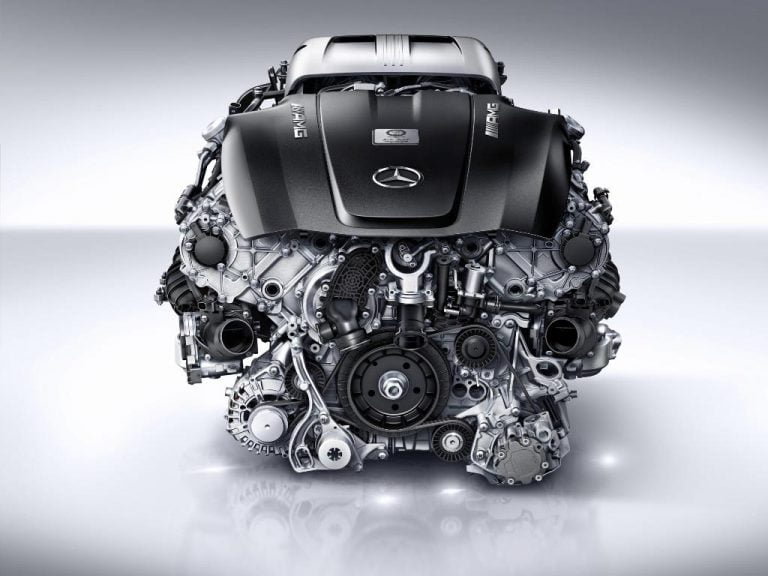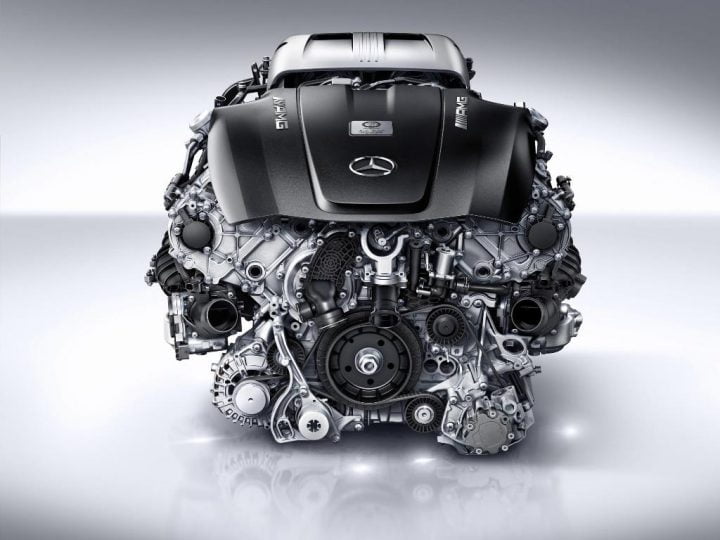 As we've previously reported, powering the Stuttgart-based manufacturer's SLS AMG replacement will be a new 4.0-litre V8 bi-turbo engine that produces 503bhp and 650Nm of torque. This peak power is available at 6,250prm, while assessing maximum torque requires as little as 1,750rpm and can be maintained right up to 4,750rpm. AMG insiders have previously revealed the engine has the potential to develop even more power, but have so far refused to be drawn on just how far they plan to take it.
Mercedes is yet to confirm basic performance figures for the AMG GT either, although we now know the EU6 emissions standard-compliant eight-cylinder unit can manage up to 28.8mpg – a 7.4mpg improvement over the outgoing 6.3-litre naturally aspirated V8.
Built by Mercedes' AMG performance arm according to the "one man, one engine" principal, the new smaller capacity V8 weighs in at a minimum of 209kg and benefits from two turbochargers housed in a compact 'hot inside V' formation.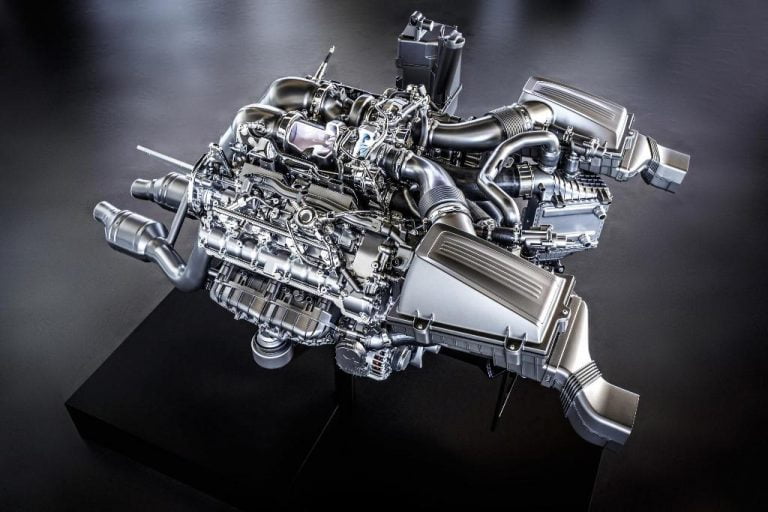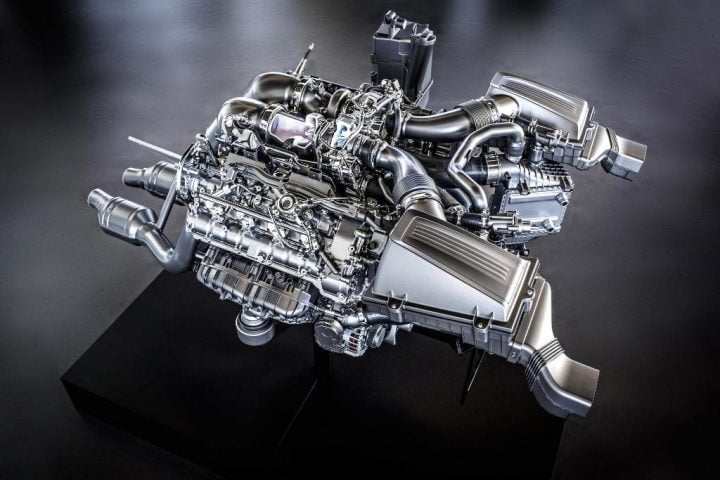 As the name suggests, the turbos are not mounted on the outside of the cylinder banks as is conventional, but are actually housed inside the banked V layout, resulting in better weight distribution between the front and rear axles. This apparently also serves to improve cooling, and means the engine can be placed lower to the ground, reducing the car's centre of gravity. Dry sump lubrication sees the engine drop a further 55mm, and combines with forged aluminium crankcase and pistons to further reduce weight and improve emissions. A low-friction piston ring package further reduces fuel and oil consumption.
There are zirconium alloy cylinder heads, offering improved heat resistance, and the engine sits on active mounts, which monitor its position and adjust it accordingly to avoid upsetting the balance of the car. Rounding off the efficiency-minded features is an ECO stop-start function and alternator management system.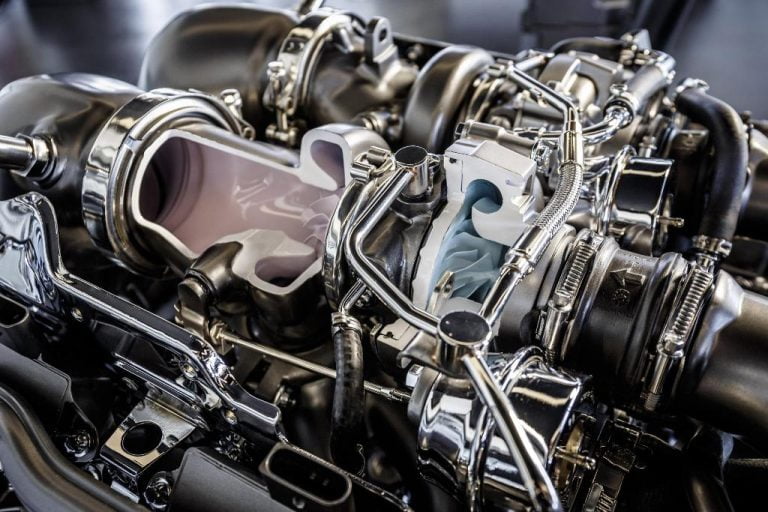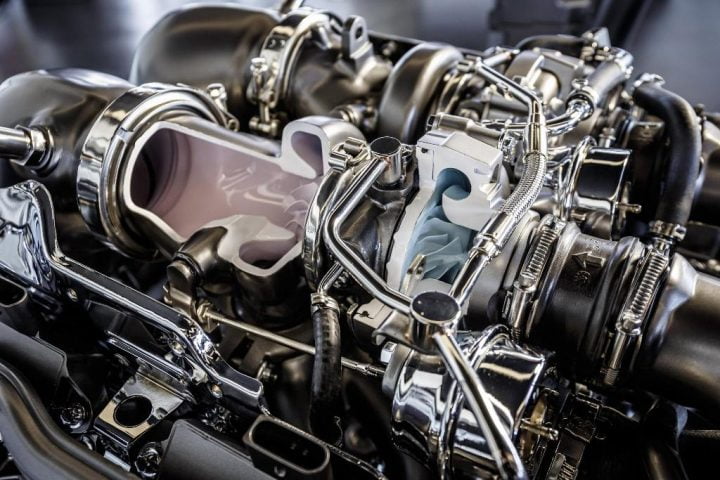 The all-new GT sports car will come with a fully variable exhaust system, too, allowing the driver to vary engine sound depending on mood and circumstance. Exhaust flaps either side of the rear silencer activate progressively depending on transmission mode, engine speed and power requirements. Lower down the rev range these remain closed, causing exhaust gases to flow through additional damping to mute the engine sound. Accelerating will progressively open the flaps until both allow the V8's full grunt to escape unrestricted.
Following completion, Mercedes apparently subjected the 4.0-litre engine to an extensive testing programme, a process involving a range of climates and routes, from cold weather trials in northern Sweden and high temperature runs in Death Valley, to laps of the Nurburgring and stop-start driving during city rush hour. Leaving nothing to chance and checking all boxes as they went along.
Updated on 2nd July 2014
In the last update Mercedes-Benz and AMG confirmed the upcoming GT will be powered by a newly developed twin-turbo V8 4.0-liter engine delivering 510 PS (375 kW) and 650 Nm (479 lb-ft) of Torque. But according to Automobile Magazine although the above mentioned information is accurate it still is incomplete. They now claim that there will be two trim levels available for the GT at launch:
A standard car, and
A sportier S-Model (likely to be badged a GT S).
Further down the track we're also expecting a convertible and a high-performance Black Series model. The standard car is said to be coming with 462 hp and the S-Model with 510 hp.
In other specs specs should include 19-inch wheels for the standard model, with 255/35 front and 295/30 rear tires. The S-Model should get 19-inch wheels up front and a 20-inch pair in the rear, with 265/35 front and 295/30 rear tires. Both will wear Michelin Pilot Super Sports as standard and come with an electronic rear differential. Interestingly, the GT is said to have the same width and track as the outgoing SLS AMG, but a shorter wheelbase has been implemented to improve agility.
The Mercedes-AMG GT-S will have a top speed of 312 KMph and will be able to return about 11 KMPL. As far as the 0-62 mph (0-100 km/h) is concerned, AMG boss Tobias Moers hinted it would take less than 3.9 seconds but didn't release an exact figure.
With the Launch expected at the Paris Motor Show, watch this space for a full preview soon.
Source: Automobile Magazine
Updated on 27th May 2014
After the Successful run of SLS AMG GT comes to an end, the German Giant has released a teaser of the next engineering marvel from their workshops, the AMG GT. They released the teaser last week, with the emphasis being on the roaring engine and some really powerful statements with fleeting glimpses of the vehicle in conversation.
So lets find out what should we expect, "When a company unleashes its creative and engineering forces to combine the absolute best of all it has ever done into a single, monumental, unwavering engineering achievement".
The Cockpit: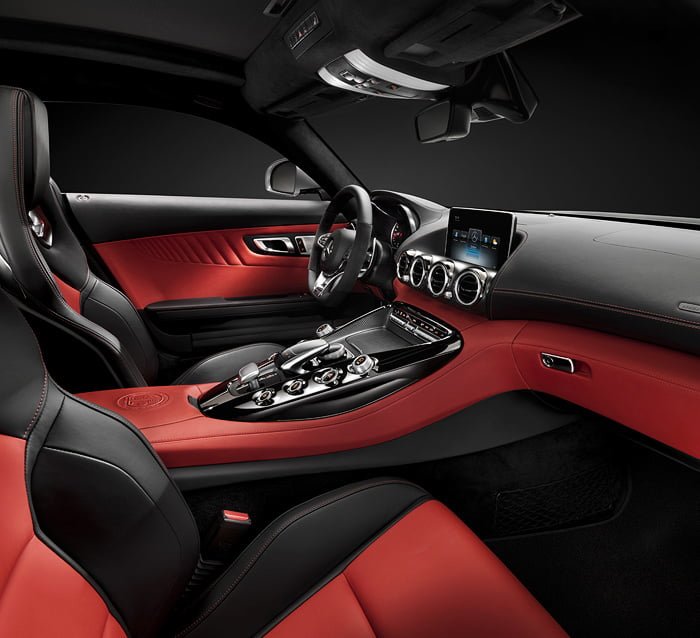 The interiors of the car is relatively more accessible with the company having released some pictures earlier. The red-accented interior are a dream,, with the finest materials and outstanding workmanship combining to conjure up a setting that simply exudes class. The lines of the interior components and their authentic materials exude a clarity that uses contrasting effects to help define the concept of modern luxury.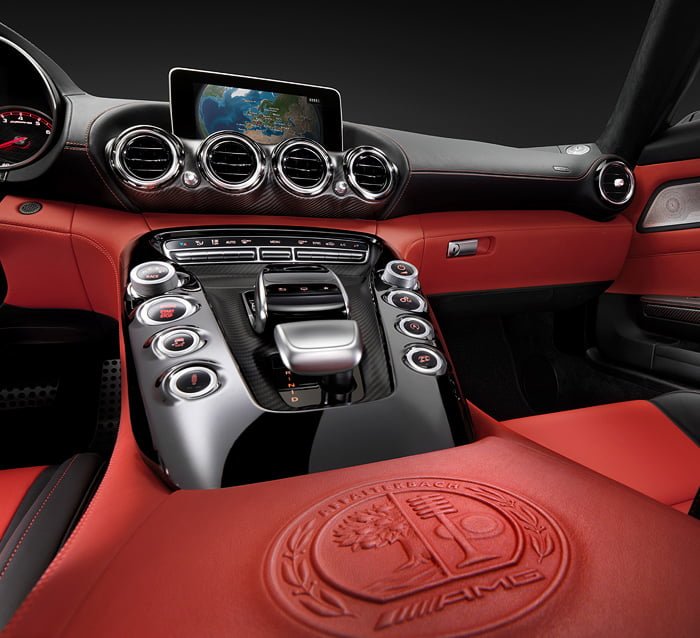 A dominant aspect in the cockpit of the GT is the further stylistic development of the central "aviation design" theme which is typical of Mercedes-Benz sports cars. The dashboard places an extreme emphasis on width, creating an impression of a powerful wing. This effect is supported by the four central spotlight-style vents and the individual vents at the left and right ends of the dashboard. The dominant centre console presents a correspondingly dynamic character its shaping reminiscent of a NACA air intake and the employed materials suggest that it has been adopted directly from motor racing. Another clever design feature comes in the form of the controls on the AMG DRIVE UNIT, which are arranged like eight cylinders in a V layout, further bolstering the powerful and high-tech impression made by the centre console.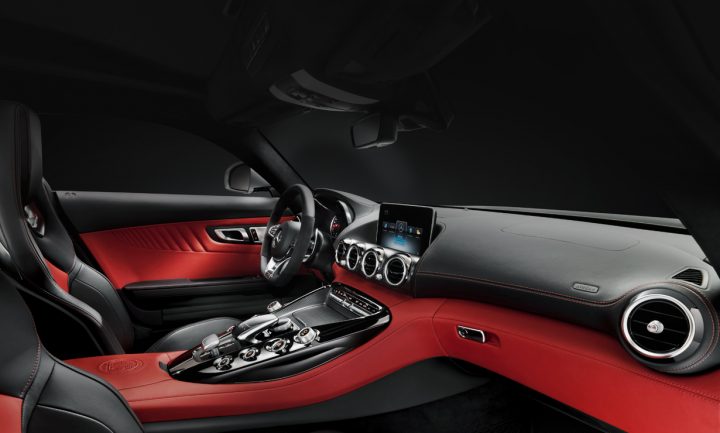 Our take:
SLS AMG GT shall leave behind big boots to fill for its successor but from whatever we know of the mysterious Mercedes-Benz AMG GT, we can assume that it wont be a problem. In what will be a direct competitor to:
Aston Martin V8 Vantage
Audi R8
Maserati GranTurismo
Porsche 911
Share your thoughts on the AMG GT through the comment section below.
Join us for FREE NEWS Updates on our Whatsapp Community or our official telegram channel.