Mahindra Scorpio is an SUV that has been extremely popular among Indian buyers for decades now.
However, some people use it to perform mindless acts on the road.
This is one such instance where the miscreants had to face the consequences for it.
In the latest occurrence, a Mahindra Scorpio was spotted doing insane and dangerous stunts in Delhi. It is becoming increasingly common for people to jeopardize their safety to make viral content for social media. To achieve this, they often use the medium of automobiles. However, that poses threats to other road users as well. That makes it criminal. Here are the details of one such case where three persons in a Scorpio were nabbed by the Delhi Police.
You may also like: First-Ever Mahindra Scorpio Classic with 26-inch Alloys Worth Rs 3.2 Lakh
You may also like: Mahindra Scorpio N Breaks Down in Just 12 km of Delivery
Mahindra Scorpio Seen Doing Stunts in Delhi
The video has been uploaded by Prateek Singh on his YouTube channel. He keeps posting such content in order to raise awareness among Indian car buyers regarding the importance of buying cars with high safety ratings. As per the information in the video, this incident took place in Noida. The visuals capture the black SUV with large aftermarket alloy wheels and blacked-out windows being driven recklessly. The driver is steering the vehicle from one lane to the other on a busy highway.
You may also like: First Mahindra Scorpio N with Tailgate-Mounted Spare – Yay or Nay?
Someone travelling behind the SUV was able to record the entire episode of this incredibly dangerous act. In fact, the Scorpio's driver is also applying brakes suddenly and forcefully, perhaps to make the Scorpio drift. In any case, this video was sent to the Delhi Police and they sprung into action rapidly. After identifying the SUV (despite it not having a number plate), they arrested the three people in the SUV. In addition to that, they were slapped with a fine of Rs 25,500 and their vehicle was impounded.
You may also like: 5 Accidents of Mahindra Scorpio N That Reaffirm the 5-star Safety Rating
Road Safety
Finally, we would like to draw the attention of our readers to the fact that such reckless acts on the highway could result in large-scale repercussions in no time. If you see anyone doing such activities, make sure to stay away from them on the road and make a video of such idiotic acts and hand it over to the authorities. That is the only way to make our roads safer than they currently are. Do share your thoughts with us on this bizarre case of stunts with Mahindra Scorpio in Delhi.
You may also like: Mahindra Scorpio N Looks DOPE with Wide Body Kit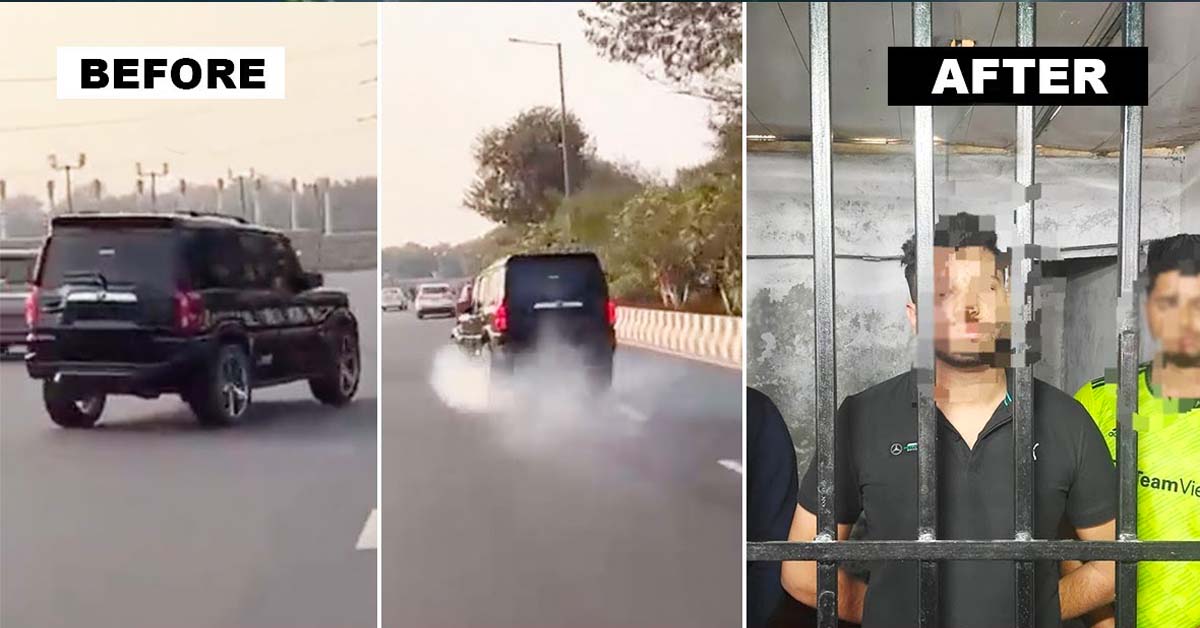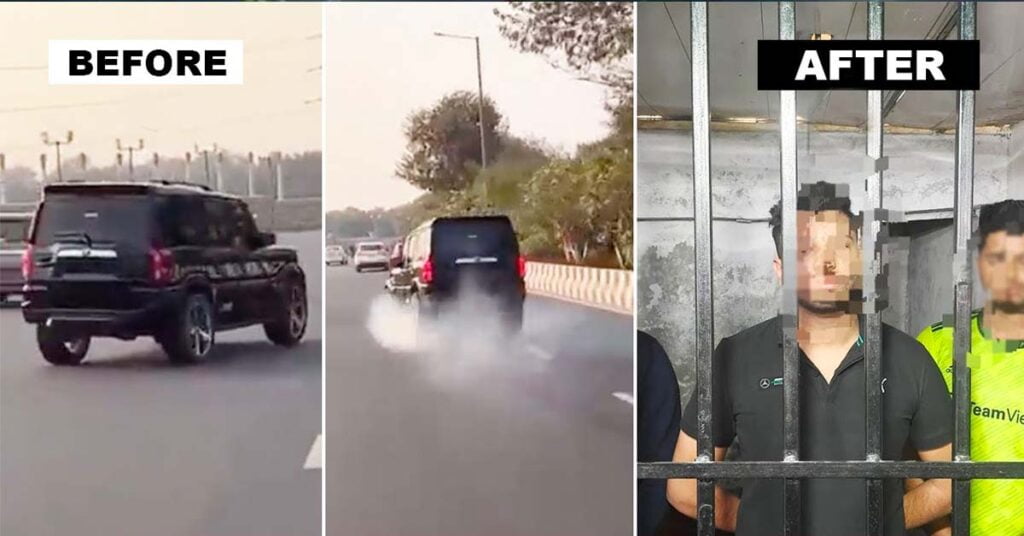 You may also like: Mahindra Scorpio Classic of Mr Indian Hacker TOTALLED in Accident
Disclaimer- The embedded videos/ external content is/are being used as a convenience and for informational purposes only; they do not constitute an endorsement or approval by Car Blog India of any of the products, services, and /or opinions of the corporation or organization or individual. Car Blog India bears no responsibility for the accuracy, legality, and/or content of the external site or for that of subsequent external videos/ external content. Contact the external publisher for answers to questions regarding its content.
Join us for FREE NEWS Updates on our Whatsapp Community or our official telegram channel.