Honda SIEL Indian has finally launched its smallest car in India, the Honda Brio at a drooling starting price of Rs. 3.95 Lakhs Ex-showroom Delhi. In our car comparison series on Car Blog India, we will compare it with the high selling cars of this segment and see how does it fare against its competition. In this article, we will compare it with Hyundai India's popular small car Hyundai i10 which is a small entry level hatchback with premium features. Honda Brio also falls in the similar price and engine segment, so lets have a look on how these two cars compete.
Honda Brio Exteriors Vs Hyundai i10 Exteriors
Honda Brio Dimension
Length 3610 mm
Width 1680 mm
Height 1500 mm
Honda Brio is designed on the new design linguae of Honda and exhibits very dynamic two-triangle design philosophy of Honda. Besides it good looks, its also larger than the i10 in length, width and slightly less in height. The packaging of Brio is also done more intelligently to make it look larger from inside.
Hyundai i10 Dimensions
Length = 3595mm
Width = 1595mm
Height = 1550mm
Hyundai i10 New Gen was introduces in October 2010 bringing some good facelifts to the car. In its segment, it has been one of the best looking small hatchbacks for a very long time, but Brio seems to be changing the game for Hyundai i10. I personally believe, that in terms of looks, Brio has an edge over the i10. The Brio looks smarter and sportier compared to the Hyundai i10.
Honda Brio Interiors Vs Hyundai i10 Interiors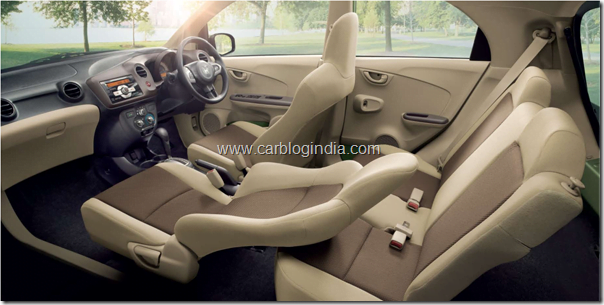 image- Honda Brio Interiors
Honda Brio looks fresh, spacious and has a great visibility from inside the cabin. The rear legroom also seems to be good in this segment of cars priced between Rs. 4 Lakhs and Rs. 5 Lakhs.The two tone interiors look upmarket, fit and finish of the dashboard, console, plastic and fabric quality etc. are all up to the mark and high quality.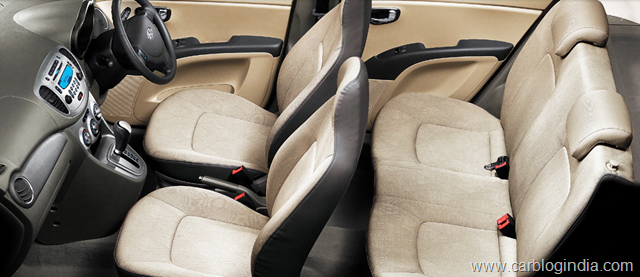 image- Hyundai i10 Interiors
Hyundai i10 has one of the most pleasing cabin in its price segment and does feature comfortable seats and good quality of plastics. However, its less in terms of width and space optimization in the cabin when we compare it with Brio, so in this department, Brio takes the lead.
Honda Brio Petrol Engine Vs Hyundai i10 Petrol Engine
Engine Specifications of Honda Brio:
1.2 Litre 4 Cylinder i-VTEC Engine
Engine Displacement 1198 CC
Max power of 86.8 BHP @ 6000 RPM
Max torque of 109 Nm @ 4600 RPM
5 Speed Manual transmission
ARAI Certified Mileage of 18.4 KMPL
Kerb Weight 920 to 940 Kg
Power to weight ratio of 93.3 BHP /1000 Kg
Engine Specifications of Hyundai i10:
4 Cylinder Kappa2 Engine
1.2 Litre / 4 Cylinder / 16 Valve DOHC
Max Power output of 79 BHP @ 6000 RPM
111 Nm Torque @ 4000 RPM
5 Speed Manual Transmission
ARAI Certified Mileage of 20.36 KMPL
Kerb Weight 860
Power to weight ratio of 91.8 BHP /1000 Kg
Looking at the engine specifications of these two cars, the Brio does offer better power and slightly less torque, but it also delivers less fuel economy at the same time. The Hyundai i10 i20 Litre engine, because of the lesser weight of the car seems to provides a good power to weight ratio which is just slightly less than the Brio. So in terms of Engine, I would call it a tie.
Honda Brio Petrol Handling and Performance Vs Hyundai i10 Petrol Handling and Performance
Honda Brio is sharp in its handling, the suspension is tuned with a good balance between comfort and sportiness. While the Brio does give a comfortable ride quality, it does handle well too with precise steering control and small body roll.
Hyundai i10 is also decent in this debarment, but like other Hyundai cars, Hyundai i10 has also been tuned more on the comfort side, so it does give better comfort on bad roads, but there is noticeable body roll on high speed cornering, so its handling is good, but not as good as the Brio.
Honda Brio Petrol Price Vs Hyundai i10 Petrol Price
Honda Brio Petrol Prices in India are as follows:
The prices of Honda Brio Ex-Showroom Delhi are as follows:
Honda Brio E is priced at Rs.3.95 Lakhs
Honda Brio S is priced at Rs. 4.35Lakhs
Honda Brio S (Option Pack) is priced at Rs. 4.90 Lakhs
Honda Brio V is priced at Rs. 5.10 Lakhs
Hyundai i10 Petrol Prices in India are as follows:
Price of Hyundai i10 Kappa2 with (manual transmission models only, with metallic paint) ex-showroom Delhi
Hyundai i10 Magna is priced at Rs.4.23 Lakhs
Hyundai i10 Sportz is priced at Rs.4.53 Lakhs
Hyundai i10 Sportz Option is priced at Rs.4.83 Lakhs
Hyundai i10 Asta is priced at Rs.5.27 Lakhs
Comparing the value for money factor of the Hyundai i10 and Honda Brio, the entry level variant of Honda Brio starts at a lower price which is about Rs. 30,000 cheaper than the i10 and makes a lot of practical sense, however, it does lack certain cosmetic features like the body colured outside mirrors, body coloured door handles etc.
However, if you are looking for a mid range model, both the cars offer almost similar features at similar prices, whereas, in that case, Brio looks like a better option as it delivers more power, space and quality for similar price tag. If you bother more about the fuel economy, then Hyundai i10 maybe a more lucrative option for you, but we consider Brio S to be better than the i10 Sportz in terms of value.
However, if you are looking for safety features like ABS and Airbags, the Honda Brio S Option pack with beats the Hyundai i10 in value if compared to the Sportz option pack which does have airbags, but not the ABS. Even the full featured version of Brio, the Brio V is cheaper than Hyundai i10 by about Rs. 17,000 which seems to be a better bet.
Car Blog India verdict – Honda Brio Petrol Vs Hyundai i10 Petrol
In most of the practical factors, Honda Brio outshines the Hyundai i10, so if you are looking for a good value car, Honda Brio will be a better choice.
However, there are two factors in which the i10 is ahead, these are after sales service network and fuel economy. Hyundai's after sales service network is larger and Hyundai cars are comparatively cheaper to maintain as well. So if these two factors ate high on your priority list, you can get an i10 else, Honda Brio is a better value for your money.
check out more-