The Society of Indian Automobile Manufacturers is showing deep concern about the recent proposals that EU has made to India during the ongoing EU FTA negotiations. The EU recently proposed a 50 percent cut on duties and taxes that are levied upon imported cars. EU also threatened that the negotiations wouldn't be concluded unless India says yes to this proposal. And since India is still continuing the negotiations, it clearly indicates that India has given nod to this step and further rounds of negotiations are in progress.
The Automotive industry body believes that if the import duties are cut down as have been proposed by EU the Indian industry will be damaged to a big level due to this. It has suggested the Government to avoid confirmation to this proposal at all costs. The damage that will be done as a repercussion of this step will not only affect the automotive industry as a whole but the Indian economy and consumers at a large will also be facing irreversible implications of it.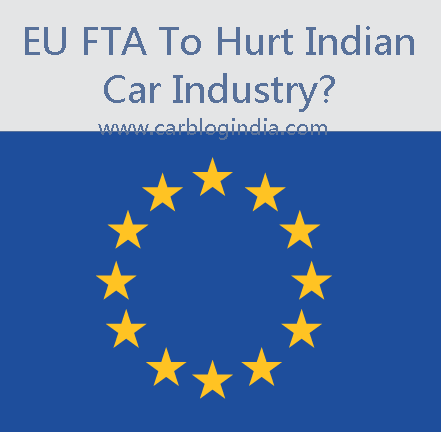 SIAM recommended that the tariff lines list that comprise of engine and CBUs should be kept in India's Negative List in all FTAs. This policy has been maintained by India in FTAs with several other nations like Japan, South Korea, and ASEAN. All these items have been included in the 2006-16 Automotive Plan. So it reminded the Government that all these items must be kept in India –EU FTA Negative List as well. It also added that this reduction in import duties is completely antagonistic to the high tariff policy that has been implemented to enhance local manufacturing, local employment, investment, and value addition as well.
The main objectives of the 2006-2016 Automotive Plan will completely get blurred in event of import duties reduction. EU is a saturated and sluggish market in terms of Automobile exports while Indian market is on boom. If the duties are reduced and more and more European cars enter Indian market the gains will be transferred completely in account of European Union and India will be under great loss.
SIAM is also concerned deeply about the new concept of "Non-New Goods" that has been brought-in recently. EU has made a demand from India that it will not acknowledge India's demand for non-new goods or other measures (that also include enforcement measures) if they prove more obstructive to new goods.
EU has asked India to reduce the import duties from 60 to 30 percent directly. Also, for some specific vehicles it has asked the rates to be dropped to just 10 to 15 percent. If this happens than it will lead to overcrowding of Indian Automotive market with European cars. During the year gone by, EU exported a huge number of cars to our nation in form of CBUs and CKDs. The total value of these cars equaled to an amount of $3.4 billion. While, on the contrary, India exported them cars of just $1.7 billion, just 50 percent of what they sent us. In the last two years, the imports from Europe has increased from 5000 units to 17, 000 units, that roughly equals to a growth of 300 percent.
Join us for FREE NEWS Updates on our Whatsapp Community or our official telegram channel.