Eimor Customs is a prominent aftermarket bike customisation house that comes up with creative and innovative options for bike graphics.
The Aarambh version of the RE 500 by Eimor Customs is a unique homage to Lord Shiva. The professional team at Eimor is able to design any sort of graphic on a bike. This includes airbrushing or engraving the fuel tank, side body panels, seats, or any other component of a bike. While browsing through their website, you would observe that most of the bikes that they modify are Royal Enfield products. It is because Enfield owners are arguably the most passionate breed of riders who are actively looking for such unique modifications for their bikes.
You may also like: 2023 Royal Enfield Bullet 350cc New Gen Spotted Without Kick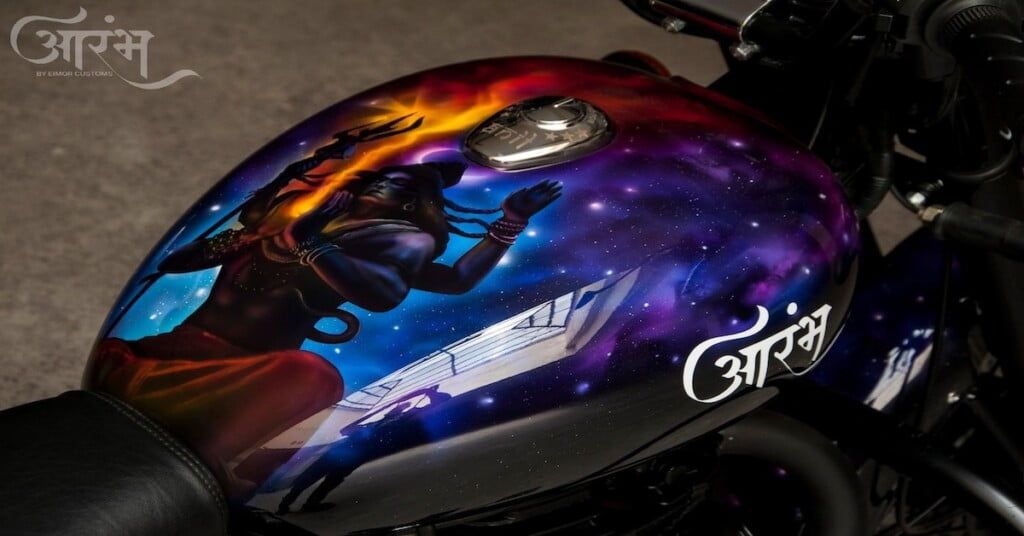 You may also like: This Royal Enfield Meteor Looks Bolder Than Hunter
Eimor Customs' 'Aarambh' is a Tribute to Lord Shiva
These images are a great example of the kind of talent that the Eimor Customs' team possesses. The motorcycle used for this customisation is a Royal Enfield. The word 'Aarambh' is inscribed on the side of the fuel tank in Hindi in white colour. The overall colour theme of the modification is violet and blue, signifying the universe with stars and other celestial bodies. In addition to that, the silhouette of Lord Shiva is clearly marked on the fuel tank with a Trident in one hand and the other hand raised in blessing.
You may also like: This RE Scrambler Concept is Every Biker's Dream
The colour scheme for the background is quite interesting and attractive. There are all sorts of shades used to highlight this special image. This includes the previously mentioned violet and blue, along with red, orange, turquoise, etc. The face of Lord Shiva is also visible when viewed from the top. This design theme carries to the side panels as well, which are barely visible in the second image below.
You may also like: These Custom Royal Enfield 650 Twins are Sassy Retro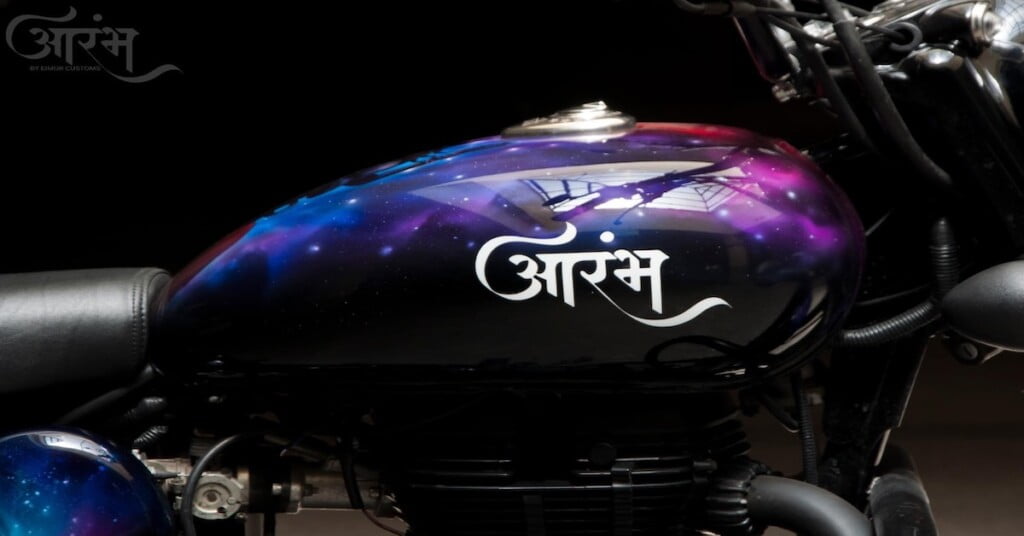 The seat covers are left black which compliment the overall appearance of the modified bike quite a lot. You could visit their website in order to get an idea of just how intricate designs they are able to process. Also, you could take your own design and give it to them and they will figure out a way to slap it on your bike. That will help you make your motorbike stand out in the crowd and have a personalised touch to it. Let us know your thoughts about these unique body graphics modifications to regular bikes.
Join our official telegram channel for free latest updates and follow us on Google News here.