Social media is a great place to witness the humorous side of the users as indicated by this latest post involving Virat Kohli.
A fan ends up recommending Maruti Ertiga to Virat Kohli after he iterates the need to buy a car with space and comfort. Kohli has been on a unique journey lately. He was a ferocious cricketer who was always aggressive on the field. That led him to become one of the greatest batsmen of our generation. He used to lead a lifestyle corresponding to that. However, he has become much more humble and practical lately which might have something to do with her marriage to Anushka Sharma and having a child.
You may also like: Top 8 Cars of KKR and RCB Players – Virat Kohli to Andre Russel
Fan Suggests Virat Kohli Buy Maruti Ertiga
This post has been doing rounds on the internet. Virat Kohli wrote on social media, "Now I look for cars with good space which are comfortable for family. Earlier, the only motivation to buy cars was to look stylish." We had previously reported a similar instance where Virat contemplated being a grown-up as he used to splurge crazy amounts of wealth of ultra-luxurious premium automobiles. But he has been having a humbling moment recently as he is now more inclined toward practicality and comfort.
You may also like: Virat Kohli and his IPL Team Players Test Out the Willys Jeep
However, netizens have a great sense of humour and love to express their opinions. As a reply to this post, a user commented, "Sir You can go for Ertiga/ XL6." Needless to say, this reply was appreciated by the other users. Ertiga is the most popular MPV in our market that has been dominating the segment since its inception. It is practical, has a lot of space for passengers and luggage, comfortable and affordable.
You may also like: Virat Kohli Drives To Test Match with Australia in Porsche Panamera [VIDEO]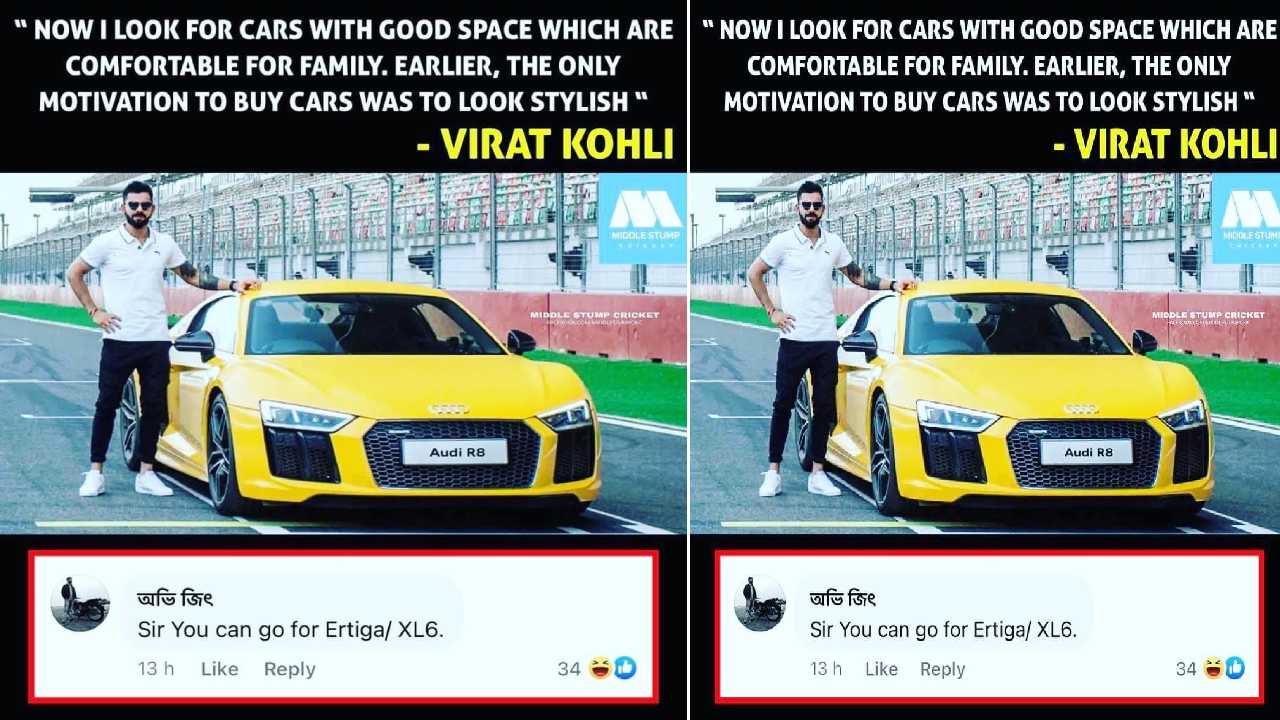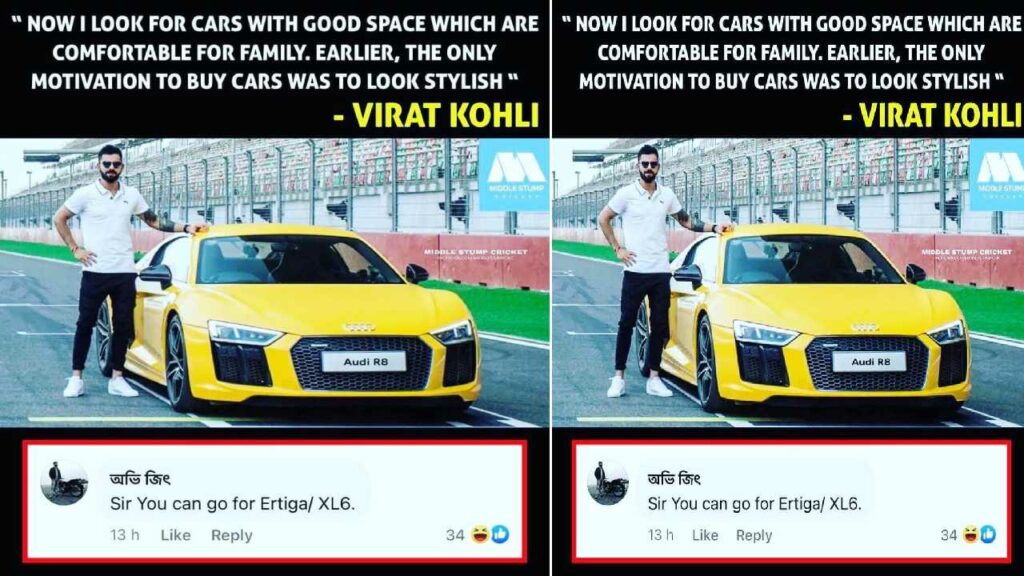 You may also like: Virat Kohli's Audi R8 Abandoned After Being Seized – Full Story
Virat Kohli Sells Most of His Cars
King Kohli recently informed the media that he is in the process of selling most of his cars. He was quoted saying, "Most of the cars I used to own were impulsive buying decisions, I hardly enjoyed driving and traveling in those cars. After a point, it's all kind of pointless, so I sold most of them and now we only use what we absolutely need. I think it is also part of growing up and being more aware and mature about things as well. You don't feel like owning 'toys' as such, it is about being practical." But still, buying an Ertiga seems too far-fetched.
Join us for FREE NEWS Updates on our Whatsapp Community or our official telegram channel.