Recently, a picture was posted of a father on a bike protecting his kid from pouring rain. This image of fatherly love has gone viral on the internet.
The Internet is filled with many videos of fathers protecting kids from harm. many of these images display fatherly love in an amazing way. Still, society keeps posing fathers as headstrong and less backbone. Now, one more picture has emerged that challenges the commonly believed notions. It shows a father protecting a kid from pouring rain. This image was posted on Twitter by Dr. Ajayita. Since then, the intent has gone embraced it with open arms. Everyone is touched by their father's love and protective nature.
You May Also Like: Pillion Shows Off Bike Stunts on Bajaj Pulsar, Falls! – Video Goes Viral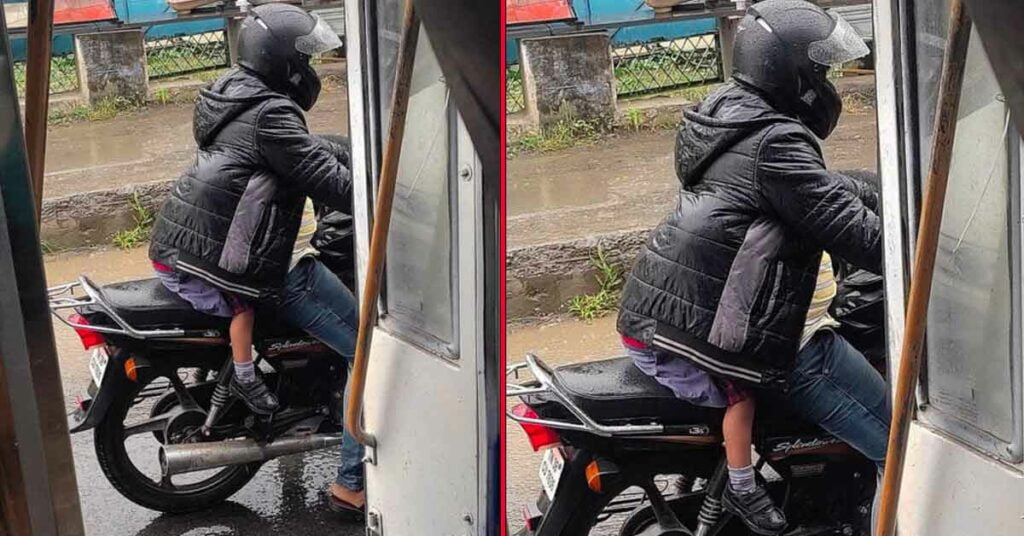 You May Also Like: Kid Driving Mahindra Scorpio Does Wheelspins – Viral Video
As you can see in the image above, a father and a kid are on a bike. However, it is raining heavily and they don't seem to have an umbrella or a raincoat. Hence, the father decided to hide the kid inside his jacket and thus added protection from the pouring rain. You can see the child peacefully curled up inside the man's jacket and as the legs are dangling from the bike. As they were waiting in the traffic, this moment was perfectly captured by an unknown photographer. It seems to have been taken from inside a bus.
Dr. Ajayita shared it on Twitter with the caption – "Dads are underrated!" and a heart emoji. This post surely brings a smile to your face. The reaction on the internet has been quite heartwarming. People are touched by the adorable gesture and the post went viral. Most people agreed with Dr. Ajayita and commented with phrases like "Dads are always underrated and overcriticized!" and "No one can recognize a father's love and care, he is the father. Who never needs two good words from anyone."
You May Also Like: Sohail Khan Buys Humble MG Gloster SUV
You May Also Like: Traffic Policeman Challans Another Cop for Half Helmet, Video Goes Viral
Overall, people seem to agree that fathers are underrated and called it a "sweet heart-melting affectionate photo." One man added, "Show it when your child asks "What have you done for me?" Another person added, "Sacrifices are not counted made by father…being a father of a 10-year-old child I can relate myself to this pic." One person even shared a personal story, "Once I remember, it was raining very heavily and it was a sudden burst of showers… I have my helmet to my kid so that she didn't get the water hitting her face.." Tell us what you think of this story.
Join our official telegram channel for free latest updates and follow us on Google News here.