The Tata Nexon is not only the most affordable electric SUV on sale in the country, but it's also the only model that is available in petrol, diesel and electric variants
The EV segment in India is still at a nascent stage, with the market share of electric vehicles still being minuscule compared to regular vehicles. The positive note is that EV sales are seeing a definite growth over the last couple of years, especially the Tata Nexon EV, the best selling electric vehicle in the country. However, range anxiety in EV's still the biggest fear for consumers. Indians are famous for finding some weird solutions to problems, like this Nexon EV which has an interesting modification fitted to it.
Also Read- Updated Tata Nexon with Diamond-cut Rims Starts Reaching Dealerships
The video has been uploaded by Shantonil Nag on YouTube, in which we can see this Tata Nexon EV which has been fitted with a windmill on its roof! Though we are not quite sure why the owner of the Nexon EV has mounted the windmill, the best guess would be that he wants to charge the vehicle on the move. Even though you can appreciate the ingenuity in this modification, it is not a very practical one. This is because windmills do not generate a lot of electricity. For a windmill of the size mounted on top of the Nexon EV, its blades will have to rotate at a very high speed to generate enough electricity to charge the vehicle.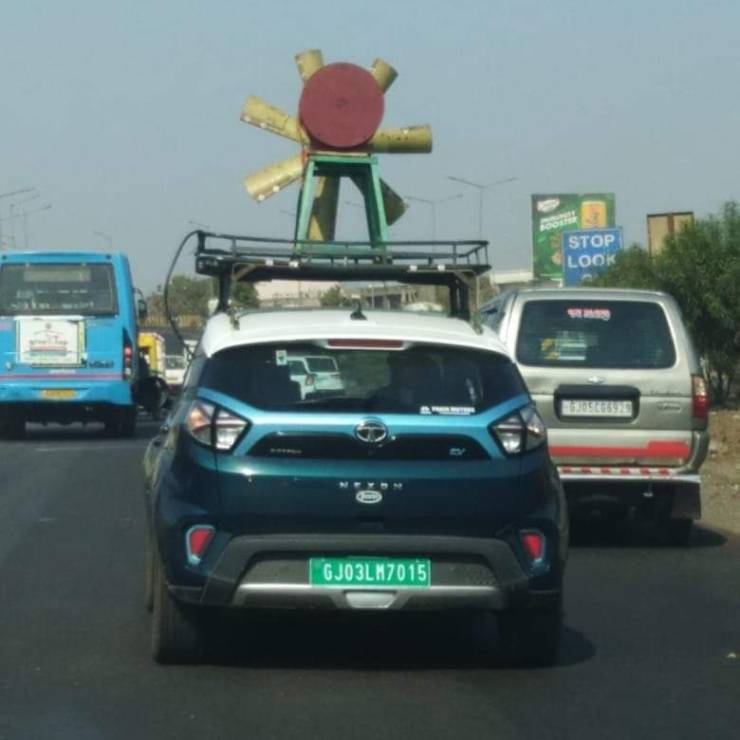 Also Read- Tata Nexon Crashes In The Rain, Keeps Everyone Safe
Automakers try to make a vehicle as slippery as possible so it uses the least amount of energy to move forward, increasing efficiency in the process. The windmill drastically increases the drag of this Nexon EV, which means it will use more battery to move forward instead. Also, this modification is quite a heavy one, which will only make the vehicle slower and have decreased the range of the EV. Overall, this windmill setup is more detrimental than positive to this Nexon EV.
Prices for the Nexon EV start from Rs 14 lakh, ex-showroom. It is powered by a 30.2 kWh li-ion battery which transfers energy to a Permanent Magnet Synchronous Motor, making max power and torque figures of 129 PS and 245 Nm respectively. It comes with two driving modes – Drive and Sports powered by Tata Ziptron technology. The Nexon EV also has an ARAI-certified mileage of 312 kms on a single charge.
Also read: Tata Nexon enjoys over 60% EV market share!
For more interesting stories, stay tuned to CarBlogIndia!
Join our official telegram channel for free latest updates and follow us on Google News here.