What is it?
The faster, sharper, and bolder sibling of the rather cutesy Fiat 500, the resurrected Abarth 595 made its world debut in 2007. A few years down the line, the 595 received the new Competizione and Turismo trim levels. True to the "small but wicked" saying coined for Karl Abarth's cars, the 595 Abarth has been an amalgam of a high power-to-weight ratio, phenomenal road handling levels, and a purposeful and aggressive styling. On sale in India at a price of INR 29.85 lakhs, the Competizione is one of three trims available on the 595 in international market. The 595 Competizione looks every inch a 'race-ready' car – There are several 'go faster' bits that transform the rather feminine 500 into a little devil that makes no bones about its racing heritage.  Have a look at our Fiat 595 Abarth Competizione review here to find out how this performance-tuned motor has left the insatiable performance junkies in us buzzing with excitement.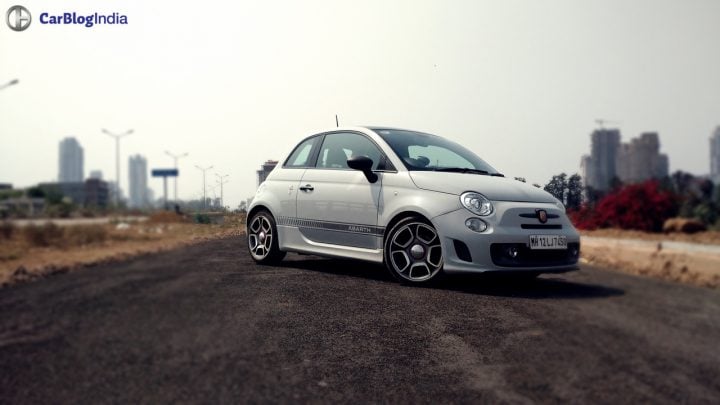 Is it Fast?
Yes, it is. And what's better is that it feels even faster than what the numbers suggest! While the 500 gets a 1.3-litre Multijet that belts out just 87 ponies, the Competizione's 1.4-litre turbocharged TJet motor pumps out a max. power of 158 bhp and a peak torque of 230 Nm. All this means that the Competizione is not only as powerful as the Essesse but is the most potent 500 this side of the utterly ballistic Abarth 695 Biposto. The 595 Competizione gets a firm-as-a-rock suspension setup from Koni, bigger wheels and Brembo-sourced stoppers to compliment all the extra muscle under the hood, but more on that later.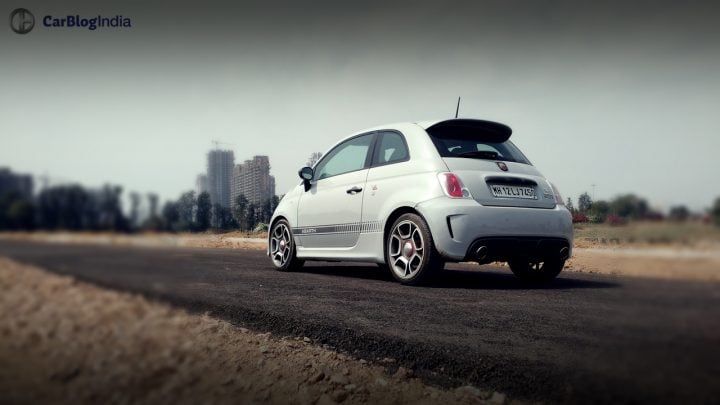 Weighing just a shade over 1000 kgs, the 595 Competizione can dart to 100 km/h from standstill in just 7.5 seconds. There's a slight lag below 2,400 rpm, but past that this car offers you enough zing to surprise everyone in those pint-sized hatchbacks that dot the city streets. In urban conditions, this car demolishes every little bit of traffic by outrunning the unsuspecting victims and making the most of its compact dimensions by squeezing into gaps that can be best described as 'non-existent'! Out on the highways, the 595 Abarth can comfortably cruise at 140-150 kmph all day long, without really breaking a sweat.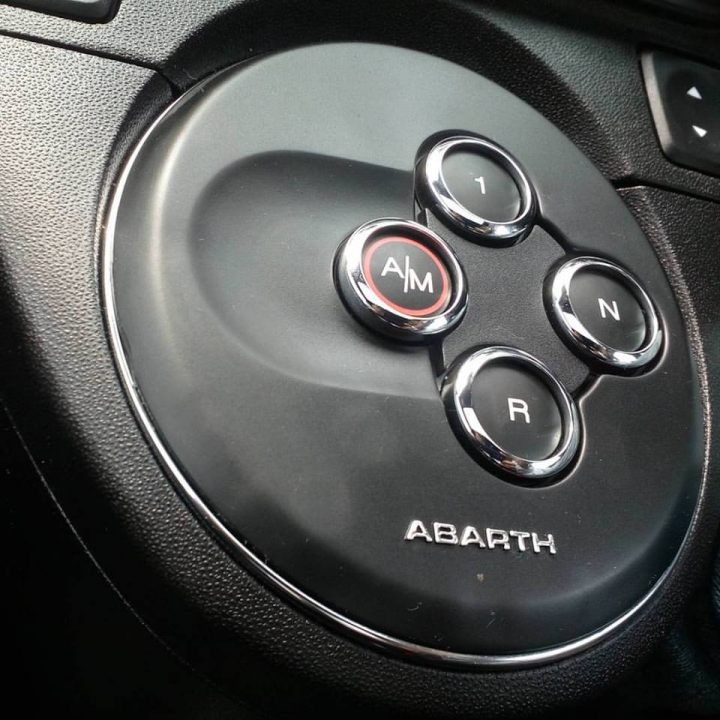 There are two driving modes on offer – Normal and Sport. As is obvious, it is the Sport mode that amplifies the 'Fun quotient' of the Competizione. Basically, you get a sharper throttle, more feedback from the steering, and the transmission holds on to every gear till the 6,500 rpm redline. Talking of the gearbox, the 595 Competizione comes with a 5-speed AMT. There's nothing particularly bad about this car's AMT, but it's just that Automated Manual Transmissions, by virtue of their design, aren't known to offer lightening fast shifts. The gearshifts, especially the downshifts, are slow and far from seamless. We did use the steering mounted paddle shifts almost all the time, but we believe that a fully manual gearbox, or maybe a DCT, could have enhanced the sportiness to a much greater degree. Lest we forget, the 595 comes with a tough, bassy soundtrack that makes no bones about the performance credentials of this car.
Around a Corner?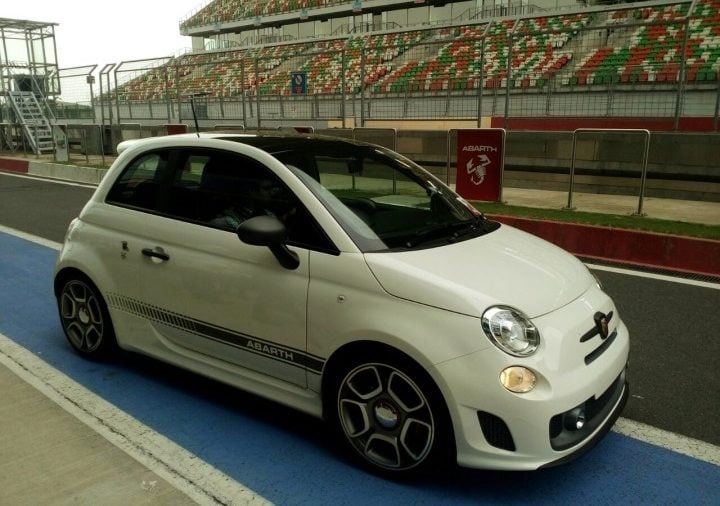 It's not the race-tuned engine but the track-focused, Koni-sourced suspension setup that makes the 595 Competizione a really special car. We drove the 595 Abarth at the Buddh International Circuit last year and God we had fun! The steering is sharp and there's an almost colossal level of grip from those low profile Pirelli P Zero tyres. The Abarth 595 Competizione has a point-shooting accuracy that can rival the best from Kodak! In a nutshell, the 595 is an absolute hoot to drive around the corners.
And then, there's the TTC (Torque Transfer Control) that switches on automatically in Sport mode. This system detects loss of traction on the inside wheel and applies braking force on it while the differential channels more power to the outside wheel to enhance the grip and enable harder cornering.
Is it Comfortable?
Well, not really. All that supernatural handling prowess comes at the cost of ride quality. The ride is just too harsh on even slightly broken tarmac and believe you me, I've never been more concerned about my family jewels than when driving this car on rough patches of road! The ride is really choppy and the upright seating position along with the high-set steering wheel takes a toll on the driver comfort. The ultra-low ground clearance is another cause of worry. This car threatens to scrape through most of the speed humps. However, a little caution and some time is all it takes to get used to the low GC. The high point here, however, are the superb Sabelt racing seats that offer great support even during some aggressive cornering.
What Else?
In essence, this car is a 'souped-up' version of the Fiat 500, but its manufacturer, quite apparently, doesn't want you to believe it's a Fiat – You'll be quick to realize that the Fiat badge is conspicuous by its absence on this car. This is simply because of the fact that Abarth boasts of a fine racing heritage and while it has been under the ownership of Fiat Auto since 1971, and its cars almost always have been heavily modified Fiats, Fiat has always deemed it appropriate to let these performance versions have their own distinct identity. Save for a '500' badge on the dashboard, there's no sign of a Fiat connection.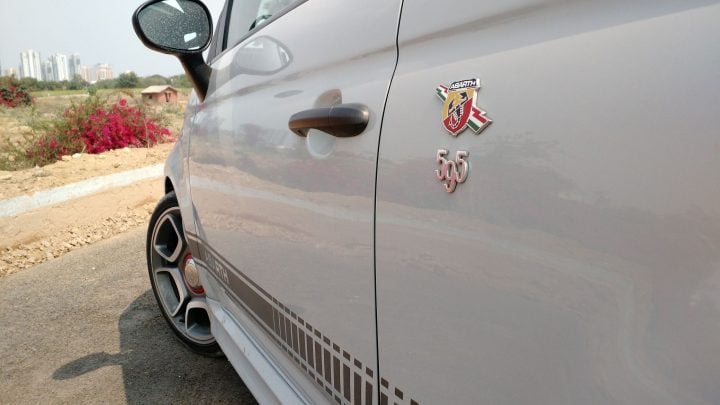 Like we said, the 595 Competizione is the bolder sibling of the 500. No surprise, then, that the Competizione carries several 'racy bits' that are required to compliment that stonker of an engine. True, much of the design remains the same, but there are sufficient add-ons to make this car look more dynamic. Apart from a gazillion badges confirming this car's 'Abarth credentials', there are these really tasty-looking 17-inch mag wheels, a complete set of body graphics, sportier bumpers, side skirts and a big roof-mounted rear spoiler. On the inside, the 595 Competizione gets an all-black color theme, racing seats, Abarth-branded speedo console, a boost pressure gauge and Abarth-branded racing pedals. Basically, there's enough to make you feel special behind the wheel and yes, we love it, totally!
Should I Buy One?
Buying the 595 Abarth makes a lot of sense to every petrolhead who loves racy, track-oriented Italian cars but can't bring a Prancing Horse to his/her garage. True, the 595 isn't half as fast as that scarlet-painted exotic you've always desired but it costs many folds lesser too! For roughly INR 30 lakhs (blame the duties, not Fiat India), you do get a proper track car that looks super cool, goes fast enough in the corners, and makes you feel special every time you crank the motor!
Fiat 595 Abarth Competizione Photos
So, what do you say about our Fiat 595 Abarth Competizione review here? Do share your views on our Fiat 595 Abarth Competizione review by penning down your thoughts in the comments section below. Stay tuned to Car Blog India for more posts like the Fiat 595 Abarth Competizione review we have here.