What is it?
Ladies and Gentlemen, meet Clark Kent in his fancy blue suit, meet the epitome of alter ego, meet the new India-spec Fiat Abarth Punto. While this car can be regarded as a 'souped-up' version of the Fiat Punto Evo, its manufacturer, quite apparently, doesn't want you to believe it's a Fiat – You'll be quick to realize that the Fiat badge is conspicuous by its absence on this car. This is simply because of the fact that Abarth boasts of a fine racing heritage and while it has been under the ownership of Fiat Auto since 1971, and its cars almost always have been heavily modified Fiats, Fiat has always deemed it appropriate to let these performance versions have their own distinct identity. Read our Fiat Abarth Punto review here to find out how this performance-tuned motor has left the insatiable performance junkies in us buzzing with excitement.
Is it Fast?
Yes, much faster than your average 5-door family hatchback. Under the hood of the new Abarth Punto lurks a 1.4-litre T-Jet MultiAir 4-cylinder petrol engine that pumps out a maximum power of 145 bhp and a peak torque of 212 Nm. Fiat India claims that this car can dismiss 100 km/h from standstill in 8.8 seconds and goes on to hit a top speed of 195 km/h.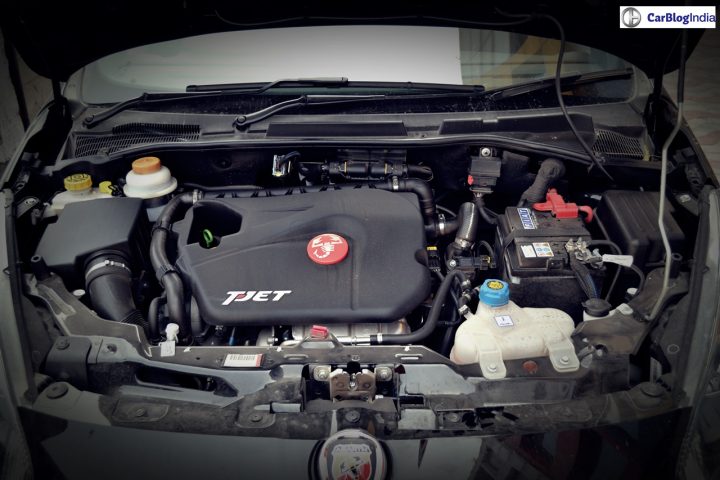 Turn on the ignition and the engine roars purrs to life. We expected the car to have a relatively loud exhaust, with decibel level almost flirting with the prescribed limits. However, the engine idles with a rather muted growl and feels pretty refined. Once on the move, the Abarth Punto feels pretty relaxed and unhurried in the way it gains speed. However, sail past the 2000 rpm mark and the Abarth Punto dons the superhero suit and the red cape. The turbo, which has by now hit its optimum threshold, ensures that the Abarth Punto charges forward fiercely. True to the claimed figures, the Abarth Punto can sprint to 100 km/h from a standstill in roughly 9 seconds and we even managed to achieve a speedo-indicated 190 km/h. However, what's really worth a mention here is the effortless manner in which this car achieves speeds of around 140 km/h.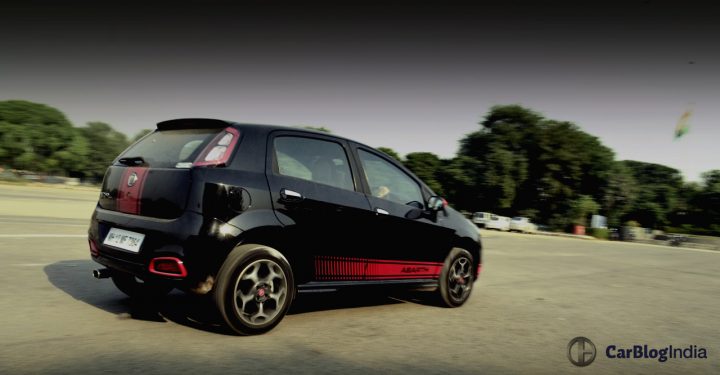 Put the pedal to the metal, however, and the blend of low-down torque and a power figure that starts dipping soon after 5500 rpm leads to a not-so-thrilling top-end performance. In this respect, the Abarth Punto is much like its Diesel-sipping cousin – there's a lot of punch, but an unexciting high-end performance. That said, play in the meat of the powerband and you'll be amazed to see how effortlessly this car can surge past most of the traffic. Also, while we don't see buyers of this car aiming for a stellar fuel efficiency, the Abarth Punto, with an average fuel mileage of 9-10 km/l, ensures that the missus doesn't put a restriction to the joyrides.
Around a Corner?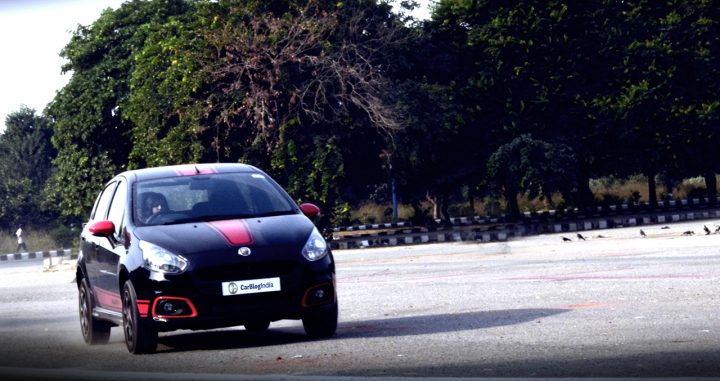 Fiat India managed to strike a good balance between the original Punto's ride and handling characteristics. The post-facelift model, however, fails to feel anywhere as poised. Thankfully, however, the Abarth Punto, even on being based on the Punto Evo, is just the right companion on your apex hunting trips. Throw this car into a tight corner and the high grip levels instill enough confidence in you to push even harder. The Abarth Punto's steering offers enough feedback and is pretty direct too. There's some body roll when cornering really hard, but it never gets really unnerving. And unlike what we anticipated, the Abarth'ed Punto impressed us with its decent ride quality. This car can just glide over most of the small-sized craters and speed-humps and even the slightly larger undulations don't really pose a threat to this car's composure. The Abarth Punto gets an all-disc brake setup. The car exhibits an impressive braking performance and the brakes are sufficiently potent to safely haul down this car from really high speeds. 
What Else?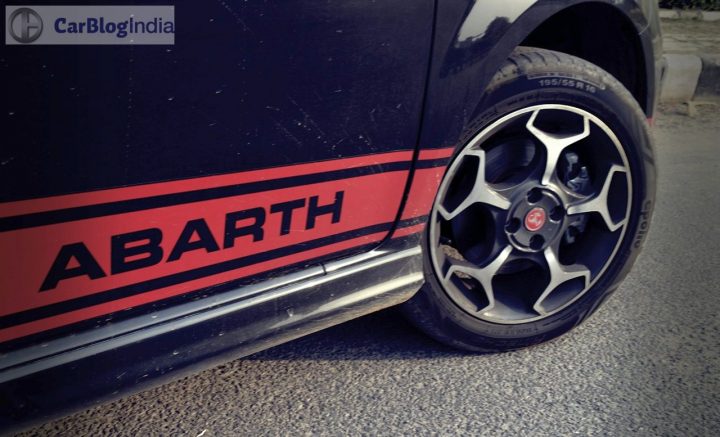 The Abarth Punto boasts of all the 'racy bits' required to compliment that stonker of a motor. While the design has been carried over from the Punto Evo, there are sufficient add-ons to make this car look more dynamic. Apart from a gazillion badges confirming this car's 'Abarth credentials', there are red-painted ORVMs, tasty-looking 16-inch alloy wheels, a complete set of body graphics and rather discreet side skirts. On the inside, the Abarth Punto gets an all-black color theme that gets red contrast stitching on the upholstery. Other highlights include an Abarth-branded speedo console and a set of sports pedals.
Should I buy one?
We recommend the new Abarth Punto to every petrolhead who loves racy Italian cars but can't bring a Prancing Horse or a Raging Bull to his/her garage. The new Abarth Punto looks really cool, goes like stink, and costs many folds less than that scarlet-painted exotic. True, it's nowhere as fast either, but you do get enough reasons to ditch your formal-wear and head out for some action in that fancy costume.
Abarth Punto Photos
Punto Abarth Specification
| | |
| --- | --- |
| Lenght x Width x Height | 3989x1687x1505 mm |
| Wheel Type and Size | 16 inch alloy |
| Engine Type/ Displacement | 1.4 litre turbocharged petrol |
| Power | 145 bhp |
| Torque | 212 Nm |
| Top Speed | 195 km/h |
| Acceleration (0-100 km/h) | 8.8 sec |
| Transmission (Gearbox) | 5-speed manual |
Price
| | |
| --- | --- |
| Abarth Punto | INR 9.95 lacs |
| Avventura by Abarth | INR 9.95 lacs |
So, what do you have to say about our Abarth Punto review? Do share your views by commenting below. Also, stay tuned for more posts like the Abarth Punto review that we have here.
Join our official telegram channel for free latest updates and follow us on Google News here.