There are myriad stories of people and their Royal Enfield Bullet motorcycles but we bet none of them can be as impressive as the one encompassing the travel of 4 Indians around the world. There are hardly a handful of people who have the perseverance to follow their passion to the end of the world, quite literally. A certain Subhash Sharma, along with his 3 other friends, completed a world tour back in 1972. They covered 60 countries in 18 months! Commencing their unprecedented trip from India, they took two RE Bullet motorcycles to the US. Here are the details.
You may also like: Dashcam Catches RE Bullet Rider Smashing Windows of Tata Nexon in Scary Road Rage Episode
First Indians to Travel the World on RE Bullet
We must celebrate such unsung heroes who managed to conquer all traditions and rationale at the time. Despite all the information available today, not everyone can just get up one day and decide to go on a world trip. Imagine what it would be like over 52 years ago. It takes innate determination and passion to embark on such a journey. Subhash Sharma gathered a team of 4 to do this unheard-of journey. He was an employee at Telco-Tata Engineering and Locomotive Co, called Tata Motors these days. Residents of Jamshedpur, they had to go through immense hurdles to realise this dream.
You may also like: Great Khali Makes RE Bullet Look Like a Bicycle – Here's Proof
Massive Hurdles
The first issue was to get a passport and visa. Now, travelling abroad wasn't as easy back then as it is today. Just getting a passport was a luxury. Then there was no internet to research about the situations in other countries, their rules and regulations or even plan a route. They had to make maps themselves from the books scarcely available in select libraries in the country. Furthermore, there was no proper riding gear available to ensure their safety and comfort through this arduous journey. Finally, this was a time when there were geo-political conflicts at various places around the globe including India-Pakistan, Israel-Palestine and Ethiopia. Apart from that, they had to pass through various topographies including snow-clad mountains to extremely hot and dry Sahara desert.
You may also like: Traffic Police Stops RE Bullet, It Turns Out to be a Bicycle!
Now, such an extensive trip demands extremely precise preparations in terms of spare parts for the motorcycles. While travelling on Indian bikes in the 1970s across remote parts of the world, it was obviously not possible to get repair or servicing done at any time. Hence, they carried a lot of spare parts to ensure that they would fix a lot of issues on the way. They mention that everywhere they went, the locals were more than willing to help them with accommodation, food, or repair of the motorcycle. Their journey reveals that most people are good at heart everywhere in the world.
You may also like: Stupid Influencer Rides RE Bullet Alongside Driverless Monster Jeep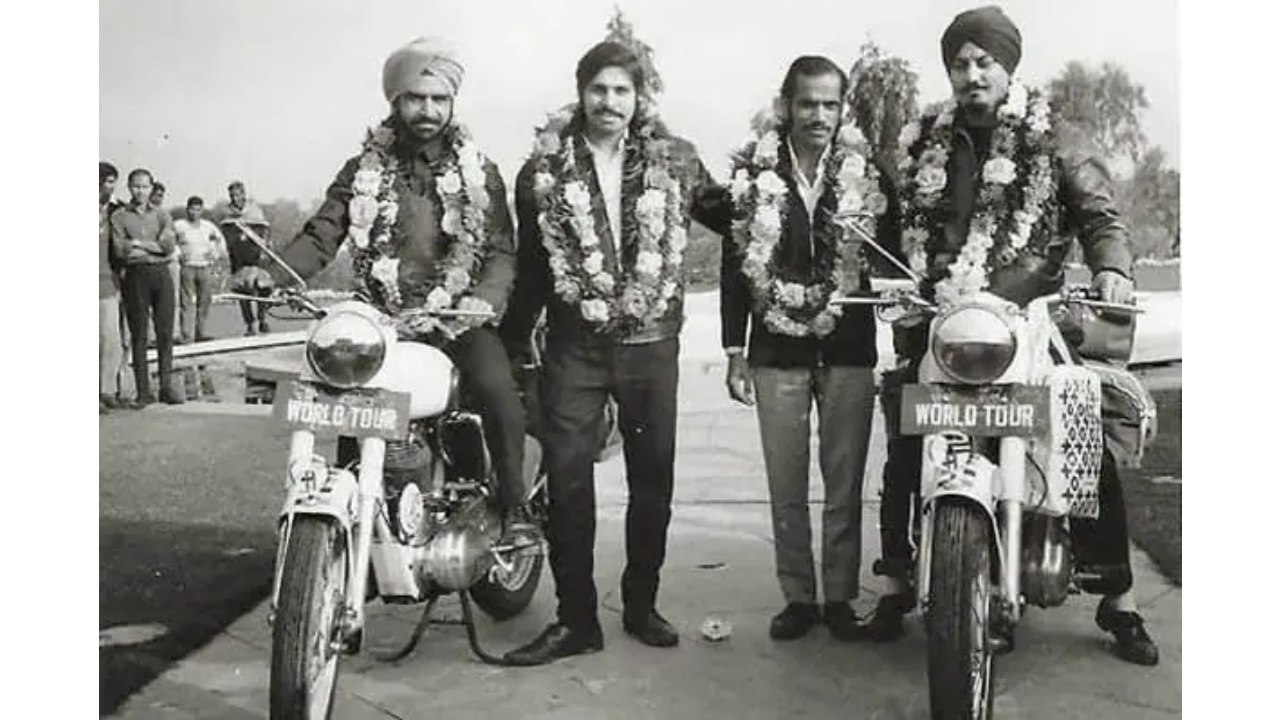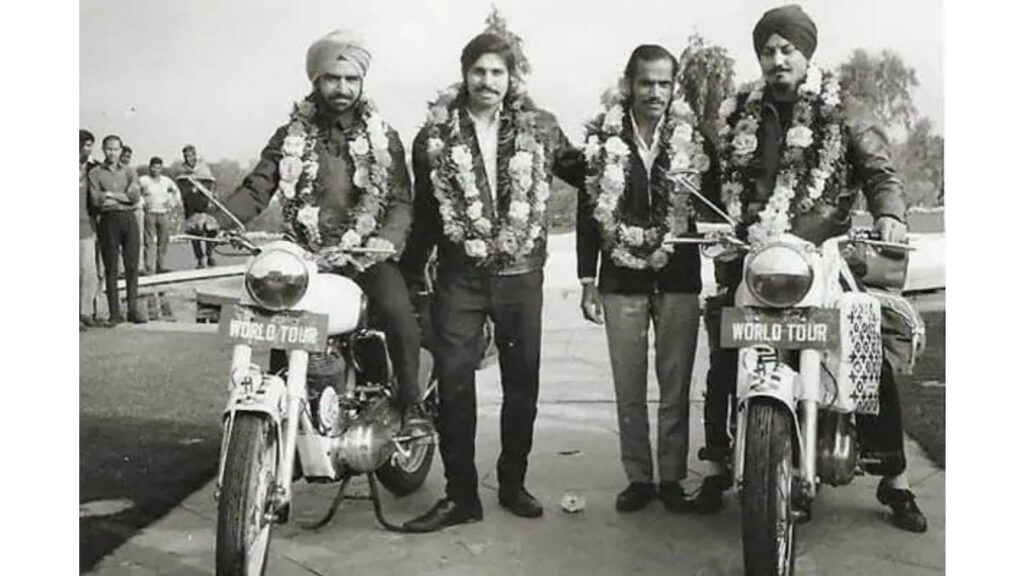 You may also like: Bill of Royal Enfield Bullet From 1986 Goes Viral – Guess its Price!
What We Think
This was the first instance of Indians travelling the world on RE Bullet motorcycles. They took flights and ships wherever necessary to complete their trip from India to the USA. From the USA, they came back on their own and shipped their motorcycles to Mumbai. Subhash Sharma, 75, now lives in Texas, USA. His companions, Ashok Kher and Manmohan Singh died in the 1980s and 2015, respectively. Their fourth partner, Sampuran Singh, 85, still lives in Jamshedpur. This is a story which should be more popular.
Join us for FREE NEWS Updates on our Whatsapp Community or our official telegram channel.