While Tesla isn't official in India yet, the first-ever Tesla car has finally been bought in India, of course, through the import channel. The first Tesla in India is a right-hand drive Model X, which has been shipped from the US The images of the first Tesla in India have been doing rounds on the cyberspace, showing the brand-new car at what seems to be a shipping yard. The Model X is the most expensive car from the company and has a sticker price of $ 73,800 for the entry-level model. The most expensive model costs $ 128,300. Now that this car comes to us an import, it's easy to guess the amount paid by the buyer. We are looking at a pretty astronomical price figure here.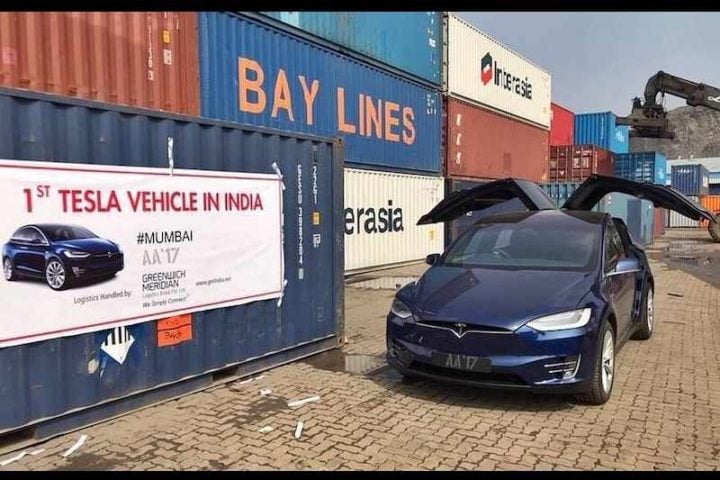 ALSO SEE- Tesla India Launch Not Happening Anytime Soon?
First Tesla in India – Model X – Specifications
The Tesla Model X is an all-electric SUV that offers seven seats and an entire gamut of features. It runs on 22-inch wheels and looks pretty futuristic. There are a set of two electric motors positioned on each axle. The Model X offers a maximum power of 259 bhp and 503 bhp on front and rear axles respectively. The peak torque output stands at a whopping 967 Nm. The P100D variant of the Model X can sprint from zero to 100 in just 2.9 seconds, while the P75D variant takes 4.7 seconds. Top speed is restricted at 250 kmph. The car offers a driving range of 474 KMs. The model that has been imported into India is the P75D and has a range of 381 KMs.
First Tesla in India – Model X – Images
ALSO SEE- Tesla Model 3
First Tesla in India – Model X – Features
The Tesla Model X shares in plenty with the Model S. It gets LED headlamps with cornering lights along with the falcon doors. It also offers the much publicized Tesla Autopilot driver assist feature that offers features like lane departure warning and adaptive cruise control. Other features include an Air Suspension, GPS, Bluetooth, All-wheel Drive, Touchscreen interfaces, parking sensors, automatic emergency brake and stability control.
Images Courtesy – Automobili Ardent