Tesla is a brand known around the world for making future-proof electric cars. These cars have earned a positive reputation for themselves by offering a long range, high level of comfort, a lot of techno-wizardry and being faster than perhaps any other petrol/diesel-engine car in the same segment. The Model 3 is Tesla making its electric cars more affordable. Having announced in 2016, Tesla threw open the books for booking of the Model 3. People in India too could book one for themselves for an amount of $1,000. With Tesla having delivered 30 Model 3 cars to first 30 buyers in the US, the countdown for the car's arrival in India has begun. Today, we will be telling you everything you need to know about Tesla Model 3 price in India, launch date, specifications and other details. Keep reading.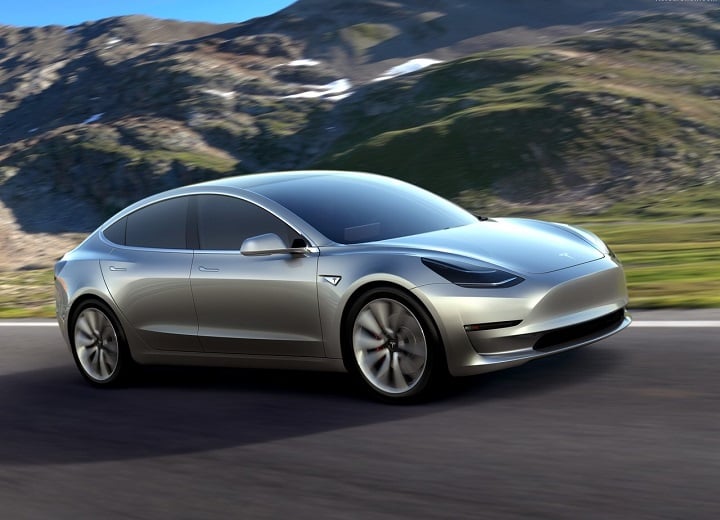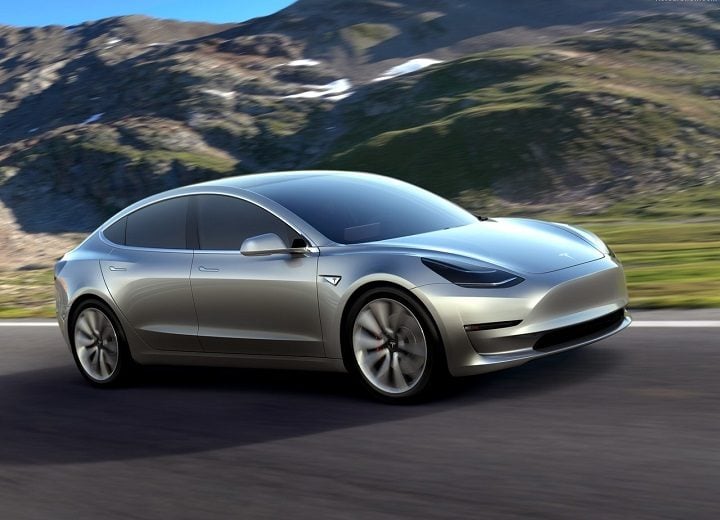 Also Read: Upcoming Car Companies in India | Tesla's Fast Charging System
Tesla Model 3 India Launch Date
The Tesla Model 3 India launch will likely take place in April 2019. At that time, Tesla is expected to commence bookings for the car with deliveries beginning a couple of months down the line. Yes, there will be people who have booked their cars in 2016/2017. Tesla will likely deliver them their cars when throwing open its books for masses in India. Why 2019? This is because as per Tesla, it will commence production of right-hand drive cars in 2019. So, India being a right-hand drive market will, in all likelihood, get the Model 3 that year.
Also Read: BMW – Tesla Collaboration | Toyota – Tesla Collaboration
Tesla Model 3 Price in India
The Tesla Model 3 sported a price tag of $35,000 when its books were thrown open in 2016. Going by that price, the Model 3 in India should cost Rs 24.50 lakh (approximately). However, given that GST came into effect recently and there will be other costs like excise duty to deal with, don't expect the Model 3 to come for a price less than Rs 42.00 lakh. That is, unless Tesla is able to establish a factory in India and starts manufacturing cars here. In such a case, the Model 3 will likely sport a much lower price tag.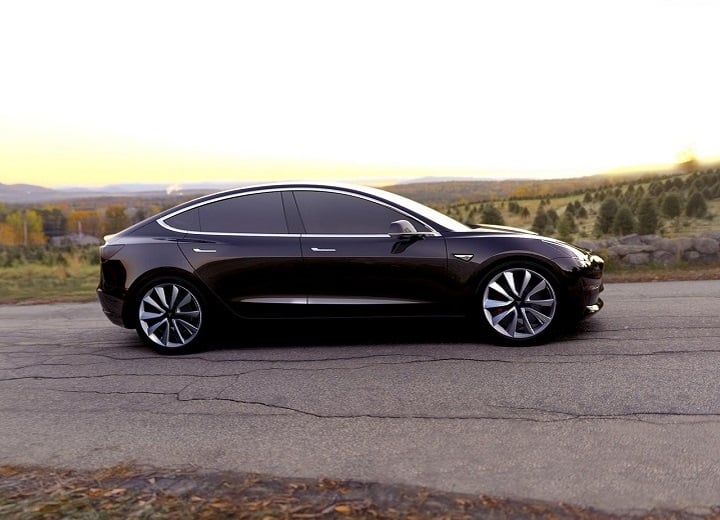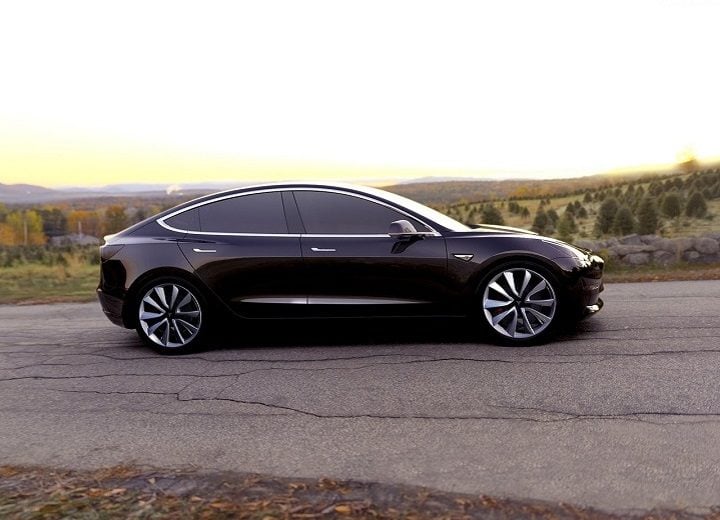 Also Read: Jaguar's Tesla Fighter | Tesla Makes Patents Free For Use
Tesla Model 3 Specifications
| | |
| --- | --- |
| Specifications | Tesla Model 3 |
| Engine | Electric motor with 60kWh battery pack |
| Power | N/A |
| Torque | N/A |
| Transmission | Automatic with no manual override |
The India-bound Tesla Model 3 will sport a 60kWh battery pack that powers an electric motor driving the rear wheels. While its power and torque figures are not known, the electric motor will come mated to a single-speed automatic gearbox with no tip-tronic or paddle-shifting bits. After all, an electric motor can deliver all its power right from the get-go and at all times. Hence a conventional transmission is not needed to harness the electric motor's power.
Tesla Model 3 Mileage
| | |
| --- | --- |
| Car | Mileage (range on single full charge) |
| Tesla Model 3 | 350 – 490 km |
Tesla claims that Model 3 has a range of 490km on a single full charge. However, there are various factors to consider here. First off, it depends on the wheel size offered by Tesla. Another important factor to consider is ambient temperature in which the car will operate. Then, there is the speed at which one is likely to drive his/her car. Lastly, whether one uses the A/c in the car or not will also affect the mileage of the Tesla Model 3. Tesla provides you an insight into how these factors affect the car's range by demonstrating them on the Model S page.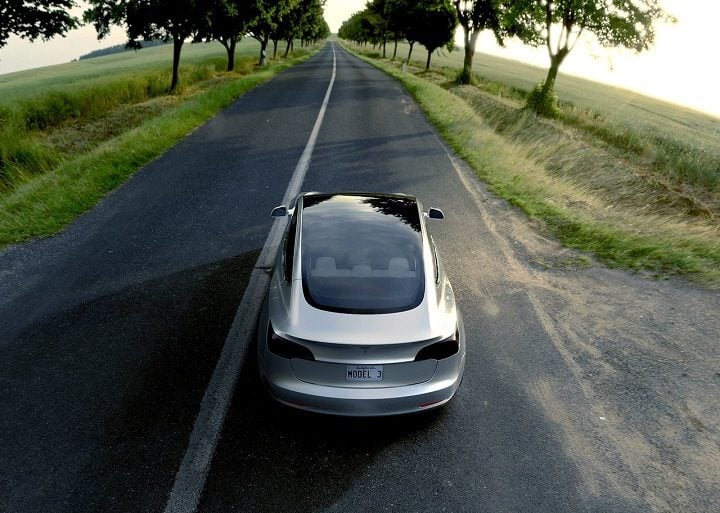 Everything said and done, even if the car is able to go 350km on a single full charge, that will help it allay the range anxiety fears that electric car buyers have. Just that there needs to be a network of Supercharging Stations across the country to ensure people can take their Model 3s on long roads trips.
Tesla Model 3 Acceleration
The Tesla Model 3 takes between 5.1 and 5.6 seconds to go from 0-100 KMPH from a standstill, as per Tesla. Not only will this make the car quick but perhaps one of the fastest accelerating cars in India too. This can be attributed to the electric motors delivering all their power from the get-go. Since they do not face any parasitic transmission losses like conventional petrol/diesel motors do, you can rest assured that Tesla's claim in this department is well-founded.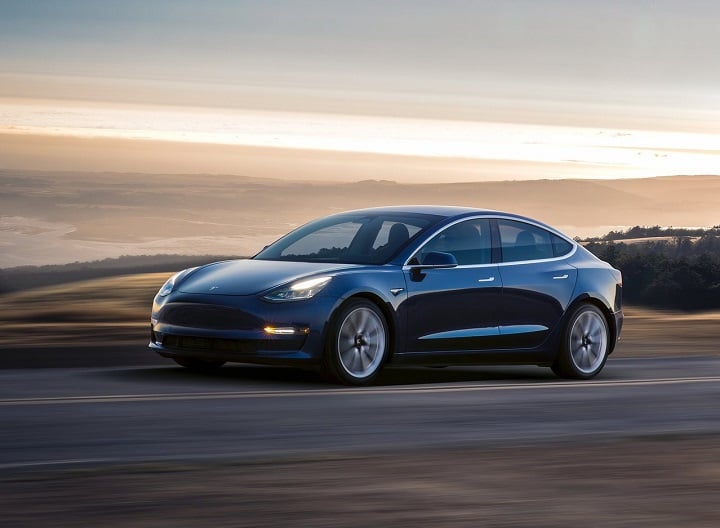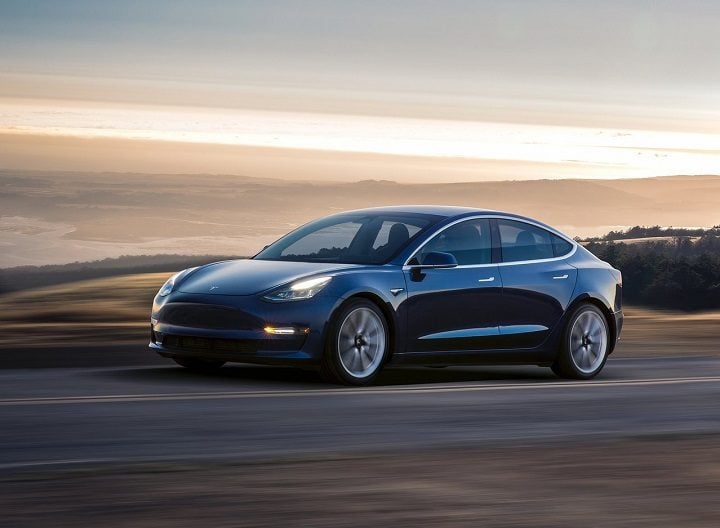 Tesla Model 3 Dimensions
| | |
| --- | --- |
| Dimensions | Tesla Model 3 |
| Length (mm) | 4,694 |
| Width (mm) | 1,849 |
| Height (mm) | 1,443 |
| Wheelbase (mm) | 2,875 |
| Ground Clearance (mm) | 140 |
The Tesla Model 3, upon its arrival in India, will slot in the lower D segment. here, it will face off against competitors like the BMW 3 series, Mercedes-Benz C Class and Audi A4. The Model 3 measures 4,694mm in length. Since it does not have a conventional engine onboard, it offers more interior space any of its rivals at 2,875mm. At 1,849mm, it seems to have ample room to seat 3 abreast at the rear. The ground clearance of 140mm isn't quite high for Indian road conditions. However, Tesla will likely offer a slightly higher-riding Model 3 in India.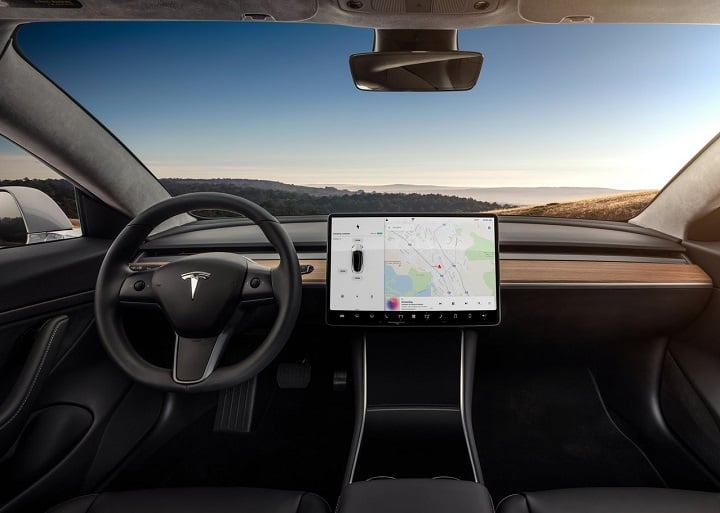 Tesla Model 3 Features
LED headlamps with LED DRLs
AutoPilot
LED taillamps
8 airbags
LED fog lamps
Electronic stability control
Traction control
15-inch touchscreen
App-based controls
Dual-zone auto A/c
Cooled seating front and rear
Cooled steering wheel
Power adjustable front seats with memory function
Glass roof
Heated ORVMs
The biggest advantage Tesla Model 3 has over its rivals is that it does not have a conventional petrol/diesel engine onboard. As a result, the compartments ahead and to the rear of the cabin can be used as storage spaces as well as crumple zones to protect the occupants in case of an accident. Tesla cars have been rated time and again by IIHS as the safest products on the sale and expect the Model 3 to also top its category in this respect. The chances of AutoPilot making it to India seem slim but the car will likely be coming to India in 2019. By then, we will perhaps be more appreciative of self-driving technology, as far as our laws are concerned.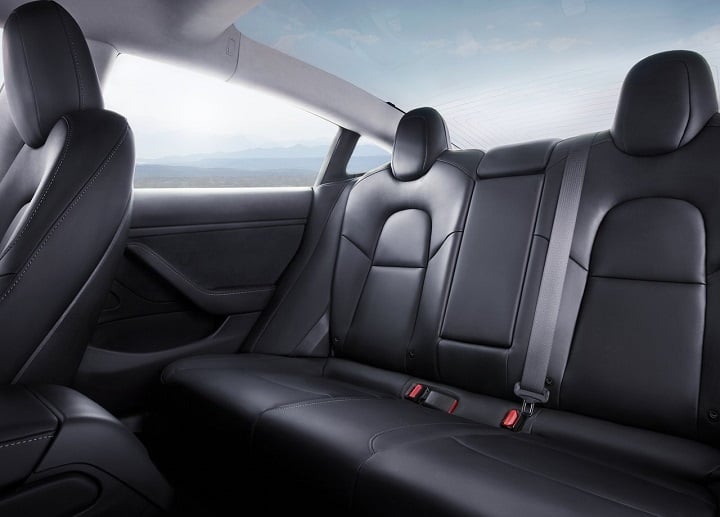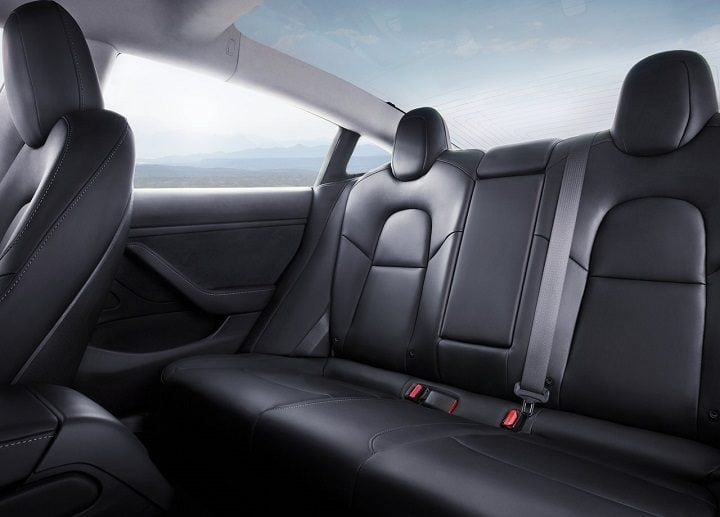 The car, just like the Model S and Model X, will feature app-based controls for not just A/c and other interior features but also to move the car from one place to another. It will also feature dual-zone climate control A/c and will likely have cooled front and rear seats. More will be revealed about the features that India-bound Tesla Model 3 will sport near its launch.
Tesla Model 3 Warranty
4 year/90,000km limited warranty
8 year/1,60,000km battery warranty (standard)
8 year/1,92,000km battery warranty (long range)
With two warranties focussing on batteries, it is important to understand just why is this important. Tesla makes these batteries in-house and stress tests them. However, in the case of Model 3, only the standard battery warranty will be offered as the battery pack is a 60kWh one, not a 100kWh like on the Model S P100D. Also, Tesla will likely tweak its warranties when the Model 3 goes on sale in India as these warranties are applicable on vehicles sold in the USA.
Tesla Model 3 Exterior Design Review
The Tesla Model 3 looks like the slipperiest car on the planet. It features a purposeful design with the just one goal in mind – to have the least amount of drag while in motion. It is the styling elements that give this car its futuristic appeal. The swept-back headlamps do have a hint of Chevrolet Corvette in them.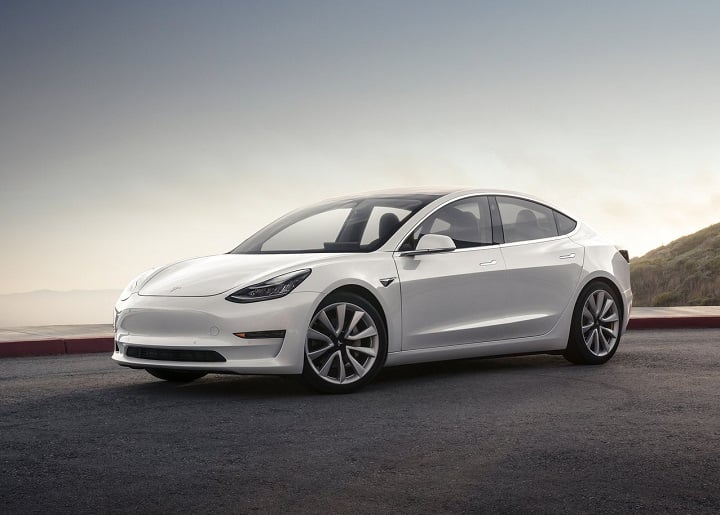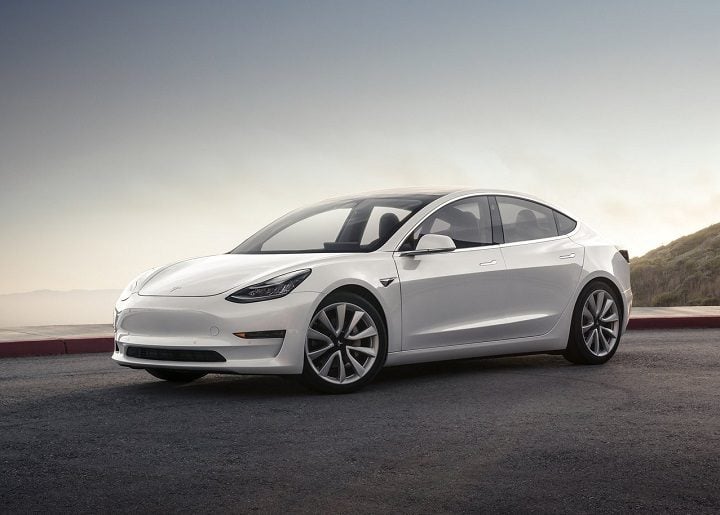 Coming to the side, a character line runs below the door handles from the front door to the rear door. The door handles themselves sit flush with the body of the car, unless you approach it. In that case, they slide out for you to use them to get in. What also get your attention are ten-spoke alloy wheels which measure 19 inches in diameter. The car's roofline is coupe-like and the B-pillar only gets the blacked-out treatment.
The rear features wrap-around taillamps with LED light signature. The boot lid sports the number plate housing. A pair of reflectors sit on the bumper. The rest of the rear end is clean. All in all, the Model 3's design has been executed nicely and the styling elements have been matched well too. The car not only looks futuristic but its design looks like it will age gracefully.
Tesla Model 3 Interior Design Review
On the inside, the Tesla Model 3's dashboard is pretty neat and is finished in black colour. There are faux wood and brushed aluminium inserts on the dashboard that run across its width. However, it is the floating 15-inch floating touchscreen on the centre console that gets your attention here. But that's because barring this screen, nothing else gets your attention on the dashboard. There is no instrument panel for the driver and he/she has use this screen to learn of all the necessary information.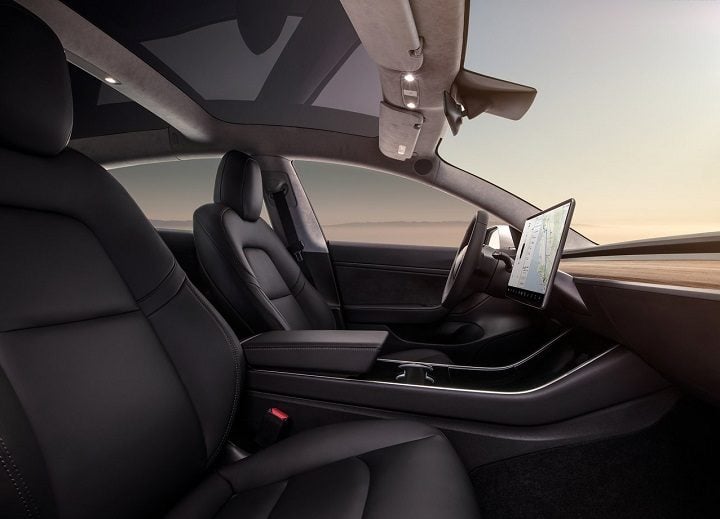 The centre console gets black leather treatment with piano black and brushed aluminium inserts. With no gear shifter or a dial or even a parking brake, the centre console is so neat that you will feel something is missing from here when so is not the case. The rest of the interior is finished in black and grey with seats done up in black leather. What will also draw your attention is the glass roof which allows you to have a view of the sky when driving in the night.
Neat and tidy is the theme Tesla Model 3's interior is supposedly based on. With less elements to take care of, this interior feels light on maintenance and will likely age as nicely as the exterior.
So, are you eagerly awaiting the Tesla Model 3's India launch? Do let us know in the comments below. For more such stories, stay tuned to Car Blog India.
Join us for FREE NEWS Updates on our Whatsapp Community or our official telegram channel.