After the traditional power steering which has found its way onto every dashboard of the modern day cars and trucks, Ford is all set to introduce 'Adaptive Steering' in its upcoming breed of cars. The US auto-maker believes that the technology will improve handling at both high and low speeds. The adaptive steering system – developed in collaboration with Japanese auto parts manufacturer Takata – uses a precision-controlled actuator (electric motor and gearing system) placed inside the steering wheel to vary the ratio between the driver's steering inputs and how much the front wheels turn.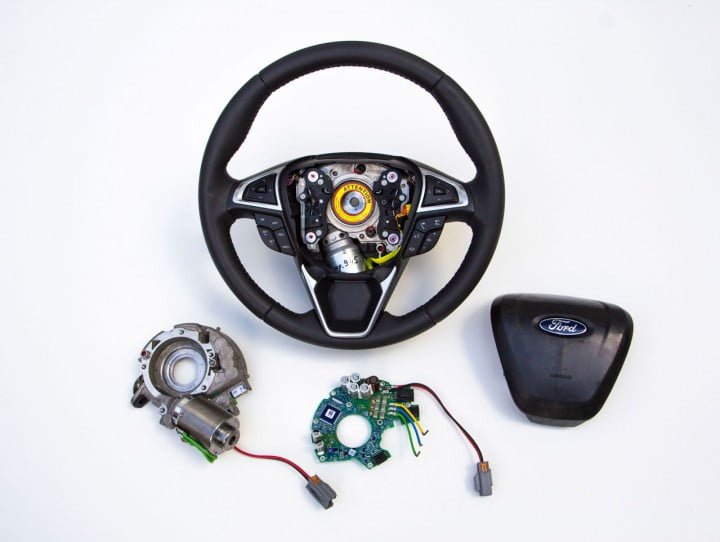 The technology works by altering the ratio of turns required to move the front wheels depending on how fast the car is moving. At lower speeds, such as when pulling into a parking space or maneuvering in tight quarters, the new system makes the vehicle more agile and easier to turn, as it dials more steering into the road wheel. Each low-speed maneuver requires less turning of the steering wheel. At highway speeds, the system further optimises steering response, enabling the vehicle to react more smoothly and precisely to driver input to make the journey more enjoyable. The actuator – an electric motor and gearing system – can essentially add to or subtract from a driver's steering inputs. The result is a better driving experience at all speeds, regardless of vehicle size or class. Unlike traditional fixed-ratio steering systems, adaptive steering systems continually change the steering ratio according to vehicle speed, with the aim of optimising steering response in all conditions and improving steering feedback.
According to Ford, it makes vehicles "easier to maneuver and more enjoyable to drive", a point the brand has attempted to illustrate in a brief video comparing Adaptive Steering with a traditional fixed ratio set-up .
Another additional benefit of the Adaptive System is that it doesn't require any alterations to the vehicle's traditional steering system that means it can be fitted to existing Ford cars as well. Ford aims to simplify handling with this next-generation steering technology, set to arrive in Europe and Asia next year. Initially it might feature on larger Ford models.
We will keep you posted with further developments, until then do let us know what you think of the technology.
Join us for FREE NEWS Updates on our Whatsapp Community or our official telegram channel.