After converting the Figo's Titanium Plus variant to Titanium Blu, Ford is likely to provide a similar treatment to the variant line-up of the Aspire sedan.
Ford India has recently introduced a mid-life facelift for the Figo hatchback in India. The facelift comes with some minor cosmetic changes and the addition of a couple of features, especially in the top-spec variant of this compact hatchback.
Ford has also introduced an all-new 1.2-litre, 4-cylinder petrol engine for the Figo. This unit replaces the current 1.2-litre engine and is from the automaker's Dragon series. In addition to all this, Ford has also streamlined the variant line-up of the Figo.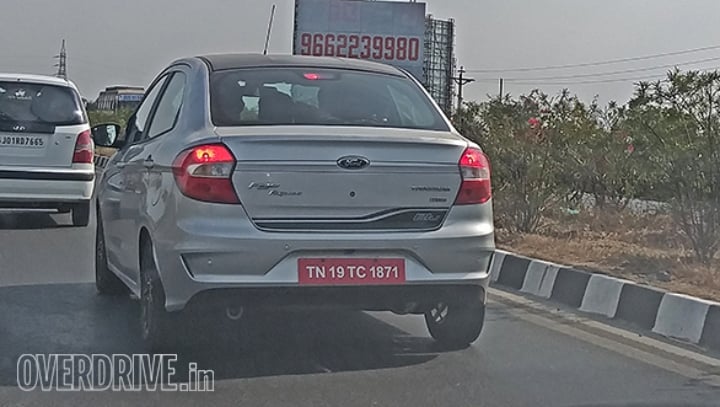 It is now available in just three variants as opposed to the earlier five. Not only this, but the top-spec Titanium Plus variant has been renamed as Titanium Blu. In addition to the features that it offers, this particular variant comes with blacked out alloy wheels, roof, wing-mirrors and body decals to go with.
Also Read: 2019 Ford Figo Facelift launched in India; prices start at INR 5.15 lakh
In sync with the Figo's Titanium Blu variant, Ford is now working on a similar variant for the Aspire sedan as well. Recently, a Ford Aspire Blu variant was spotted testing on our roads. This clearly indicate that the launch of the same is right around the corner.
The Ford Aspire Blu is going to receive the exact same treatment as the Figo's Blu trim. All the exterior chrome bits will be replaced with black-our accents. The interiors will feature an all-black colour scheme, in comparison to the dual-tone scheme found in the standard model.
Also Read: 2019 Ford Endeavour Price in India, Specs, Mileage, Features & More
Ford could also take this opportunity to streamline the variant line-up of the Aspire, just like it did with the Figo. At the moment, the Aspire is available in a total of five trim levels. These are Ambiente, Trend, Trend Plus, Titanium and Titanium Plus. With the Plsu becoming Blu, the automaker could drop the Trend Plus altogether from the line-up.
The engine specifications will remain the same as before. The Ford Aspire Titanium Blu trim will get a 1.2-litre petrol engine. While the diesel engine is going to be a 1.5-litre unit. Ford is most likely chose not to include the 1.5-litre engine in the Blu variant, just like it did with the Figo.