Ford Aspire joined our long-term test car fleet in August 2017 and spent more than 3 months with us. During these 3 months, I experienced most of the practical aspects of this car and I am going to share my experience with you in this post. I had the Titanium+ Diesel top end trim of this car and used it for around 2000 KMs with mostly in-city usage (around 80% of the times) and remaining usage on long routes and highways. The car had already done almost 22000 Km when we started using it, so it had completed a decent mileage already.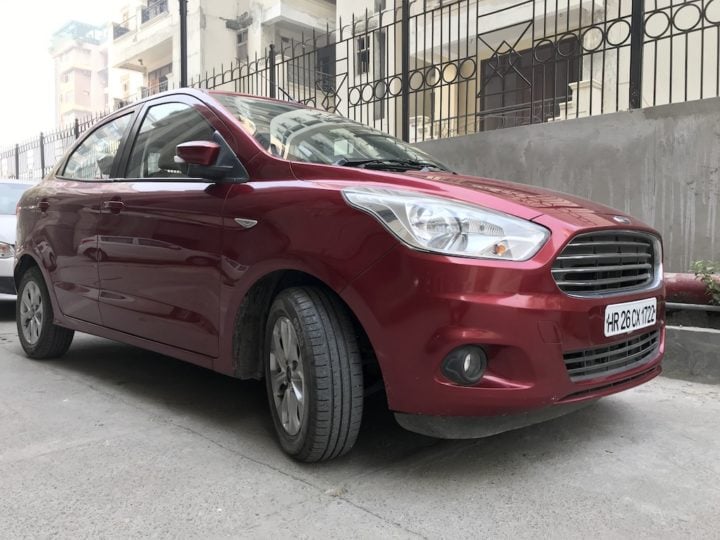 Key stats
Model — Ford Aspire Titanium+ Diesel
Price – Rs 8.12 lakh (ex-showroom)
Test Started On — 15 August 2017
Test Ended On — 15 November 2017
Initial ODO Reading — 21,840 kms
Current ODO Reading — 23,885 kms
Distance Clocked — 2045 kms
Fuel Efficiency — 17.3 kmpl
Fuel Consumed — 118 litres
Cost of Fuel — Rs 6,608 (approx at Rs. 56 per litre)
Exteriors & Design
Ford Aspire is a compact sedan as it is under 4 meters in length but it does not look awkward like many other cars in this segment. For starters, the design does not look abrupt especially at the rear and secondly, the proportions of the car are well designed. In fact, if you don't tell anyone that it is a sub-4 meter car, most people won't be able to tell because it does look like a properly sized sedan.  I am very impressed with the way the car looks especially from the front-side view. The large grille and chunky headlamps make it look quite bold and premium.


The side view also looks quite good with subtle wheel arches, side-sweeping headlamps and smart looking alloy wheels. The rear of the car is not very attractive, but looks classy and premium with horizontal chrome slat. The tail lamp cluster also nicely merges with the boot door design.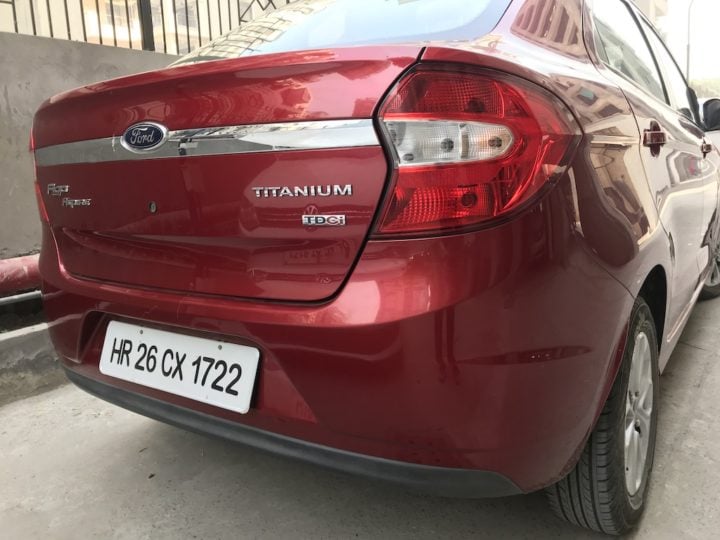 Overall, the car looks quite premium from outside. It easily looks like a car from a segment above in terms of design and exteriors.
Interiors, Features and Comfort
Get inside and the car pleasantly surprises you with a sophisticated and functional looking dashboard. It is very similar to other Ford cars of this generation which immediately makes you feel at home if you have driven a Ford before.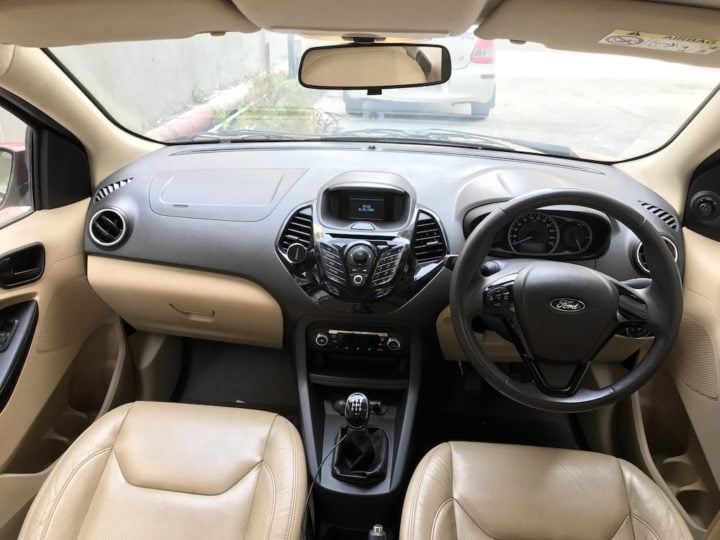 There are no flashy silver elements, but subtle and classy beige-black interiors with leather upholstery on the top end variant. The central console looks quite modern and at the same time, it is very convenient to use. From a long-term usage perspective, it is easy to get used to and locate the controls which you need.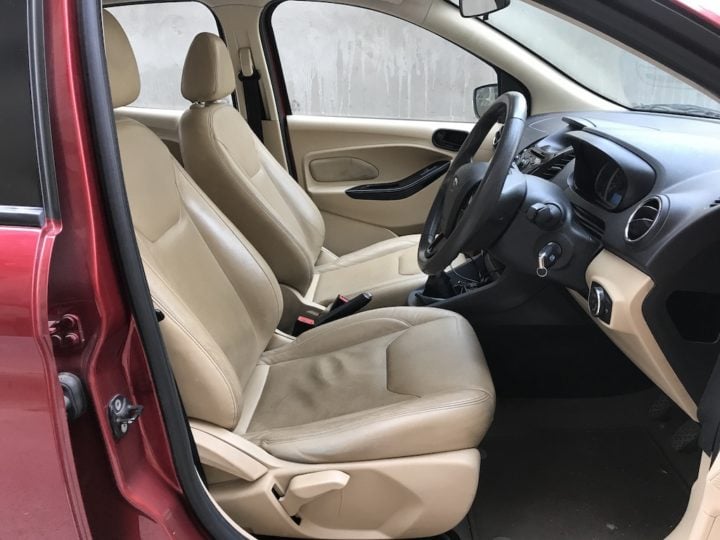 All the switchgear, knobs and controls, the plastics used and other material, they all feel sturdy and durable. The buttons operate smoothly and feel quite nice to touch and has a reassuring feeling of quality.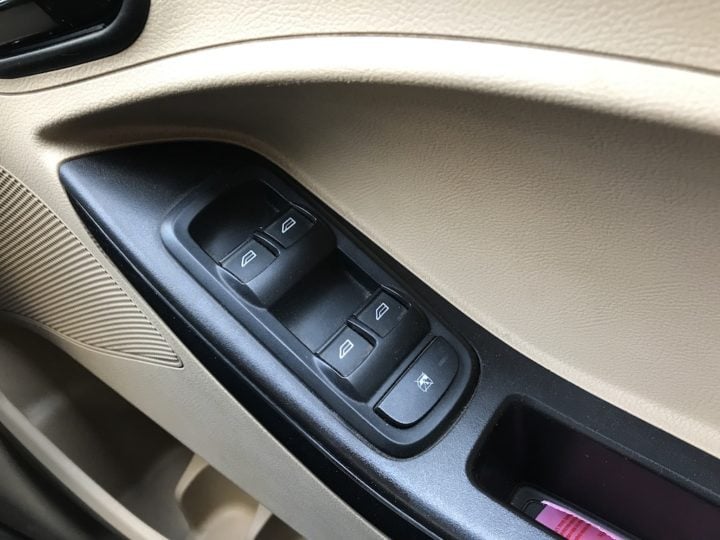 There are plenty of small storage spaces- like in front door pocket, near the handbrake, small cubby holes around the driver and passenger seat make it easy to store water bottles and maybe a few snacks for your long commute. The glove box is quite an average size, but not too bad.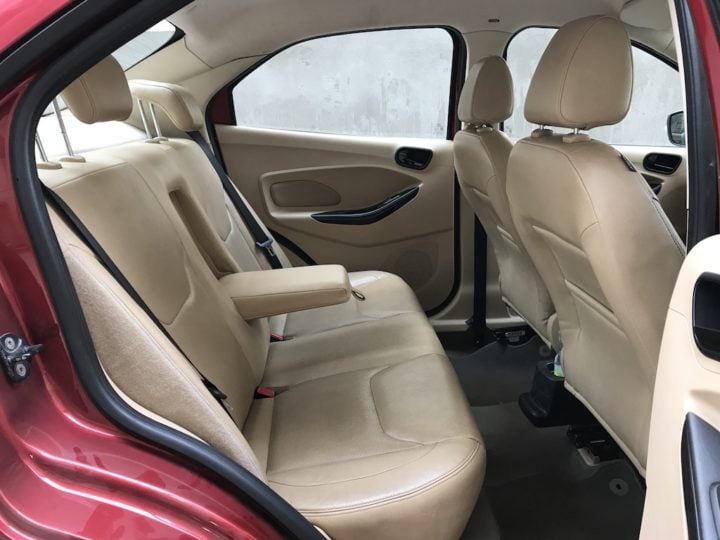 Rear seats of Ford Aspire are a good place to be in. The seats are comfortable, large enough for good under-thigh support and come with a foldable middle arm-rest and adjustable head-restrains for the comfort of occupants. Although there is no rear-AC vent in this car, yet it does not feel like any problem as the cooling performance of the AC is quite good and effective. In fact, the seats are better than most cars in this segment. I have seen many car makers making the seats smaller in size to give a false sense of space. Such cars look spacious when you look at them from outside, but once you sit down inside the car, they feel quite inadequate for comfortable seating, like lack-of-under-thigh support. Ford Aspire, on the other hand, has large and comfortable seats which support you well and make your ride comfortable. It may not seem like a big deal, but it actually makes a lot of difference in long-term usage and comfort.
Along with it, the safety features that you get in this car, including the ABS, 6 airbags on the top end variant, EBD, auto-locking of the door, seat belt reminder (which mutes the audio if you don't wear the belt), goes a long way in terms of peace of mind. Being a father of two kids, I feel very safe when using this car for a commute with my family. There are hardly any cars in this price segment which match up to the safety features you get on the Aspire.
Apart from that, the convenience of voice commands, Bluetooth Telephone pairing, Ford Sync, a good quality audio system etc. all add up to a comfortable commute keeping the distractions to a minimum while you drive.
The boot space is 359 litre, space is good enough for a family of 4 for a weekend getaway. It can sallow around 3 to 4 medium bags easily. The spring on the boot mechanism may hit the bags, so one has to be careful to leave some clearance for that hinge and spring, but overall, the boot is quite impressive compared to most other compact sedans in the market.
Overall, on the inside, Ford Aspire is a great package of comfort, convenience and safety.
Ride, Handling And Engine Performance
We drove the diesel manual variant of the Ford Aspire which uses a 1.5 litre TDCi Motor with peak power of around 100 BHP and peak torque of 215 Nm. This motor is mated to a 5-speed manual gearbox. This combination is a delight for enthusiast drivers. The turbo-lag is almost non-existent and there is plenty of low-end grunt which is well spread between 2000 to 4000 RPM. In fact, it feels really fast and pulls very well. The fuel economy, however, will take a hit in this RPM band of 2000 to 4000. So for the usual commute, it is best to keep it under 2000 RPM, where it delivers a fuel mileage of close to 20 KMPL on diesel with ease. But as soon as you need a sudden surge of power, just tap the accelerator and work the gearbox to be in 2000 to 4000 RPM range, and it pulls like anything. I had a lot of fun driving this car on highways as it felt quite stable and sure-footed. The on-point braking performance also helps in inspiring confidence. However, I did feel that better tyres could have made it a lot more fun. The stock Appolo tyes on the car we drove are just about average in performance and do not do justice to the kind of power that this car delivers. The only problem I faced is that the clutch is slightly on the heaver side which becomes a problem in traffic jams. It causes a lot of fatigue on left foot if you get stuck in a long bumper-to-bemper scenario. Other than that, this car is a delight to drive.
The handling of the car is quite precise with a well-weighted steering. The ride comfort is also reasonably good with the ability to take on small irregularities with ease.
When it comes to fuel mileage, it really depends on your driving style. If you are someone who pushes the engine hard, it will return around 15 to 17 KMPL. If you are someone who drives slow or on less-congented roads most of the times, you can expect around 17 to 20 KMPL. I also got around 22.6 KMPL on a 300 Km long highway commute when I was driving between 60 to 100 KMPH with few stops. For most users, you can easily expect around 17 to 18 KMPL with regular in-city use of this car, whcih in my opinion is a great mileage.
So in terms of engine, performance, ride, handling as well as fuel economy, this car manages very well.
Verdict- Ford Aspire Diesel Long Term Review
If you are in the market for a car under Rs. 10 Lakh and want a car which is spacious, safe, drives well, gives great mileage, is easy to maintain, the Ford Aspire checks all the boxes and is a very lucrative offering. It is difficult to think of alternatives which are as good as this car when it comes to safety, space and performance. We are very impressed with the Ford Aspire.
Image Gallery
What do you think of our Ford Aspire long term review? Do share your thoughts in comments section below.