July 22, 2021 – A couple of days after our story on how a Ford Aspire Owner cancelled his booking of the EcoSport owing to the uncertainty that looms around Ford's plans for India, a spokesperson of the company has issued a statement on the entire episode. We have been told that while the company understand that the below story is based on the customer's perspective, it's worth pointing out that the manufacturer wasn't reached out to for any official response/reaction before we published the story based on the customer's viewpoint. Furthermore, the company has issued a statement on the speculations of its exit, viz.-
"We would not like to comment on market speculations and remain committed to serving customers in India. We assure you that our customers will continue to receive world-class sales and service support from Ford, not today or tomorrow but into the future as well."
Also Read: 2021 Ford EcoSport Owner Lists Out Several Issues With His New Car
July 20, 2021 – Earlier this month, we reported how Ford India has been dodging questions over its exit from the country even as several customers and followers have been left with huge uncertainty. Even has the carmaker has finally reassured everyone that it will continue to provide sales and service support in future, many car buyers who had booked a Ford vehicle have been rather quick to cancel the orders owing to the uncertainty that looms over the manufacturer's existence in India. One such case is of Mr Akash Banerjee, a Ford Aspire owner of over 2 years who had decided to upgrade to an EcoSport but instead chose a Nexon due to the present circumstances of the carmaker.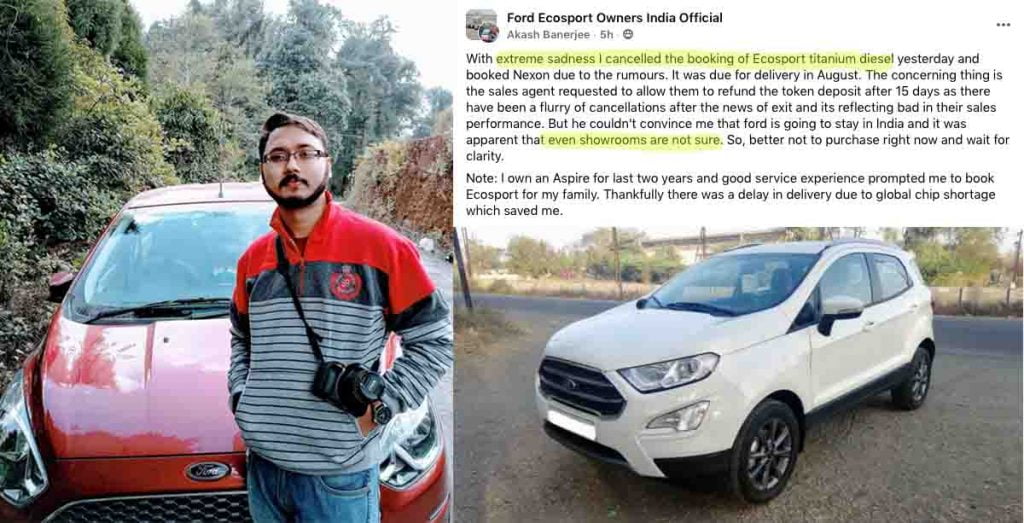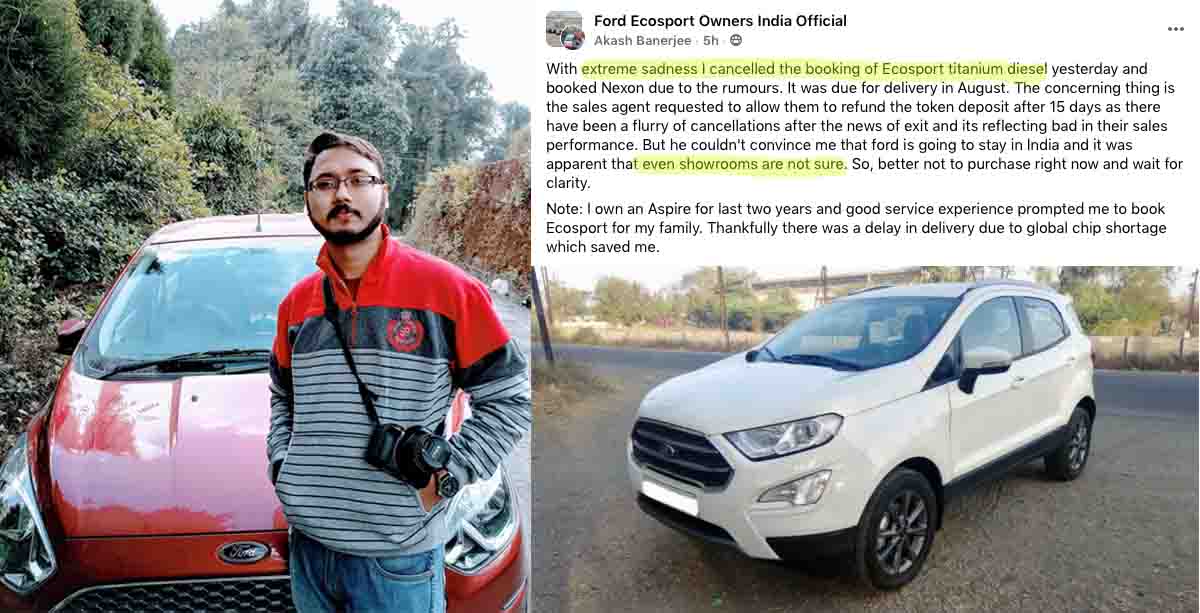 Also Read: 2021 Ford Ecosport facelift reminds us of Datsun redi-GO
In a post that Akash shared in 'Ford Ecosport Owners India Official' group on Facebook, he explains how he's sad that he had to cancel the booking of the B-SUV and instead choose a Nexon because of the rumours of the company's India exit. He goes on to state that he's been a satisfied customer of an Aspire for two years and the good service experience prompted him to choose the Ecosport. However, he mentions that the sales executive couldn't convince him that Ford won't leave India and he even writes that it's clear that even the dealerships aren't sure about anything. Hence, he advises everyone to hold the purchase until further clarity.
Reports on the Ford contemplating exit from India surfaced after talks of offering contract manufacturing services to Citroen fell through. Earlier, in October 2019, the carmaker had joined hands with Mahindra to form a JV that would have seen the Indian UV specialist acquiring a majority stake in Ford India. The Joint Venture would have been responsible for the development, marketing and distribution of Ford vehicles around the country. Sadly, however, in January 2021, the two companies decided to not go ahead with the plan and parted ways.
Also read: Ford Figo Owner Buys EcoSport After 8 Years Of Troublefree Ownership!
Subsequently, Ford got into talks with several carmakers for contract manufacturing of their vehicles at the two manufacturing facilities it has set up in India. The company was in touch with Great Wall Motors as well as MG. While the talks with the former fell through owing to the Chinese carmaker postponing its entry into India, even discussions with MG couldn't have a positive outcome. The carmaker then got in touch with Citroen, who, too, decided against using Ford's facilities for contract manufacturing. As the carmaker is said to be still in talks with Ola, many reports of the company shutting both its factories and leaving India for good have surfaced.
Also read: Citroen C3 Compact SUV Model Design Leaked – Venue, Sonet, Brezza Rival!
Also, if the poor sales figures are anything to go by, it's clear that Ford India has been going through tough times and probably, only an investment from a third party can help it survive these times. Also, we hope Ford India and its stakeholders start providing clarity on the company's future to prospective buyers like Akash Banerjee, who had booked a Ford EcoSport with a lot of excitement but had to finally cancel it. We, at CarBlogIndia, really hope that Ford India emerges stronger from these tough times while Ford Motor Company finds it appropriate to make fresh investments into its Indian subsidiary.
Stay tuned to CarBlogIndia for latest news updates