We have heard some pretty incredible stories from the Ford EcoSport owners regarding the build quality of the SUV and this is yet another instance of that.
A Ford EcoSport crashed at 160 km/h in a recent incident but managed to save the driver (no one else was there in the vehicle). Ford quit manufacturing in India last year but its loyalists keep telling the tales of how much they love the product from the American carmaker. There has been a slurry of cases reported where Ford products were the only reason for the survival of the passengers and this is one such case. Here are the details.
You may also like: Ford EcoSport Rolls 8 Times, Driver Suffers Only Minor Scratches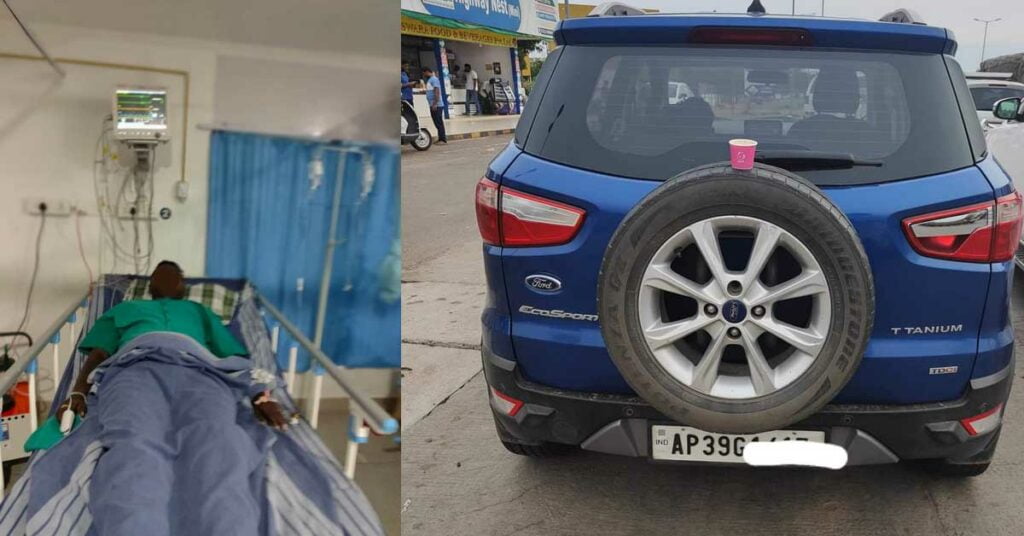 You may also like: Collision of Mercedes GLC with EcoSport Makes Us Miss Ford
Ford EcoSport Crashed at 160 km/h
The owner of the ill-fated Ford EcoSport tells the entire tale via a Facebook post. This incident is reported from Andhra Pradesh. He mentions that he hit a truck at around 160 km/h and the vehicle is in a total loss condition. The engine bay is destroyed which is an indication of how strong the impact would have been. However, the A-pillars didn't crumble which is why the life of the driver was saved. But he shares his health status right from the ICU. He mentions that his right eardrum was damaged and there was internal bleeding in his brain. After the treatment, he is recovering slowly which is a positive sign.
You may also like: Was Ford EcoSport India's 1st Compact SUV to Deserve a 5-Star Score?
Talking about the build quality of the EcoSport has been appreciated. It has saved a lot of lives of people in such cases where any other car would not have been so effective. We must understand that in such high-speed scenarios, no car could save you and hence, we must take charge and responsibility like the driver does. He apologises at the end of this post for overspeeding.
You may also like: Owner Shares Heartwarming Story of Ford EcoSport's Build Quality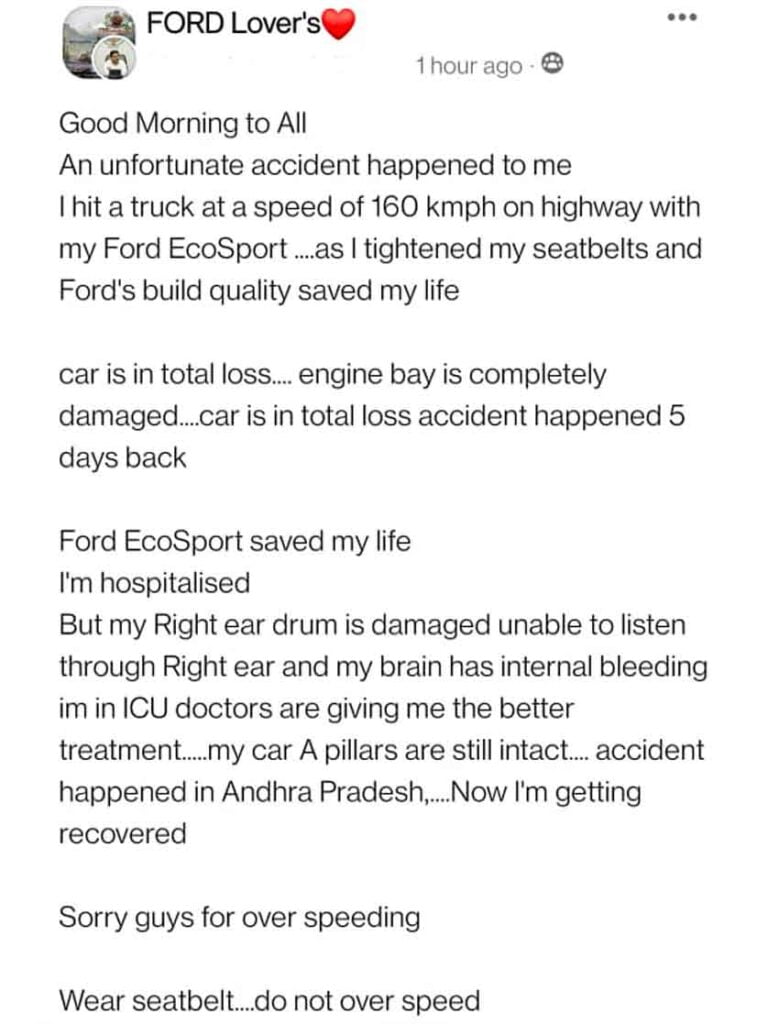 Obey Traffic Rules
We have seen countless times that overspeeding is the prime cause of unfortunate accidents on the road. Driving at 160 km/h will never be okay on any highway in the world (barring a handful). The driver also realises this which is why he cautions the FB users regarding the use of seatbelts and overspeeding. Since he was wearing a seatbelt, his life got saved in an otherwise fatal crash. Stay safe and follow traffic rules.
Join our official telegram channel for free latest updates and follow us on Google News here.