Earlier this month, reports of Ford contemplating exiting India came to light. While the local subsidiary of the American carmaker refrained from dismissing these for at least some time, many car buyers who were close to finalising a Ford car chose to pick a rival instead. Soon, however, the automatic variant of the Figo was launched and it did give many an assurance that the carmaker would continue its operations. However, a leading business daily has now reported that the carmaker could actually take a decision on quitting India in a couple of months from now. It has also reported that there are some chances that the Ford EcoSport and the Figo family would be pulled off the shelves and the carmaker would just market CKD products like the Endeavour.
Also Read: Ford India Issues Statement After Cancellation of Bookings Due to Exit Rumours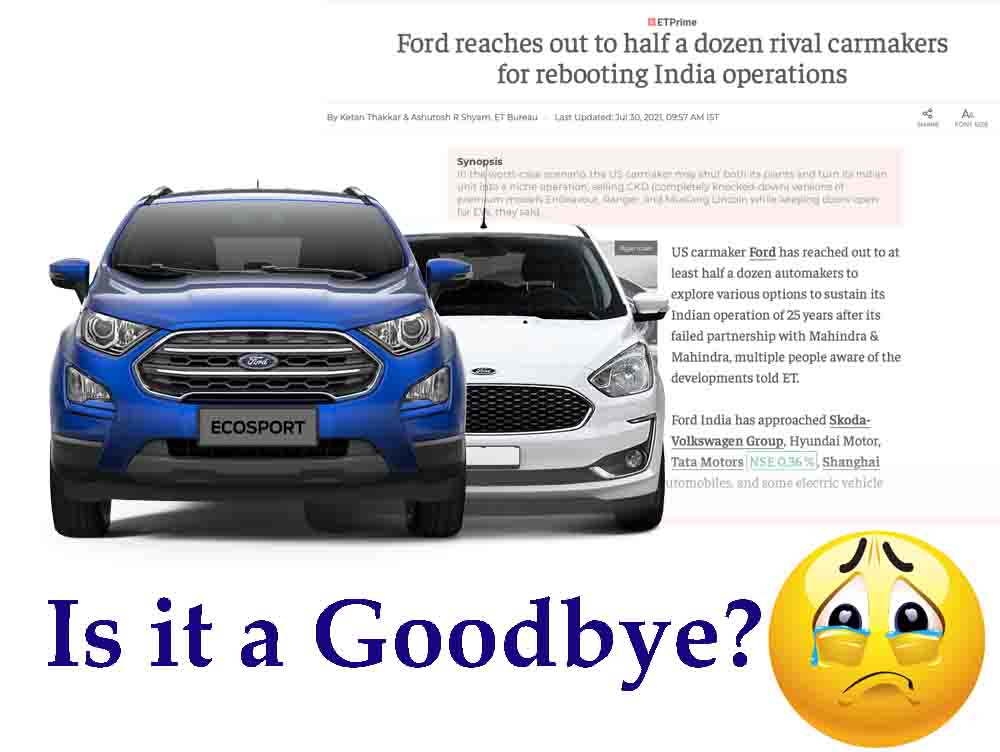 So far, Ford India is said to have approached quite a few carmakers for offering contract manufacturing services but talks with all these have fallen thru. The company is said to have had discussions with a range of brands, including Skoda-Volkswagen Group, Hyundai Motor India Ltd, Tata Motors, MG Motor India and even Changan Automobiles. Not just this, it has even been in talks with Ola Electric to explore contract manufacturing opportunities but the discussions have borne no fruit anywhere.
Also read: Ford Figo Owner Buys EcoSport After 8 Years Of Troublefree Ownership!
Ford EcoSport, Figo, Aspire and Freestyle to be Discontinued?
With dwindling export volumes and a dated lineup for the local market, Ford is sure to shut or sell one of its two manufacturing plant. However, it has been reported that in the worst-case scenario, the carmaker might have to shut both its plants and simply discontinue the Ford EcoSport, Aspire, Figo and Freestyle. It would then only deal with CKD vehicles like the Endeavour and the Mustang. 
Meanwhile, the best case scenario would be to finally find a partner who might help Ford India sustain operations till SUVs on B744 and B745 architecture are readied for the local launch. So far, Ford India has issued a standard response to all media outlets who've enquired about this – "India is an important market for Ford, with more than 16,000 employees, as well as being a source of our global powertrains for Ranger. We are continuing to assess our capital allocations and expect to have an answer in the second half of the year. We have nothing additional to share at this point."
Also Read: Ford India Dodges Questions On Its Exit As Customers Are Left Uncertain
It is noteworthy here that Ford and Mahindra had entered into a JV back in 2017 to explore possibilities of sharing products, production plants and future technology. However, the proposed JV was called off on December 31, 2020.
Stay tuned to CarBlogIndia for latest news updates