At the great Ford Endeavour drive organized by Ford India at Aravali Valley in Dhaujj, we got a chance to get the insights of Ford India's roadmap in the near future from Nigel E. Wark, Executive Director for Marketing, Sales and Service, Ford India. When we asked him "Should we expect the launch of the automatic variant of the Ford Fiesta 2011 soon?" he replied saying "We have no reason to not do it and we will come up with the same before the end of this year (2011)".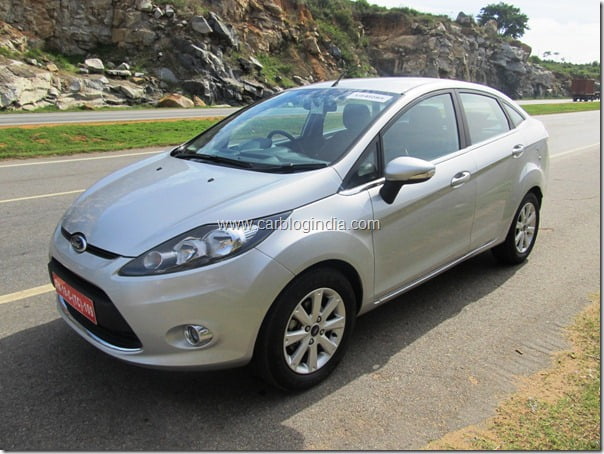 image – Ford Fiesta 2011
As per the latest information, the all new Ford Fiesta 2011 (Also Read: Test Drive Review Of Ford Fiesta 2011), which was launched few months back in India with 1.5 Litre Diesel and 1.5 Litre Petrol Engine with Manual transmission options only, is finally getting automatic transmission option. There is a close preview for selected customers or media on 7th of November and official launch may happen in a week after that.
The unique feature of the Ford's automatic transmission is the dual-clutch transmission technology. Unlike conventional automatic transmission systems with toque converter and slipping losses in the fluids, the dual clutch technology uses a set of two clutches which engage and disengage alternatively for the even and odd number of gears and provide a positive shift without minimal slipping and losses. This ensures high fuel efficiency as well as high performance as there is more punch available at the wheels. This is something similar to the DSG gearbox technology of the Volkswagen.
Ford Fiesta 2011 Automatic Price In India
Ford Fiesta 2011 Automatic in India is expected to feature a 5 speed Dual Shift automatic gearbox only on the top end Titanium Plus variants which are expected to be priced at Rs. 75,000 higher than the corresponding Manual variants. The expected price of Ford Fiesta 2011 Automatic in India is:
Ford Fiesta 2011 Petrol Titanium+ AT is expected to be priced at Rs. 10.20 Lakhs (approx.)
Ford Fiesta 2011 Diesel Titanium+ AT is expected to be priced at Rs. 11.20  Lakhs (approx.)
Stay tuned for more updates by liking our official Facebook Page and by signing up for our free email newsletter.
check out more-