Ford India has launched the automatic transmission version of Ford Fiesta 2011 in India in New Delhi on 28th February 2012. The Ford Fiesta automatic has a PowerShift (dual clutch) transmission technology which is not found in the sedans in this price segment. Thee dual clutch transmission is a much superior form of transmission system when compared to the conventional torque-converter based systems which are installed in competing cars like Honda City Automatic and Hyundai Verna Fluidic Automatic variants. The Dual Clutch technology is better in terms of both performance and economy when compared with the conventional system as there are lesser energy losses in the system. The dual clutch Ford Fiesta Automatic has been priced competitively at Rs. 8.99 Lakhs ex-showroom Delhi.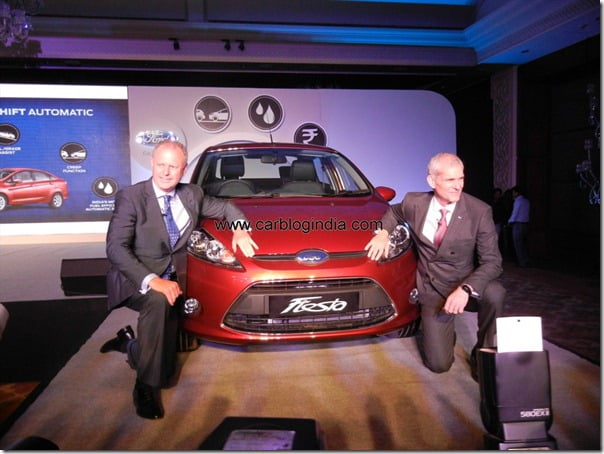 image – Ford Fiesta Automatic 2012 Launch In India
The new Ford Fiesta is already well known for its precise handling, good ride comfort and sharp steering control. We have test driven both petrol and diesel variants of the Manual Fiesta (Click here for test drive review) and will be soon driving the automatic. We will bring you a detailed test drive review in coming week. Ford India has brought the new Fiesta automatic PowerShift transmission system only in the Petrol variant as the diesel already comes at a higher price. So adding an automatic transmission to diesel would have bumped up the price too high. The Fiesta Automatic also comes in an exclusive colour which will be available only on he automatic transmission variant.
image – Ford Fiesta Automatic India
Ford Fiesta Automatic Test Drive Video
video – Ford Fiesta 2012 F1 Track Test Drive Video
Ford Fiesta Automatic Features In India
Some of the important features of Ford Fiesta Automatic In India Include:
Six Speed Dual Clutch Transmission
The transmission system on the Fiesta has 6 speed gear selection giving it high fuel economy and optimum performance. The dual clutch system ensures smooth changing of gears with minimum energy or performance losses.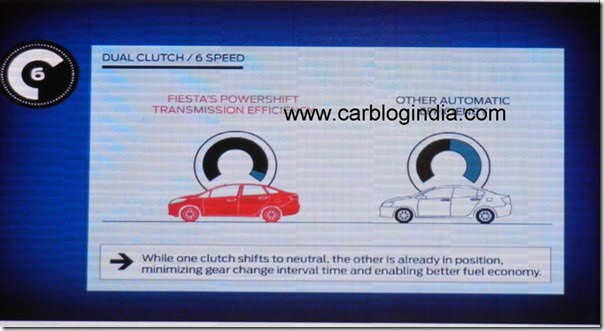 Best In Class Fuel Economy
Since it's a dual clutch transmission, the fuel economy is quite high at 16.97 KMPL (ARAI Tested) and delivers almost same or better fuel mileage than the manual version. Also its one the best in its class.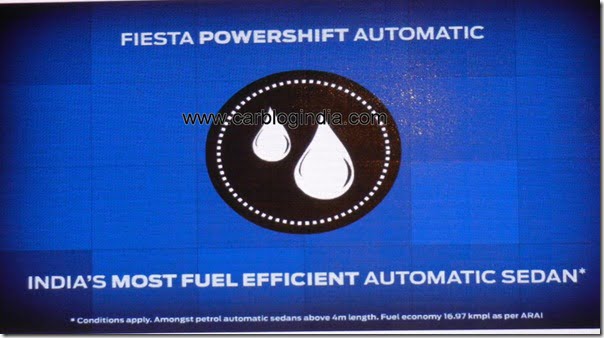 Zero Maintenance Transmission
One of the major drawbacks of automatic transmission cars is the maintenance cost of the transmission, however, in Fiesta automatic, the transmission system is efficiently sealed and does not require any maintenance for 10 years or 2,40,000 KMs (whichever is earlier).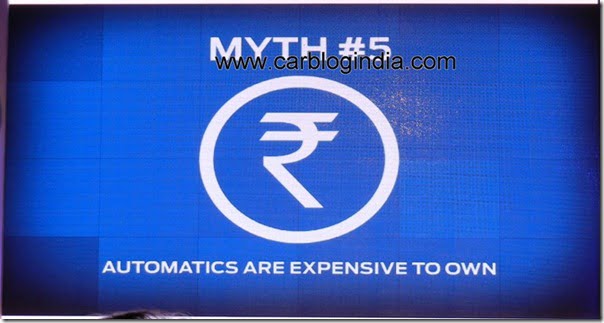 Hill and Gradient Assistance
The intelligently programmed braking system will hold the car on an incline if you are climbing a steep incline and you keep your feet off the brakes to accelerate. This is a good safety feature which will assist both on uphill and downhill drives.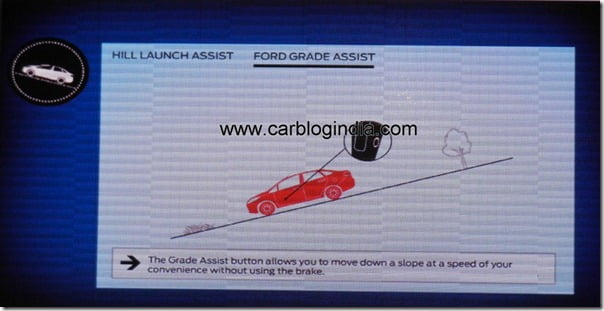 Creep Forward and Backward Function
If you have driven a conventional automatic transmission car, you must have noticed that the car starts to move gradually when in D or R gear (in forward or reverse direction respectively). The same allows to easily move in a bumper to bumper traffic and it also helps in parking for precise motion control of the car.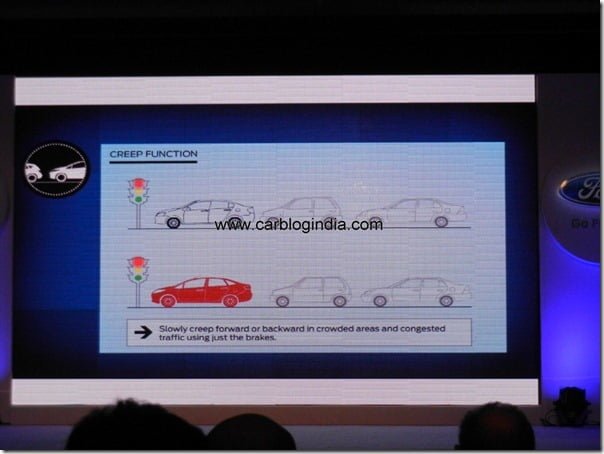 Ford Fiesta Automatic Exclusive Pictures & Video Review
Ford Fiesta 2012 Automatic Transmission Video Review
Ford Fiesta 2012 Automatic Transmission Exclusive Pictures
Click to enlarge pictures.
Ford Fiesta Automatic Price In India
Ford Fiesta Automatic 2012 has been priced starting at Rs. 8.99 Lakhs ex-showroom Delhi for Style Automatic variant. The top end Titanium+ Automatic has been prices at Rs. 9.7 Lakhs ex-showroom Delhi.
check out more-