A really good thing that has happened in the recent years is that the car buyers of the country have finally starting making safety a priority when choosing their new cars. It is because of this very reason that some models, which have proved to be highly safe in a crash, have earned a high reputation for themselves. While far from being a sales success, almost all cars being sold by Ford India enjoy the reputation of offering top-notch safety. The case in the point today is a Ford Freestyle that was crushed between two buses but managed to keep its occupant safe.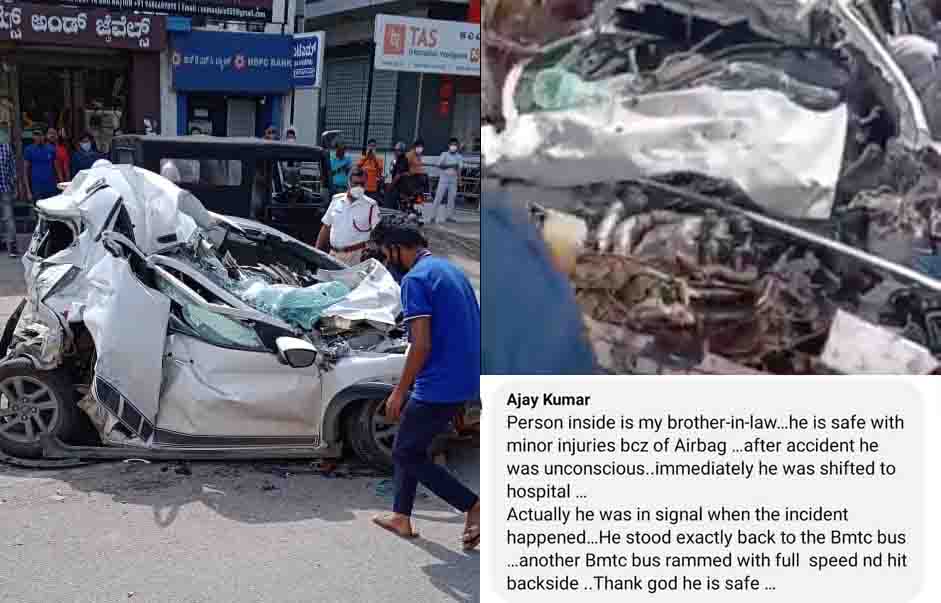 Also Read: Ford Continues to Struggle With DPF Issue in EcoSport!
This incident took place in Bangalore when a Ford FreeStyle was at a standstill behind a BMTC bus, waiting for the traffic signal to go green. Unfortunately, another bus coming from Bhind couldn't stop in time and rammed into the Freestyle. As a result, the car was completely crushed between the two buses. The visuals we have above show how the entire car has been totally crushed and all that remains is a twisted mess of sheet metal. Anyone who sees these visuals would feel that the crash is so severe that it would be tough for any occupant to survive.
Also read: 2021 Ford EcoSport Facelift Spied Sans Camo – Do You Like It?
Luckily, however, it has been reported that the person inside the vehicle is safe and only sustained 'minor injuries' in this accident. While the Ford Freestyle was totally destroyed in the crash, it kept its driver safe and secured. This was revealed by a person who claims to be the brother-in-law of the driver. It must be noted here that the Ford Freestyle involved in this accident is the top model that comes kitted out with a full suite of 6 airbags. Clearly, other than the front airbag, the side airbags have worked well to protect the occupant. While not of any use in a crash like this, the top-spec Freestyle even comes with Active Rollover Prevention, ABS with EBD and a reverse parking camera.
Also read: Ford EcoSport Puts Cement Bench's "Build Quality" To Test!
While the Ford Freestyle has not been tested by Global NCAP, its compact sedan sibling, the Aspire, has bagged a 3-star rating. The model tested had 2 airbags and it scored 10.49 out of 17 points in adult occupant protection. However, in child occupant protection, it could manage only a 2-star rating with 14.22 out of 49 points.
Also read: WATCH Ford EcoSport Go Off-Road & Race Kia Sonet, Maruti Brezza – VIDEO
Join our official telegram channel for free latest updates and follow us on Google News here.