Remember the 2013 Ford Mondeo a.k.a Ford Fusion sedan which we covered a month back? Well if you do visit our blog often then most of you should as it is the best looking Ford Fusion from Ford till date and  has been critically acclaimed after it was showcased at the Detroit Motor Show, it turned out to be a jaw dropper.
Many readers must be desiring of owning one in India which unfortunately is not possible as of now but soon it may turn into reality. The latest news about the same says that Ford is planning to launch the same in India and the car will probably go on sale by 2013 end.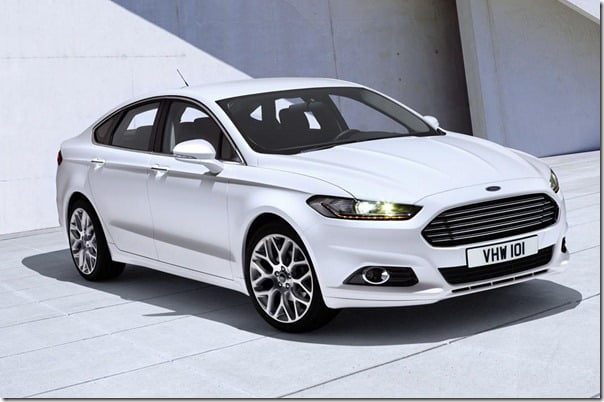 image – 2013 Ford Fusion/Ford Mondeo
Previously Ford owned Aston Martin and Jaguar and influence is clearly reflected in the design of the new Fusion/Mondeo. The new generation Fusion is bigger than the current Mondeo in all senses and offer more room on the interiors as well as plenty of cargo space. From the front it is greatly influenced by Aston Martin while the rear projects an improved 2011 Ford Fiesta.
image – 2013 Ford Fusion/Ford Mondeo
For the US market Ford will roll out the car towards the 2012 end and there it will be available in two engine options featuring Ford EcoBoost Technology: a 1.6 litre unit generating 178 BHP and a 2.0 litre unit generating 236 BHP. Beside these the car will also be available in two hybrid options, including the Energi- a plug-in hybrid with a 2.0 litre Atkinson cycle petrol engine coupled to an electric motor. There will be no V6 models this time around and the car will be offered in both 6 speed manual transmission and automatic transmission versions.
Some of the interesting features of the car are LED interior lighting, leather seats, an aircraft-inspired instrument cluster, a digital command centre called as the HMI or Human-Machine Interface which is operated by two steering mounted buttons, Bluetooth connectivity, Adaptive cruise control with a forward proximity alert, adjustable speed limiter, lane departure warning system, automatic headlamps and start stop system and many more.
For the Indian market, the car will compete with Honda Accord, Toyota Camry and Skoda Superb. This means that Ford will price the car between Rs. 20 and Rs. 25 lakh.
via – MoneyControl
Check out more-