There are quite a few handy products in the market at the moment that boost the safety aspect of riding two-wheelers at night time.
This video showcases an LED light that can be glued to the helmet of the rider to enhance safety during riding two-wheelers at night. We don't need to remind you of the relevance of safety on Indian roads. People seldom follow the traffic rules creating a complete ruckus on the roads. Such cases are particularly common in the semi-urban and rural areas of the country. In a bid to install a cheap yet effective accessory on the helmet for riding, this LED light could be the ideal solution.
You may also like: 10 Indian Bikes Popular Abroad- Bajaj Pulsar to RE Meteor
You may also like: Suzuki Hayabusa vs Maruti Brezza In Tug of War
Helmet LED Light For Night Riding
The YouTuber explains the process of installing the LED light on the helmet and suggests the best place to fix it. He mentions that this is not a promotional product but something that he bought himself realising the importance of it. There is a Velcro to stick it to the helmet of the rider. The process is fairly straightforward but the location on the helmet becomes critical. The LED light needs to be placed at the lower rear end of the helmet. This area is exposed to maximum visibility. There are three modes for light settings, a constant red light, a blinking pattern with both lights and a blinking pattern with one light at a time. It is rechargeable and comes with a USB cable.
You may also like: Here's a Futuristic Take on Bajaj Pulsar F250
Applications
The prime application of these lights is during the night driving. Such strong LED lights ensure that the cars and the bikes are able to see you clearly on the road. Sometimes, the taillamps of your bike might not be working and the speeding car from behind could miss you. But having these additional lights on the helmet will avoid that. Moreover, in foggy conditions, the visibility is poor even if your taillamps are working. In such scenarios, it is helpful to have an additional source of light on your helmet.
You may also like: Royal Enfield Bullet Tractor is Perfect for Small Farmers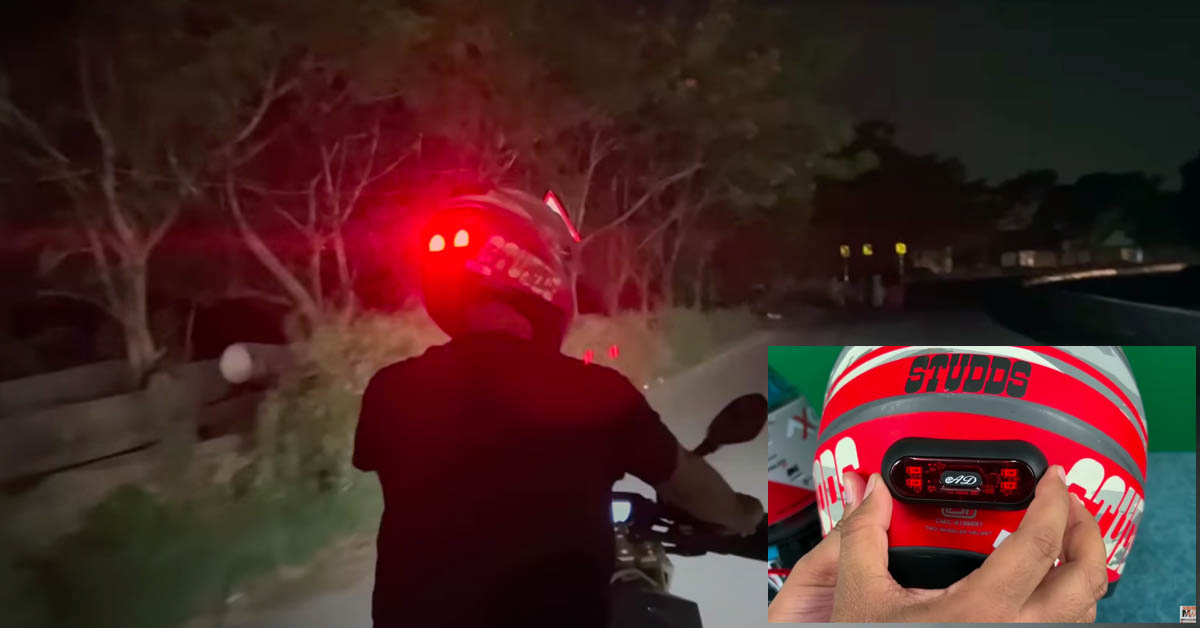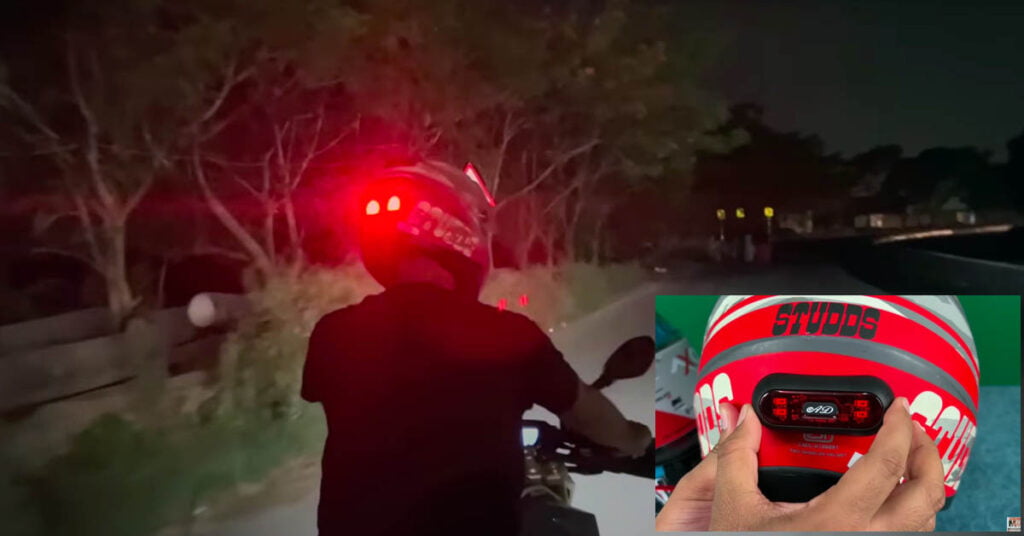 The YouTuber mentions that there are a lot of such products on the market. However, this particular product costs Rs 949 which is a cheap and quite effective way to ensure your safety while riding at night. Let us know your thoughts about this helmet LED light for night and foggy conditions.
Join us for FREE NEWS Updates on our Whatsapp Community or our official telegram channel.